That effervescently cool and sophisticated Irish man who captured our hearts in the James Bond movies of the '90s is at it again!. Pierce Brosnan was cast as Sam Carmichael in the film adaptation of the musical Mamma Mia opposite Meryl Streep. Let us look more closely at his character and see if he sang in Mamma Mia.
Though he received so much flak, Pierce Brosnan bravely sang in the movies Mamma Mia and the 2018 sequel Mamma Mia 2! Here We Go Again. In the first film, he belted out the ABBA songs "When All Is Said And Done" and "SOS" opposite the legendary Merryl Streep, and joined all the group song numbers and dances in the sequel.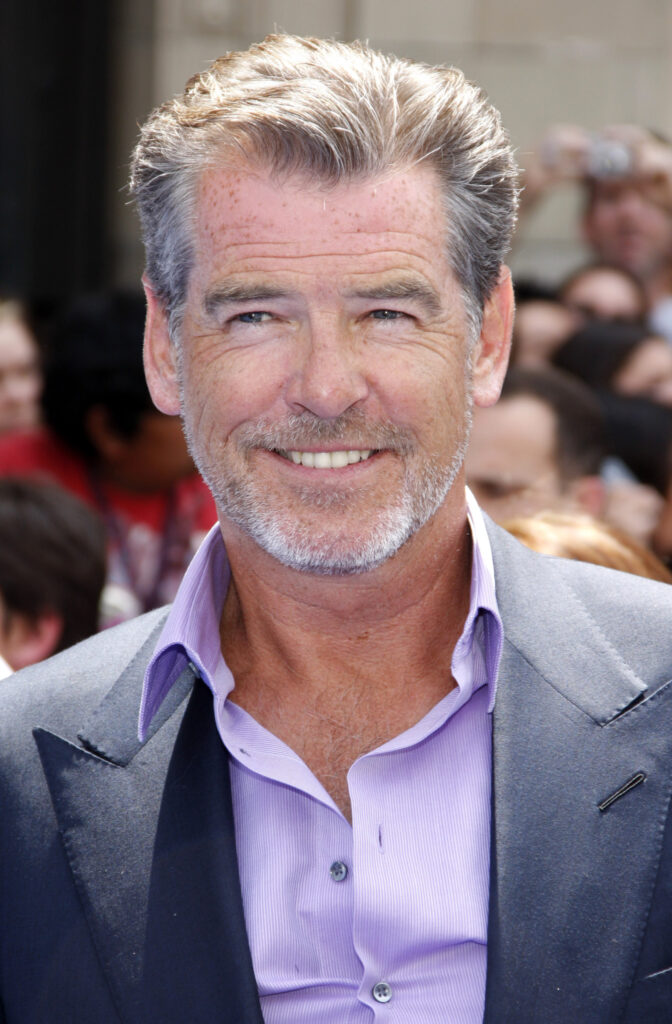 He originally did a duet with his on-screen daughter, Amanda Seyfried, to the song "Knowing Me, Knowing You." But according to director Ol Parker, he messed up the visuals and had to cut the scene out. We can still hear the song played in the sequel, but it's now performed by the young Donna and Sam.
Flashback
Let's take a look back a little bit on Brosnan's character. He played Sam Carmichael, a confident American Irishman, who is a distinguished architect, but secretly is full of regret. While vacationing in Greece, he falls in love with a free spirit, Donna Sheridan, played by Streep and Lily James in the sequel. They met on the island of Kalokairi when he calms a spooked Hector.
The two go frolicking around and get lovestruck in the picturesque isles of the Mediterranean. Waking up after a night of fervent passion, Donna accidentally stumbles upon Sam's portfolio revealing that he was engaged to be married to another beautiful woman. Saddened and confused, Donna drives Sam out. Sam leaves, but later on, comes back to look for his newfound love. This ends unfavorably for him upon learning Donna went off with another man.
Here We Go Again!
What a flashback! Here We Go Again basically gives us a full background of what transpired between the characters to tie the story together. It shows how devoted a father Sam is to Sophie as he also nurses his own grief on the passing of the love of his life, Donna. Here, he gives warm fatherly advice and encouragement to Sophie as she plans to re-open their hotel named Bella Donna.
At the end of the film, we see him evolve as a doting grandpa to Sophie and Sky's baby, Donny. And to end it with a bang, we go full circle by meeting Sophie's grandmother Ruby Sheridan as played by the immortal Cher. She sings the song, "Fernando," to Andy García who can possibly be Donna's father and Sophie's Grandfather. Some twisted ending, we know! Do we see a third movie coming? We sure hope so!
Vocal Stylings
Whether singing off-key or in perfect pitch, Pierce still was a feast for the eyes in the two films. He bravely went all in and we love him for it! Pierce says he loves to sing but he's not sure if others do too; though he knows as well, that people find entertainment value out of it.
He admits with good humor that "he doesn't care what they (critics) say". "People don't necessarily employ me for my singing. But I chose to sing". In the second movie, he got help from the director and ABBA's Benny Andersson to make some needed adjustments. He had to slow it way down and lessened its intensity as he melancholically recalls his past love.
He did a wonderful job after all that, he even invited his then 84-year-old mother, Mary, to the recording studio for an encore performance. It blew her away that she cried tears of joy! Well done, Mr. Bond!.
Upcoming Works
Well, it's not him to back out from a challenge, even if it involves feeling very vulnerable while singing. Our '90s Bond man is a go-getter and we see it in all the movies he makes. Soon enough, we'll be seeing him again (hopefully not singing anymore) on the big screen in the movie Black Adam, where he plays Kent Nelson/Doctor Fate. 
Another project in the bag waiting for release is a film called The Out-Laws to be released by Netflix. He plays the role of Billy McDermott, a father of the bride to his daughter, Parker, played by Nina Dobrev. In this funny action flick, the groom, who is played by comedian Adam DeVine, is a bank manager whose bank is robbed by a gang called Ghosts Bandits. Owen, the groom, suspects that his would-be in-laws are the same people who robbed the bank that he works with.
Exciting, right? The best part? His roles in the upcoming projects don't involve any singing! Stay tuned for more news about our favorite Bond actor!