Todd Chrisley is an American TV personality known for being a self-made millionaire, real estate tycoon, entrepreneur, influencer, and the star of his own reality TV show that flaunts his impressive wealth in every episode. Today, he may be known for his lavish lifestyle, but did Todd Chrisley grow up rich?
Todd Chrisley did not grow up rich, but he didn't exactly grow up poor either. As a child, his mother — Faye Chrisley — worked 60 hours a week in a textile mill to ensure that he and his brothers lived a life that can be best described as 'comfortable'.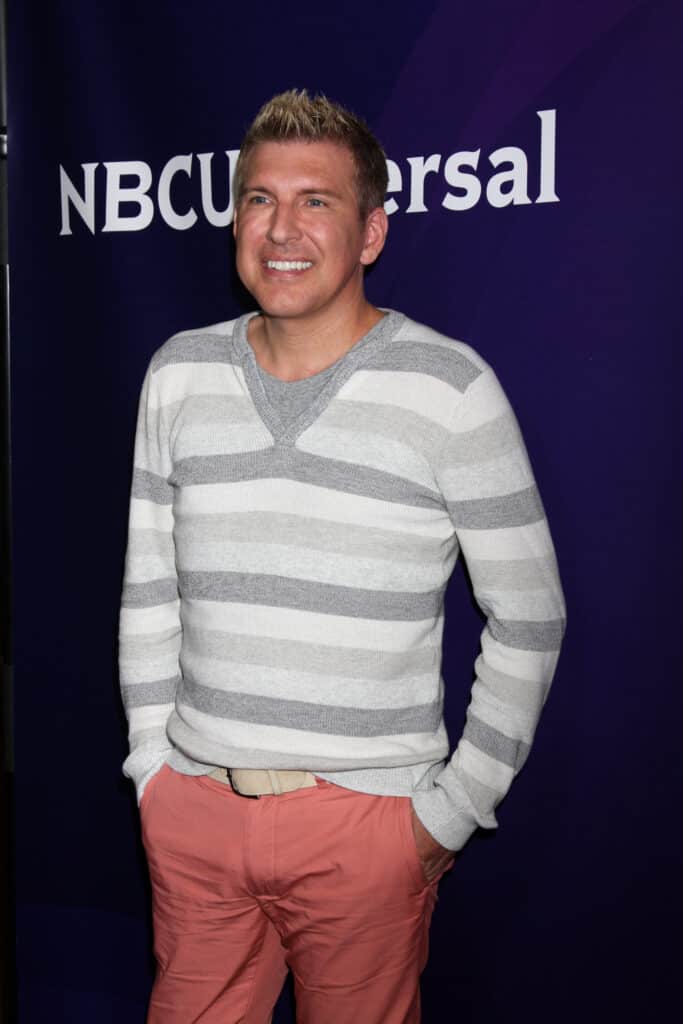 From questioning his status as a self-made millionaire to his highly publicized bankruptcy scandal, the words 'Todd Chrisley' and 'money' are often heard in the same sentence. Those who watch 'Chrisley Knows Best' will have witnessed first-hand the astounding level of wealth the Chrisley patriarch seems to have, but was it always that way?
Todd Chrisley's Childhood
On 6 April 1969, Michael Todd Chrisley was born in Georgia to parents Gene Raymond Chrisley and Faye Chrisley. He was raised in Westminster, South Carolina, along with his brothers Randy and Derrick Chrisley.
While Todd doesn't delve into too much detail regarding his childhood, it is known that he lived a simple life with his close-knit family. Growing up, he was fascinated with bicycles.
In a heartwarming Instagram post, Todd speaks about the sacrifices his mother made for himself and his brothers "God bless my mama, she worked 60 hours a week in a textile mill to make sure we had everything we wanted and needed."
Though Todd didn't grow up with much, it's safe to say that thanks to his mother's hard work he was never left wanting. He was and is very close to his mother, but the star was especially close to his father who passed away at the age of 77 on 11 July 2012.
Todd graduated from his local high school but did not go on to attend college as he married his expectant high school sweetheart, Teresa Terry, right after graduation. After the birth of their second child, Kyle, Todd began investing in properties, and the young couple bounced from area to area before calling it quits in 1994.
How Todd Chrisley Makes His Money
It's no secret how Todd Chrisley made his money. The outlandish reality TV star is touted as a real estate mogul who made his fortune through clever real estate investments he made while at the helm of his company Chrisley Asset Management.
It is thought that the 2008 housing market collapse brought with it hard times for the company, and it is not entirely clear whether the company is still operational. Thankfully for Todd, Chrisley Asset Management wasn't his only source of income.
He is the star of 'Chrisley Knows Best' which airs on The USA Network. Though nobody knows what salary Todd takes home from the reality TV show every month, it's more than enough to support the lavish lifestyle he flaunts onscreen.
In addition to starring in his own reality show as well as the spin-off shows of his wife, Julie Chrisley, Todd played the role of himself in 'Sharknado 4: The 4th Awakens'. He is also credited as the executive producer of the Netflix show 'Demarcus Family Rules'.
While Todd's television appearances make up the bulk of his income, he also earns money through paid partnerships with brands such as Beckett's Tonics California and Sugar Bear Hair, and collaborations with the likes of Fanbox.
How Todd Chrisley Spends His Money
Though he may have faced financial uncertainty in the past, Todd has never allowed his negative net worth to influence his spending habits and has admitted that "in a year, we sometimes spend $300,000 or more, just on clothing."
Todd owns and drives multiple luxury vehicles, takes his family on surprise getaways, and spends a fair amount of money on cosmetic procedures such as routine Laho laser treatment, HydraFacial skin treatments, and Botox which he gets every 6 months.
Unsurprisingly, Todd also spends his money by investing in properties. While denying allegations that he did not actually own his Georgia home, the celebrity revealed that he does in fact own a home in Georgia as well as in Florida, Nashville, and Los Angeles.