Paul David Hewson, or Bono as he's known across the world, is an Irish singer, songwriter, actor, businessman, venture capitalist, and philanthropist. The star owns properties around the world, but which country does he call 'home'?
Bono has homes in many different places, but it seems that Monaco is where his heart lies as he spends more time at his beachside mansion here than in any other country. The famous U2 frontman also owns homes in New York and Killarney, and he splits his time between the three properties.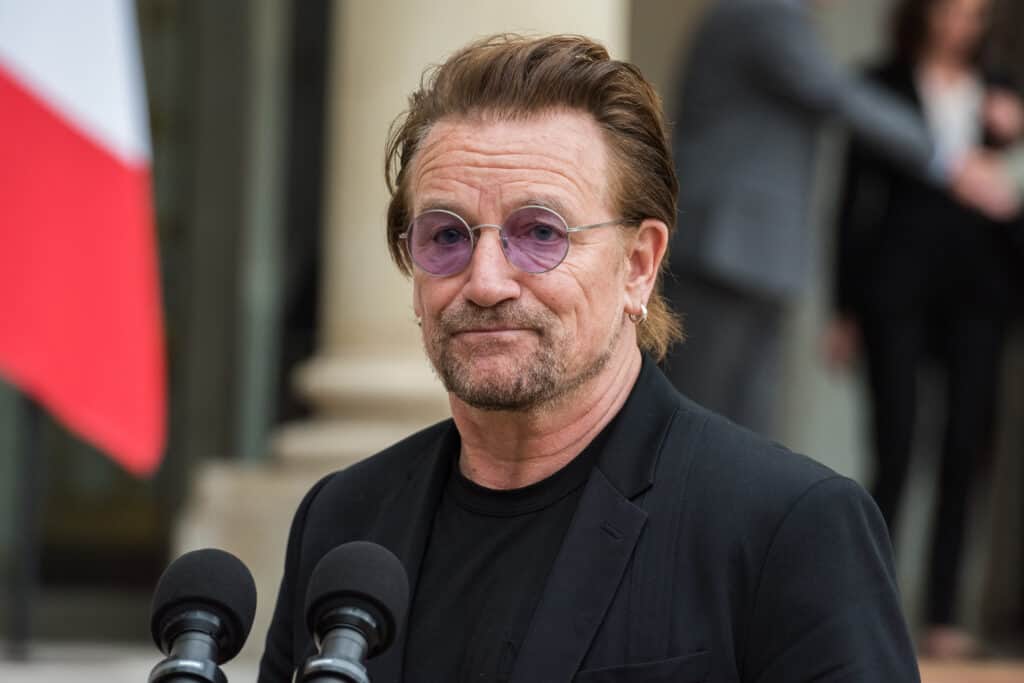 He's an icon to millions of people around the world, but to a select few he's simply their neighbor. Let's take a look at why Bono moved to Monaco, what his home there is like, and where else he spends his time.
Bono's House In Monaco
Many years ago, in 1993, Bono and The Edge purchased a sea-front mansion in Eze-sur-Mer for around 3.3 million euros! The house is coral-colored, has four levels, more than 20 rooms, a huge pool, a spa, and even has a private beach.
The home, which is called 'Villa Les Rose', boasts a unique mix of Provencale and Art Deco architecture and an incredible head-on view of the Mediterranean ocean.
Due to its famous owner, the gates to the house are often swarming with paparazzi. When you consider that some of Bono's houseguests include George Clooney, Robert de Niro, Brad Pitt, and Cindy Crawford, this fact is hardly surprising.
His neighbors are his U2 bandmates, with Adam Clayton on one side and Larry Mullen Jr. on the other. The Edge lives just down the road.
Why Did Bono Move to Monaco?
While there's no official confirmation regarding how much time Bono spends at his Eze-sur-Mer home in a typical year, he spends so much time in Monaco that he's almost considered a tourist attraction. According to See Monaco, "Bono, frontman of U2, is a common sight on the French Riviera".
Many people assume that Bono chose to settle in Monaco because the beautiful country is small and quiet yet known for providing its inhabitants with an ultra-luxurious, glitz and glam lifestyle.
But the real reason behind Bono's move to Monaco has less to do with scenery and more to do with the fact that the country is a tax haven. His financial immigration caused quite an uproar, as U2 was paying hefty tax in Ireland so the economy took a dip after the move.
In addition to its zero-income tax policy, Monaco is a firm favorite for the star because there is "No f***ing paparazzi."
Other celebrities that live in Monaco include Novak Djokovic, Lewis Hamilton, Max Verstappen, David Nahmad, Ringo Starr, Lily Safra, and David Coulthard, who has lived there for more than two decades.
Where Does Bono Have Homes?
Bono also owns a home in Dalkey, an affluent suburb of Dublin. He and U2 bandmate The Edge both bought properties in the area, with Bono famously purchasing not just Temple Hill but the main house and gate lodge.
The star also bought a small home adjacent to Temple Hill and connected the two properties by means of a corridor. In total, the property is approximately 8,500 square feet.
Due to his level of fame, the large property is enclosed with walls and features a large copper gate at the entrance. Lyrics from some of U2's most famous songs have been etched into the gate by the fans and tourists that visit the property in hopes of catching a glimpse of the famous frontman.
Sometime in the late 1980s or early 1990s, Bono bought a USD $15 million top-floor duplex apartment in the prestigious San Remo apartment building in the Upper West Side of Manhattan from Steve Jobs.
Several celebrities own apartments at The San Remo including Demi Moore, Diane Keaton, Tiger Woods, Steven Spielberg, Bruce Willis, and Barry Manilow.
Where Does Bono Vacation?
Despite owning properties all over the world, Bono still loves to go on vacations to various destinations.
Bono — like Angelina Jolie, Michael Douglas, Mick Jagger, and John Cena — loves going to Panama for vacation and for his charitable work. The star also loves spending time in the south of France with his famous friends and it seems has a particularly soft spot for Chateau La Coste.
The singer-activist has also been spotted vacationing in Costa Rica, Australia, the Canary Islands, and several African countries.