He's a rockstar, a singer, a songwriter, a business owner, an angel investor, a philanthropist, an activist, and a 22-time Grammy winner. Behind the scenes, he's also a loving husband and doting father who is on a mission to eradicate hunger. But is Bono vegan?
Bono is not vegan and his diet includes both meat and fish. Baseless rumors claim that Bono is vegan, but he has never spoken publicly about veganism. Despite not being vegan, he grows his own fruits and vegetables and has invested in a vegan-related startup.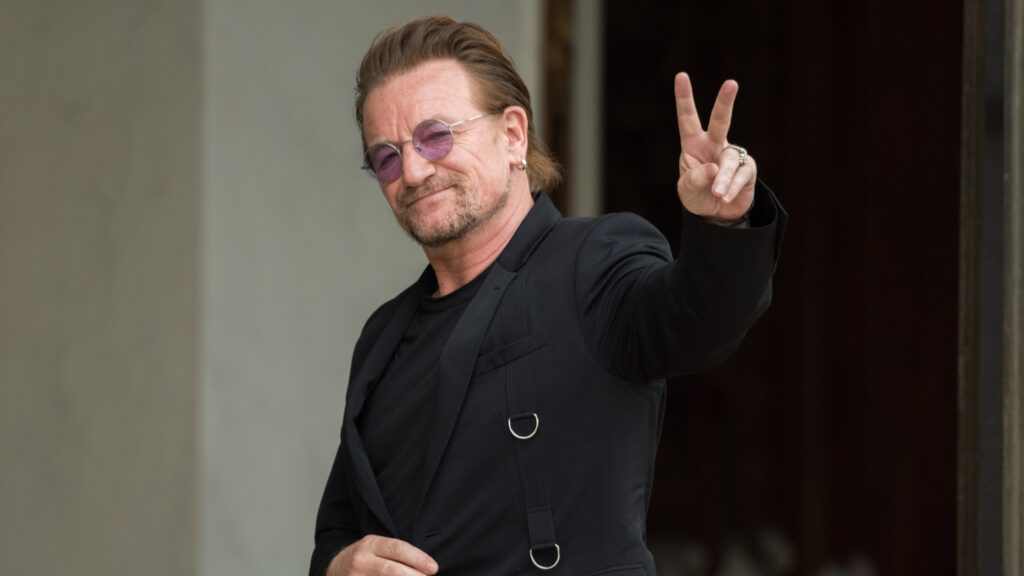 Let's take a look beneath the leaf and find out how far Bono's meat-eating tendencies go, investigate why so many people are under the impression that he is vegan, and uncover the legendary frontman's ties to the world of veganism.
Is Bono Vegan?
Bono is not vegan, nor has he ever been vegan. In addition, he has never publicly spoken about being vegan or voiced his desire to adopt a vegan diet in the future. On the contrary, the star has been known to enjoy eating high-quality steaks on a regular basis.
According to Daily Mail, in 2015, while dining at a Denver restaurant with his close friend and committed vegan Bill Clinton, Bono tucked into a sesame ahi (or yellowfin) tuna and udon salad. Bill enjoyed vegan-friendly kale and quinoa salad.
In a PETA profile about Bono, the writer wrote about a dinner Bono was hosting and mentioned "Bono, who was carving up a large steak, got more and more excited." On a separate occasion, the same writer details how Bono ordered "half a dozen oysters and a filet mignon" proving, once and for all, that Bono is definitely not vegan.
Why Do People Think Bono Is Vegan?
Most people assume that Bono is vegan simply because he seems like the 'type of person' who would be one. This is largely to do with the fact that Bono is a huge activist and philanthropist who is on a mission to save the world. One of the ways in which he plans on doing so is by eradicating hunger.
In addition to Bono's philanthropic endeavors, fans think Bono is vegan because he and his wife Ali Hewson are passionate about growing fruit and vegetables and have a desire to become self-sufficient one day in the future.
He told The Mirror, "We have a four-acre garden on the coast and are growing our own vegetables, some fruit trees, and we have our own beehives… We also have a 300-metre-long property in the south of France where we want to set up beekeeping and vegetables.
But the most compelling reason people have to believe that Bono is vegan is that it was widely (and erroneously) reported that he was by mainstream media. Fake social media posts went viral, and soon high-profile publications ran with the story.
The fake post read, "I thought it was pretty silly of me to, on the one hand, raise awareness of the plight of our hungry in Africa while, on the other hand, continue eating meat, dairy, and eggs which require enormous quantities of Africa's grain and plants in their production. I suppose you could say that I have quite literally seen the light through my shades."
Does Bono Have Ties To Veganism?
Though he may not be vegan, Bono actually has a strong tie to the world of veganism. In December of 2016, Bono teamed up with his U2 bandmate, The Edge, and invested in a company called 'Nuritas.'
'Nuritas' is a digital-biotechnology R&D company in Ireland. Bono and The Edge are confirmed as 'key investors' and made a significant financial contribution to the fledgling company's seed round investment. All of the company's products are vegan.
The Edge said of the venture, "When we first started talking with 'Nuritas' I was blown away with how their ideas could be used to significantly improve the health of billions of people globally. We want to bring forward and support innovative, world-changing ideas so this is a perfect fit."