Brad Paisley is a popular American country singer and songwriter from Glen Dale, West Virginia. His debut album was released in 1999 and all of his albums thus far have earned high chart ratings and are certified gold or higher. In 2009, Brad Paisley set the record for most consecutive singles reaching the top rating on the Billboard Country Airplay chart, and has sold over 11 million albums, won three Grammy Awards, 14 Academy of Country Music Awards, and two American Music Awards, since then.
Brad Paisley has two sons with his wife Kimberly Williams Paisley, named William Huckleberry "Huck" Paisley and Jasper Warren Paisley. The couple's first son was born in February 2007 and their second son was born in October 2008.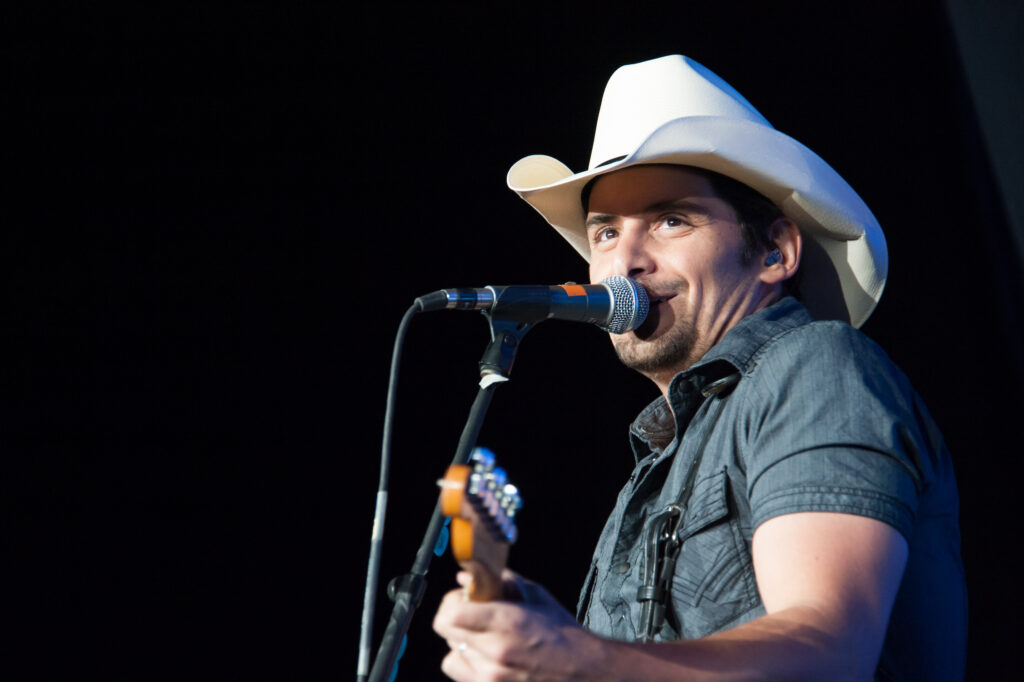 Brad Paisley has a tight-knit family consisting of his wife since March 15th, 2003, and his two adorable sons, William and Jasper. Brad is always seen smiling when asked about his children in interviews and he loves talking about raising his two boys to be kind, humble, caring, despite the media and his booming career in the country music industry.
Brad Paisley As One of Country Music's Biggest Stars
Brad Paisley was born in West Virginia in 1972 and his passion for music started at a young age. His grandfather gave him his first guitar when he was eight years old, and by the age of twelve, Brad Paisley was singing at church, civic meetings, and even in his first band.
When he played in his first band, he always wrote his own original music, and before he knew it, Brad Paisley was a regular on the popular country music show, "Jamboree USA". The audience absolutely adored him, and because of his growing popularity, Paisley was invited to join the program as a full-time musician.
In the meantime, Brad Paisley attended school at Belmont University in Nashville, Tennessee where he studied under a music scholarship and met music influences, Frank Rogers and Kelley Lovelace. Right after graduation, Brad Paisley signed with EMI Records as a songwriter and wrote "Another You" by David Kersh in 1996 which ended up being his first successful hit.
He signed as a singer with Arista and made his debut as a solo artist in 1999 with his first album, "Who Needs Pictures". The album ended up selling more than one million copies and two chart-topping hits including, "He Didn't have to Be" and "We Danced".
The following year, the Academy of Country Music named Brad Paisley as the Best New Male Vocal Artist and he received the Horizon Award from the Country Music Association.
In 2001, Paisley released his second album called "Part II" which one again, included chart-topping hits such as "I'm Gonna Miss Her", "I Wish You'd Stay", "Wrapped Around" and "Two People Fell in Love". The singles made it onto the Top 10 on the country charts.
Throughout the next decade, Paisley did not lose any momentum in releasing successful albums and collaborated with big artists at the time such as Keith Urban, Carrie Underwood, and Dolly Parton.
In 2015, Brad became a mentor for Blake Shelton's team on season 9 of the popular music show, "The Voice" and in 2016, he released a new song called "Today", which was the first single from his 11th album, "Love and War".
Brad Paisley Has Shown the True Meaning of Fatherhood
Brad Paisley is adored by his audience for his caring and fun sprits, both when performing and from the glimpses of his life he provides for his fans on social media. His years of success in the country music industry have created a fanbase that is always wondering about Brad Paisley's personal life.
Brad Paisley has been married to his wife, Kimberly Williams since March 2003. His wife is an actress and he found himself instantly attracted to her when on a date watching "Father of the Bride", a film in which she starred in.
Their paths crossed in 2000 when Brad decided to ask the actress to star in his music video, "I'm Gonna Miss Her". She accepted his offer and the two started dating shortly thereafter.
The couple got married and had two boys named William Huckleberry "Huck" Paisley and Jasper Warren Paisley. Their first son was born in 2007 and their second son, in 2008.
Brad Paisley has always been vocal about the way he and his wife have been raising their kids. Brad has stated that he wants his sons to be outstanding gentlemen and to always remain humble.
The tight-knit family can be seen going on bike rides together, taking trips as a family, and enjoying their time together.