From his love of covering 'Take Me Home, Country Roads' by John Denver to wearing tons of West Virginia University swag, it shouldn't come as a surprise when you find out where Brad Paisley grew up.
Brad Paisley grew up in Glen Dale, West Virginia. It was in this small town that he got his start as a musician. It was through the town's support that he managed to eventually get a spot playing on Jamboree USA. Paisley has cited his maternal grandfather as the main reason behind his introduction to country music.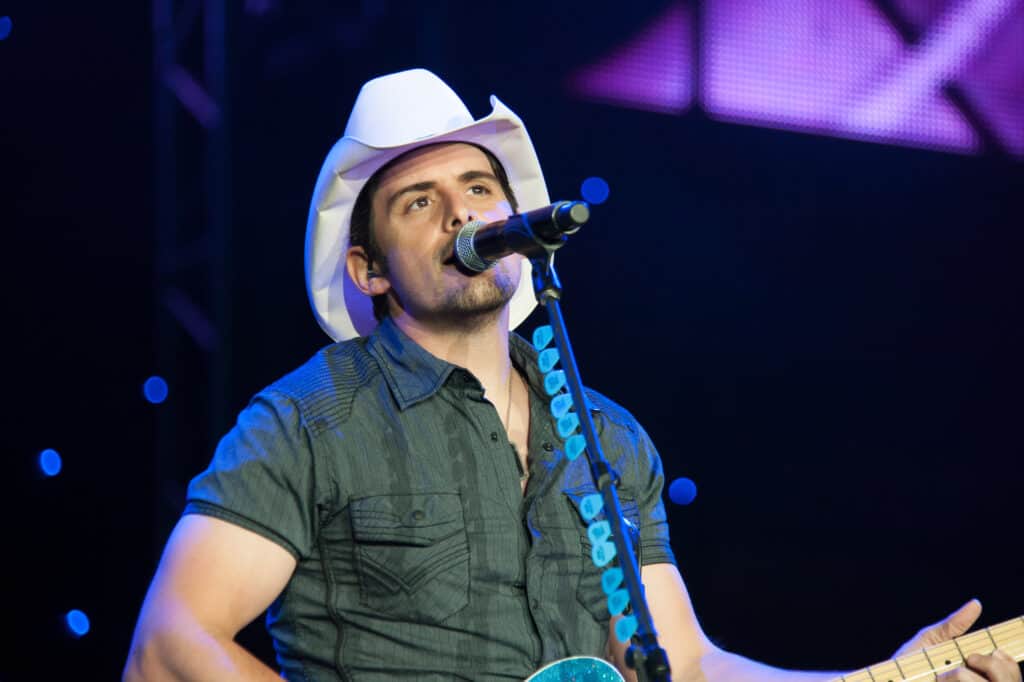 You can read more below about Brad Paisley's childhood in Glen Dale, his grandfather's influence on his love for music, and what Glen Dale is like today.
Brad Paisley's Early Life in Glen Dale
Brad Paisley was born on October 28, 1972, to Doug and Sandy Paisley. Doug was a worker for the Department of Transportation while his mother was a school teacher.
From a young age, Paisley's parents instilled a huge amount of pride in him for being a West Virginian. At the age of five, Brad's father would take him to watch the NCAA football team for West Virginia, the West Virginia University Mountaineers.
When he was just eight years old, Brad Paisley played the song 'Life's Railway to Heaven' by Nitty Gritty Dirt Band at the Methodist Church that he attended with his family. Word of his talent quickly spread throughout the town and soon he was being booked to perform everywhere.
At the time, Glen Dale, West Virginia was a tiny town with a population of only 1,420 people so it's easy to see how word-of-mouth helped Paisley with his musical successes. He started playing at church, for the Rotary Club, the Elk's Lodge, nursing homes, and for patients in the hospital.
It was his gigs in the hospital that had the biggest impact on him and showed him the incredible healing powers of music. He was eleven and performing in the respite ward of the Reynolds Memorial Hospital.
Paisley approached an elderly woman who he had been told only ever said the word "Okay" and witnessed her affliction first hand when asking her questions that her only response to was "Okay." The hospital staff then told him that the woman's favorite song was 'You Are My Sunshine.'
Brad played the woman's favorite song for her and she immediately sat up and sang every word with him as if she had woken from a dream. Paisley said that the incident made him see just how important his talents were because music had the ability to brighten people's day.
Paisley continued to contribute to the community through his performances until he moved to Nashville on a full-ride scholarship from ASCAP to attend Belmont University.
Paisley has never forgotten his West Virginia roots though and often visits Glen Dale to see family and friends who still live there. He has even written songs about his hometown like 'Letter to Me.'
You can watch Brad Paisley's music video for 'Letter to Me' below which features his high school and hometown.
Brad Paisley's Grandfather
The 'Mud on the Tires' singer's maternal grandfather is a gentleman by the name of Warren Jarvis. Paisley has said that his career in music was all due to his grandfather.
When Brad Paisley was just eight years old, his grandfather purchased him a Danelectro Silvertone guitar from the Sears catalog. He felt that the guitar would be a hobby that would keep Paisley happy.
In 2011, Brad Paisley told ABC News that his grandfather said "You can play this instrument and three or four hours later, not remember what you were upset about. And that's all he wanted. He didn't care if I was ever, you know, successful. He wanted me to be happy."
His grandfather passed away when he was 13-years-old. However, Brad has said that he still carries the man's inspiration with him onto every stage for every performance.
Glen Dale, WV Today
Today, the small town that sits right at the Ohio and West Virginia border in the Ohio Valley, Glen Dale, hasn't changed much. It's quite similar to the town Brad Paisley grew up in in the 70s and 80s.
The population is still around 1,300 people but it now boasts 'Hometown of Brad Paisley' on its welcome sign. Paisley's high school, John Marshall High School, is still there in town.
The Glen Dale Methodist Church is still giving services to the Glen Dale citizens. Reynolds Memorial Hospital, where Paisley performed so many times, still has patients.