Musicians and songwriters Tyler Hubbard and Brian Kelley are names that will stand out to fans of the runaway success Florida Georgia Line, the country duo that can seemingly strike nothing but gold with every release. Of their multiple #1 country albums, how much of their own songs do they write?
Both Tyler Hubbard and Brian Kelley of Florida Georgia Line are heavily involved, if not always the main component, of the songwriting process in almost all of their songs. This has been the case ever since they began working together.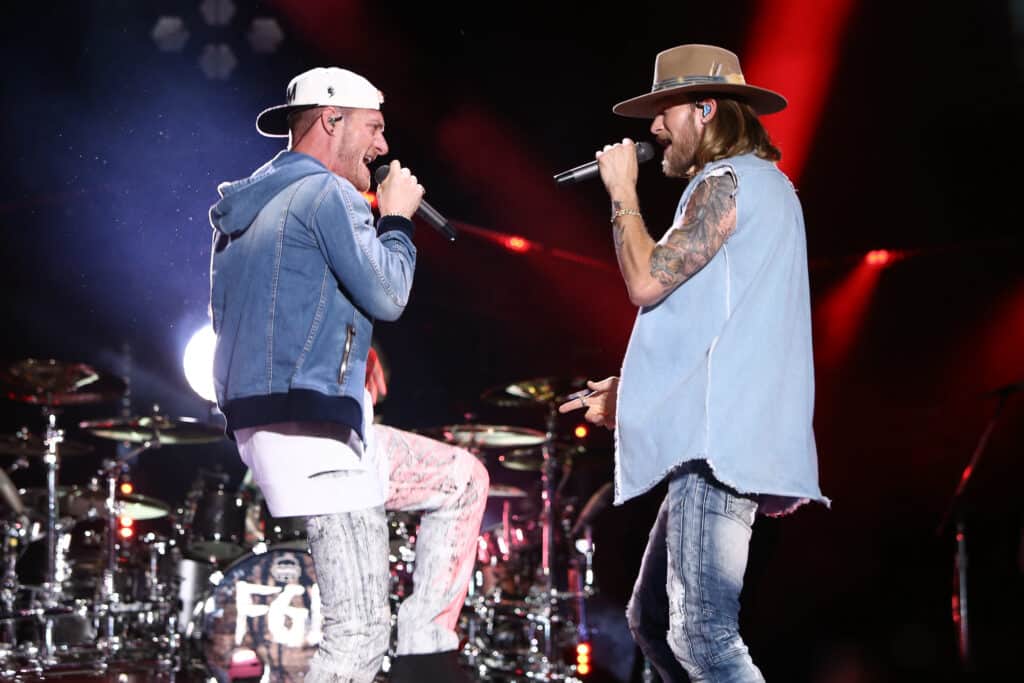 Owing to a lifelong interest and passion for music, both halves of the Florida Georgia Line are heavily invested every step of the way in their music-making process, from composing the music to writing the lyrics.
The shared wealth of experience and enthusiasm they contribute to the songwriting process is doubtlessly one of the main reasons that the duo have managed to release back to back studio albums which all successfully topped the country charts.
How They Started Songwriting
Long before we'd be seeing them ripping through the charts with back to back massively successful releases, even before their 2010 EP release Anything Like Me, a young Hubbard and Kelley were pursuing their obsession with music.
Representing the Georgia half of their musical combo, Hubbard first found himself introduced to a participatory role in music while he was still a child back in his hometown of Monroe. What started humbly with just a guitar and a position as youth worship leader for his church soon grew to something much, much bigger.
Hubbard marched to the beat of his own drum, musically speaking, and extended the tendrils of his creative talents out to genres far beyond what one might expect of a guitar-strumming youth worship singer.
During high school, together with a group of like-minded friends, Hubbard formed Ingenious Circuit. They focused on music with a more hip-hop sound, something perhaps altogether unexpected for one half of a group who make the country genre their home, but also ideal for Hubbard to experiment with his songwriting abilities.
Meanwhile, in Florida, Hubbard's future partner in music Kelley found himself in similar beginnings to his Georgia counterpart. Also discovering a love for music inside of a church, Kelley started singing at the age of 16.
Singing and songwriting was a constant source of enjoyment for Kelley, being the one interest that held on to him through all the other phases of his life. By the time they had met, Kelley was already writing music and putting in a significant amount of time performing in Nashville, hot off of a new publishing deal.
Two Become One
Both Hubbard and Kelley had a strong desire to write and play their own music, and you might think that with so much in common there would have been instantaneous chemistry between the two. That scenario eventually came, but in the beginning, the two weren't particularly drawn to each other.
It was only after Hubbard got to witness Kelley's skills as a musician, at the place that had given birth to both of their first steps into music, the church. Immediately after seeing Kelley's skills, Hubbard jumped at the chance to work together with him and the two began writing music, doing whatever it took to pay the bills.
Their first joint work under the banner of Florida Georgia Line was an EP titled Anything Like Me. Right from the outset, their styles meshed perfectly, the songwriting had a unique fusion of the talents and range of musical taste that both Hubbard and Kelley possess.
The Importance of Songwriting
No matter what differences the pair may ever have, or have had, with each other, the one thing that they can both agree on is the significance of songwriting. In an interview, Hubbard reinforces the sentiment stating that both he and Kelley are "songwriters at heart."
This sentiment can be seen clearly from both of them, as not only do they gain enormous amounts of satisfaction from the songwriting and performing process, but also from seeing other artists putting their own spin on the works they have so lovingly created.
They've even been a part of the show Songland, a songwriting competition, further emphasizing how much they value the importance of songwriting!