Tyler Hubbard and Brian Kelley of music duo Florida Georgia Line have been writing, producing, and performing music since 2010 when they released their first EP Anything Like Me. They've had plenty of hits since then, but of their original songs which were the first?
Florida Georgia Line's first song was "You're Country" from their 2010 EP Anything Like Me. The track was amongst the first songs the duo had ever released and was the first one that listeners were greeted with upon listening to the EP.
Even as early as that first EP in 2010, which was a self-published and self-produced digital download, there was already a clear identity and unique style in the sound of their music. They grew immensely over the short period of time between that original release and the studio albums that came a few years later, but some of those original tracks were of such high quality that the group featured them on later albums.
Hubbard and Kelley's Country
Listening back to that early EP, and "You're Country" in particular, it's clear to see that the vision Hubbard and Kelley had for their music wasn't just your average country music. Their tracks all possessed a special twist, a seasoning of influences from across multiple music genres.
They've spoken about those influences before, listing off some of the artists that make it onto their own personal music mixes. If you hadn't heard their music before, then it's certainly not what you might expect from a duo that is firmly rooted in the country music genre.
Amongst those influences, Garth Brooks is probably one of the most understandable, as the ability to infuse the country genre with a little pop and rock is one of the defining features of Florida Georgia Line's best tracks.
Although it was still a long way from being the sound that we hear in the likes of "Cruise", you can hear all the hallmarks of those influences in "You're Country".
Perhaps the most surprising on their hypothetical mixtape are the likes of Lil Wayne and Eminem. Hubbard and Kelley have made it clear that it isn't just a few genres that they have an interest in, and that they are lovers of music as a whole.
The First Studio Release
Some might not regard the homebrew EP as qualifying for the honor of holding their first song, in which case we turn to their debut studio release, Here's to the Good Times. The album featured multiple tracks from their previous EP's, all of which could have been contenders to lead the way as the first single.
The track that actually had that privilege was one that we've mentioned previously, "Cruise." It was the perfect single to introduce the world to Florida Georgia Line, immediately making it clear that listeners would be dealing with a far different beast than the usual country sound.
More than simply standing out from the crowd, their flagship single elevated itself out of the genre entirely, becoming the ambassador for an entirely new style of music. The term to describe "Cruise", and music like it, was "bro-country."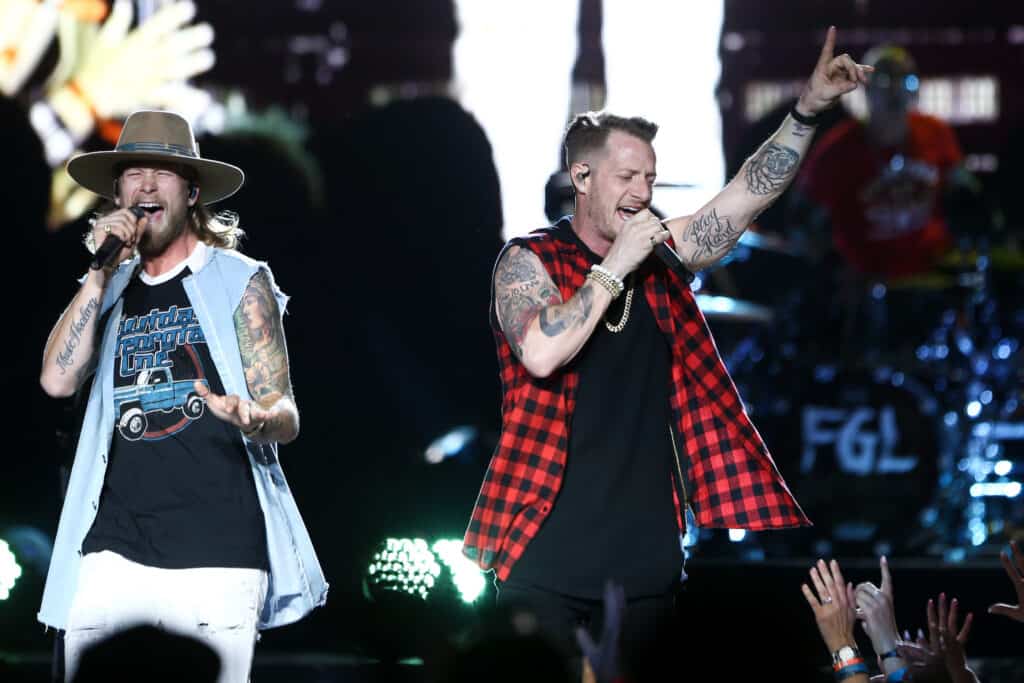 It's definitely up to context and tone whether or not the usage of the genre term is affectionate or not, seeing as how there is some debate about whether or not the new musical stylings of performers like Florida Georgia Line are actually country music or not.
A New Movement's Success
Regardless of your personal stance on the issue of their "authentic" country sound, or whether or not music critics deem their music worthy of praise, the mainstream audience has already spoken.
And in regards to being victorious in that arena, Florida Georgia Line has been massively successful. "Cruise" itself topped the country music charts and managed to break the top 5 on the Billboard Hot 100.
Since the success of that single, they've steadily released multiple albums, all of which enjoyed similar acclaim by their audience. Hubbard and Kelley's ability to integrate their various different musical influences into their sound has proved to be a formula for hitting the top of the charts.
Whether they continue to do whatever comes naturally to them with their "bro-country" sound, or branch into even more unexplored musical territory, only time will tell.