Joe Biden is the 46th President of the United States and assumed office on January 20th, 2021. He has been an active member of the Democratic party since 1973, having served as the 47th vice president from 2009 to 2017 under Barack Obama, as well as represented Delaware from 1973 to 2009 in the United States Senate. He announced his candidacy for the 2020 presidential election in April of 2019 and is the oldest elected president to date. 
Joe Biden has four children, Naomi, Beau, Hunter, and Ashley, three of which he had with his late wife, Neilia Hunter, and one with his current wife, Jill Jacobs.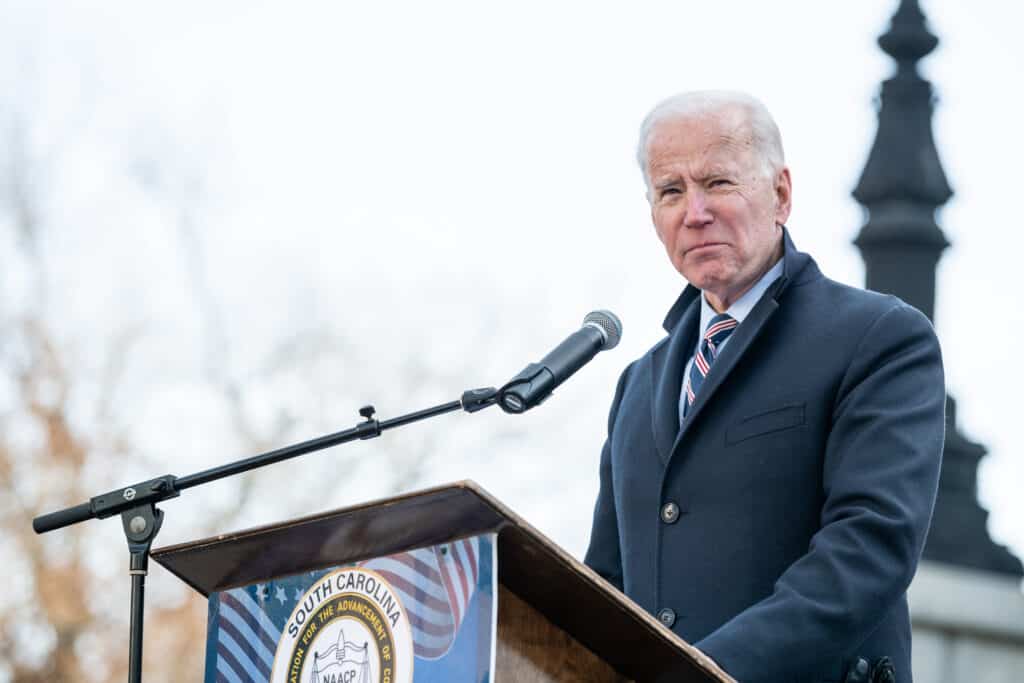 Joe Biden has had a very long career in politics, from being re-elected into the Senate six times and serving two terms as the vice president. He has oftentimes been referred to as a "family man", calling his children and grandchildren every day, but he is not one to mix family with running the country.
Although he is very close with his family, Joe Biden does not even allow any of his family members to have an office at the White House, because he knows that his personal matters do not have a place for his major role as the President of the United States.
Joe Biden's Political Career Throughout the Years
Joe Biden was born in Scranton, Pennsylvania, a blue-collar city on the east coast. His father was a used car salesman and furnace cleaner, and his parents taught him toughness, hard work, and perseverance from a young age.
His family moved to Mayfield, Delaware when he was 13 years old, a busier growing middle-class community. In school, Joe would oftentimes get bullied for his stutter, and kids would call him "Dash" and "Joe Impedimenta" to make fun of him.
Joe Biden went to St. Helena School until he was accepted to Archmere Academy. He worked by washing the windows of the school and weeding the gardens in order to help his family afford tuition.
After high school, Joe attended the University of Delaware, where he studied history and political science. He started to become more involved in the world of politics, with his interest stemming from the inauguration of John F. Kennedy in 1961.
Joe was accepted into the Syracuse University Law School after graduating from the University of Delaware in 1965.
He graduated law school in 1968 and started practicing at a law firm in Wilmington, Delaware, He was elected into the New Castle County Council soon after, and started his own law firm in the meantime.
The Delaware Democratic Party encouraged Joe to run for the United States Senate and although many did not believe he would win, Biden decided to run a campaign anyways. Biden ended up winning and became the fifth-youngest US senator elected.
He represented the people of Deleware in the Senate from 1973 to 2009 and won the respect as one of the body's leading foreign policy experts. In 2007, Biden decided to run for the US presidency but ended up dropping out after receiving less than one percent of the vote in Iowa caucuses.
However, Barack Obama selected Biden as his running mate and the duo ended up winning the 2008 election. Biden became the 47th vice president and served two full terms.
Biden announced that he would be running in the 2020 presidential election on April 25th, 2019. He easily led Democratic polls and nominated Kamala Harris as his running mate.
Biden was declared as the winner of the election on November 7th, 2020, and assumed office on January 20th, 2021.
Biden's Family
Joe Biden has a large family, consisting of four children and many grandchildren. He shares three kids, Hunter, Beau, and Naomi, with his late wife, Neilia Hunter, and his youngest daughter, Ashley, with his second wife, Jill.
His daughter, Naomi, died in a tragic car accident with her mother, Neilia, in 1972. His son, Beau, was a well-known politician who joined the Army National Guard in 2003 and served as Delaware's attorney general, also passed away in 2015 after losing the battle with brain cancer.
Joe's son, Hunter, is an attorney and the founder of venture capital firm, Eudora Global. He has struggled with substance abuse in the past and is oftentimes in the media for his personal struggles.
Joe Biden's youngest is Ashley, a former social worker in Delaware and current executive director of the Delaware Center for Justice.