One of the biggest markers of a good rapper is one who writes their own lyrics. Lil Wayne has been rapping for over two decades now meaning he has to have some decent lyrical skills.
Lil Wayne does write his own songs. He is credited with writing the lyrics on pretty much every song that has come out on his studio albums. He has also had a fairly unique writing process since 2003 where he doesn't actually write his lyrics down. Instead, Lil Wayne records them as they come to mind.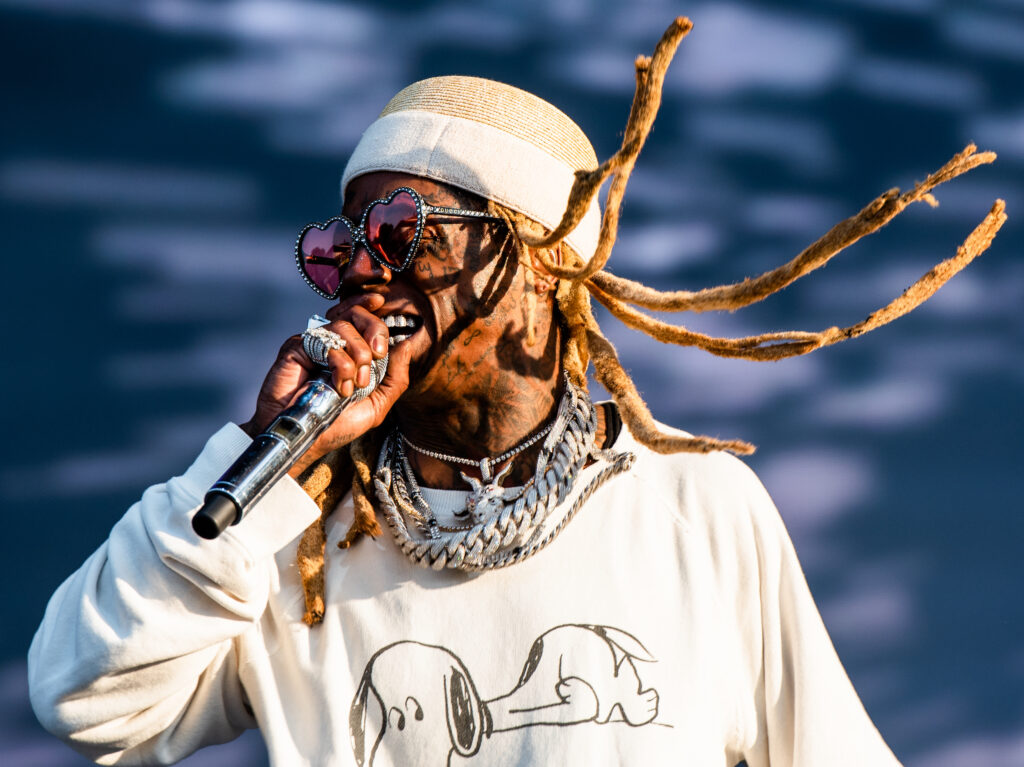 Scroll down to read more about Lil Wayne's writing process and his own personal brand of genius.
Lil Wayne's Writing Process
Since his start as a rapper at the young age of 14, Lil Wayne has shown the world that he is eccentric. While he started out with the group Hot Boys with the label Cash Money, he soon broke out on his own as a solo artist writing his own music.
His debut album was released in 1999 and titled Tha Block Is Hot. He was only seventeen and the album debuted at number three on the Billboard 200.
Since then, he has released over ten albums, all of which he composed the lyrics for. So how does he do it; how does he come up with so many tracks?
Well for one, he doesn't actually write down his lyrics anymore. He has said that he stopped actually writing down his lyrics in 2003 and now prefers to get in the mood and come up with everything on the spot in the recording studio.
When he appeared on The Tonight Show in 2018, he told host Jimmy Fallon that "I just go in there and what I was feeling that day is how it goes."
He elaborated stating that his freestyle lyrics may have been from the inspiration he felt after he heard another artist's song to something that is bothering him. Either way, he goes into the studio and sees what comes out.
Another piece of his writing process is skateboarding. He has said that skateboarding helps to clear his mind which then, in turn, helps him to create music.
Another effect on Lil Wayne's writing process could be his consistent consumption of 'sizzurp.' Sizzurp is a soda mixed with prescription-strength cough syrup called promethazine with codeine.
In 2017, the man who was supplying Lil Wayne with the cough syrup was arrested and sentenced to 30 years in prison. There has been no confirmation since that Lil Wayne still drinks the drug that has been featured in so many of his songs.
You can watch Lil Wayne's 2018 interview on The Tonight Show with Jimmy Fallon in the below video.
Lil Wayne's Genius
While some people don't associate rappers with a high level of intelligence, they couldn't be more wrong. Lil Wayne is actually a fairly smart individual.
If you Google 'Lil Wayne's IQ' the result that comes up is 96, however, we don't think that this number is even close to correct.
As Time Magazine reported in 2008, Lil Wayne was apart of the gifted program at his elementary school and was an honors student before dropping out of high school. The New Orleans native even made the efforts to get his GED.
After he got his GED, he attended the University of Houston for some time before transferring to the University of Pheonix to take online classes for his degree in Psychology. Now he has his Bachelor's Degree in Psychology as well as an Honorary Degree from the University of Houston.
While his unconventional process as a lyricist may have shocked you, Lil Wayne still has a lot more genius to show. He is actually credited with being the creator of the popular term 'bling.'
The word showed up in the late 90s after the release of the song 'Bling Bling' by Hot Boys. Hot Boys was the collaborative group that Lil Wayne was a part of that we mentioned above.
His genius doesn't end there either. The rap star has managed to amass a net worth of over $150 million.
The 'Sky Is the Limit' singer managed to do this by creating his own business ventures like Young Money Entertainment, Bogey Cigars, SPECTRE by SUPRA, Sqvadup, TRUKFIT, Wize & Ope, Tunechi Beats by Dre, and Young Money Sports.
In 2019, he also launched his own cannabis brand called GKUA Ultra Premium. So, Lil Wayne isn't just a lyrical genius, he's a business guru too.