What's in a name? A lot, actually. Names, especially stage names, are thoughtfully chosen to represent the person bearing it. Quite obviously, having Lil (a stylized "little") at the beginning of one's name implies shortness so how exactly does this apply to the "A Milli" rapper? How tall is Lil Wayne exactly?
Lil Wayne is 5 feet 5 inches tall (1.65 m or 165.1 cm), making him noticeably shorter than the average American male height, which is 5 feet 9 inches.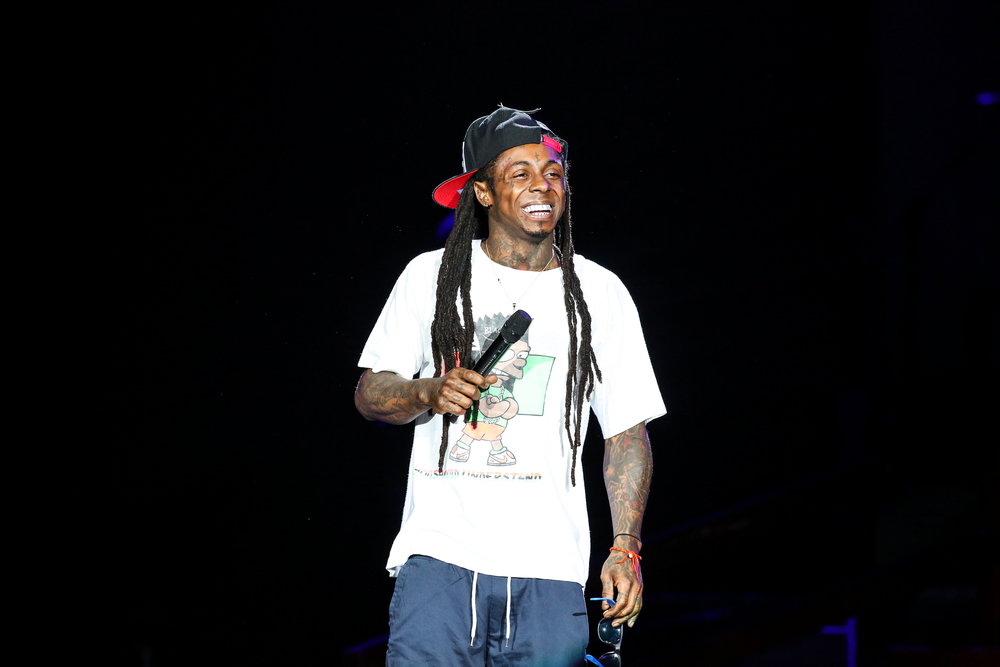 There is nothing little about the "Lollipop" rapper's talent and success, though. Scroll for more fascinating facts about Lil Wayne.
What is Lil Wayne's real name?
Lil Wayne's birth name is actually Dwayne Michael Carter Jr. He decided to drop the D from his real name and just go with Wayne as a way to carve out his own identity, separate from his biological father. Lil Wayne's parents divorced when he was 2 years old; his father left the family and never came back.
How old is Lil Wayne?
Born in 1982 on September 27th, Lil Wayne's age as of 2022 would be 40 years old. He has been rapping and writing lyrics since he was a young boy growing up in New Orleans, Louisiana. He dropped out of high school at 14 years old to fully focus on his career aspirations in hip-hop/rap music.
Lil Wayne celebrated the milestone of entering his forties with a big birthday bash in Los Angeles, California, attended by his closest friends and family. All four of his kids came in attendance as well, making Weezy's celebrations extra special for him.
Is Lil Wayne the shortest rapper there is?
In some lists, he may take the top spot but there are other rappers who are shorter than Lil Wayne. Two names that come up are Tory Lanez and Lil Uzi Vert, who are 5'3" and 5'4" respectively.
Holding the title of "shortest rapper ever" continues to be the late Bushwick Bill, who was a member of the hip-hop group Geto Boys. The Jamaican-American rapper stood at 3 feet 8 inches (1.1 m or 112 cm) tall as an adult as he was born with dwarfism. Bushwick Bill died in 2019.
The Modest Man hails Eazy-E as the shortest rapper to dominate the music industry. Standing at 5 feet 3 inches tall, Eazy-E was a juggernaut in the music scene in the late 1980s to the mid-90s. To have a better understanding of Eazy-E's contribution to hip-hop and rap, check out our deep dives here and here.
Fellow rap superstar Kendrick Lamar is taller than the Young Money founder by just one inch.
Who are Lil Wayne's kids?
Lil Wayne loves being a dad, and has been open in sharing this whenever he gets the chance. He once shared to MTV News how much joy he feels in playing the role of father to his little ones. Even if he's a big music star, it's the simple things with this family that he enjoys best:
"Simple things like helping my daughter with her homework. Simple things like putting my sons to sleep."
Lil Wayne has 4 children, namely Reginae, Dwayne III, Kameron, and Neal. Reginae is Lil Wayne's only daughter and eldest child. She's following her father's footsteps, it looks like, having chosen to be a rapper like him. Reginae is also a social media influencer with nearly 7 million followers on Instagram.
Dwayne III is the rapper's second child and eldest son, born in 2008 by mom Sarah Vivian, a former radio host. Kameron and Neal, his third and fourth children, were born two months apart on the same year, 2009. Kameron's mom is American actress Lauren London, with whom Lil Wayne had an on-again, off-again relationship for years.
Neal's mom is American R&B singer Nivea. She and Wayne had Neal from a brief reconnection the pair had after Nivea's divorce from The Dream. They remain friendly as co-parents to their son.