On Outer Banks, one of Sarah Cameron's style pieces is a tattoo choker necklace. While this isn't a real tattoo does the actress who plays Sarah, Madelyn Cline, have a tattoo?
Madelyn Cline does not have any tattoos. She has also never expressed any desire to get tatted either. This is in contrast to her co-star, Chase Stokes, who has at least one tattoo. Maddie could also be avoiding getting tattooed because she doesn't just act, she models as well. Having a tattoo can sometimes hinder being cast for a role or picked to model.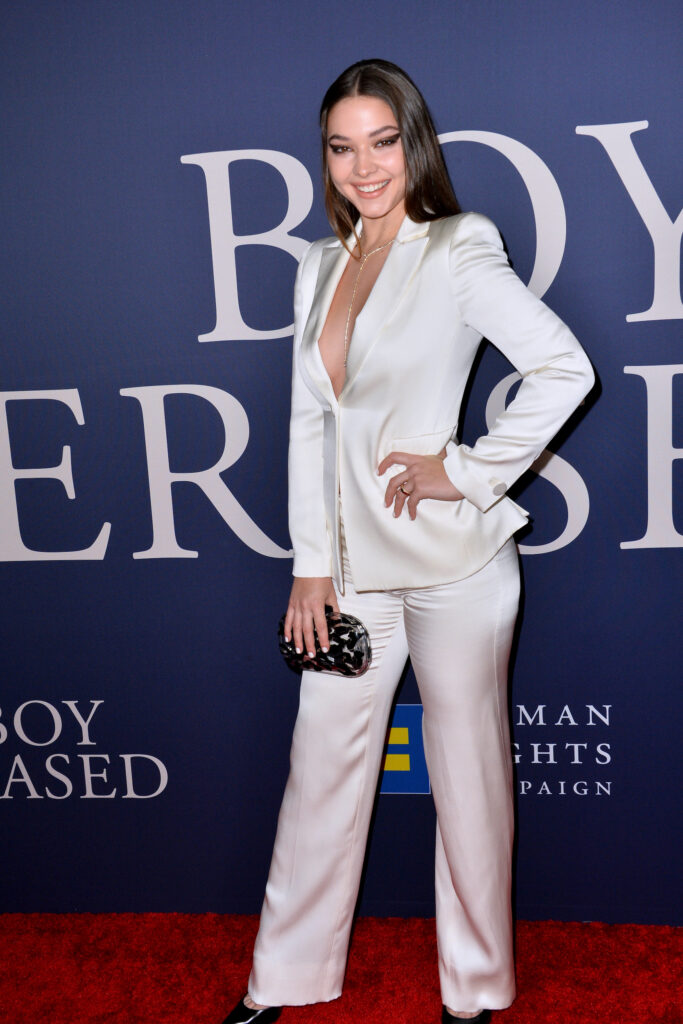 You can read more below about why Madelyn Cline wouldn't get a tattoo, what Outer Banks cast members have tattoos, and the bias Hollywood has toward tattoos.
Why Doesn't Madelyn Cline Have Tattoos?
Before Madelyn Cline struck it big with the role of Sarah Cameron on Outer Banks, she was and still is a working actress. That means that she was trying to get cast in whatever she could.
As a working actress who has yet to garner fame, it is often not the best choice to get a tattoo. Getting inked can seriously hinder your chances of being cast for a role.
This is just one reason why Maddie wouldn't get a tattoo. Now that she has landed her first big role, there is another reason why she may opt-out of getting inked.
Madelyn Cline's character on Outer Banks is a teenage girl from a wealthy family. It would be highly unlikely that her character, Sarah Cameron, would have an actual tattoo.
This could be another reason why Madelyn Cline would hesitate to get a tattoo. And, there are even more reasons.
In general, there are lots of reasons why people don't get tattoos. While they were originally seen as edgy or different, that's not the case anymore as having one is now fairly common.
According to this Psychology Today article, about 38 percent of adults between the ages of 18 and 29 have at least one tattoo. This article goes on to explain that the number one reason why people don't get inked is due to religious or cultural beliefs.
It is possible that religion is one of the reasons why Madelyn Cline doesn't have a tattoo. She is supposedly Christian and a tattoo could be seen as a sin within the religion.
Another reason some people won't get inked is that they are afraid of needles. While she has never said she is afraid of needles, it is still possible that Madelyn Cline doesn't like them.
You can watch Ms. Mojo's list of 'Top 10 Outer Banks Moments' in the below video. Spoiler Alert!
Who of the 'Outer Banks' Cast Has Ink?
While Maddie doesn't have a tattoo, there are some Outer Banks cast members who do have tattoos. One is the shows leading actor, Chase Stokes.
Chase Stokes plays John B. on the Netflix series. In June 2020, Chase posted a now-deleted photo to his Instagram account where a small tattoo of a smiley face was on his wrist.
Rudy Pankow who plays J.J. does not have any tattoos. He reportedly doesn't have any plans to ever get one either.
Madison Bailey, aka Kiara on Outer Banks, also does not have any tattoos. She hasn't really taken a stance on the concept of getting inked.
Jonathan Daviss also doesn't appear to have a tattoo, nor does Drew Starkey. So Madelyn Cline isn't alone in her decision.
Tattoo Bias in Hollywood
The entertainment industry is notorious for its bias.' From hair to weight to body type, it has historically been very discriminatory towards people who don't fit into their box of characteristics.
That is why it doesn't come as much of a shock to learn that Hollywood and the entertainment industry can be very biased when it comes to tattoos.
While the big-name actors who are A-listers can get away with ink, a lot of the working actors have been discriminated against for their body art.
Backstage even interviewed different entertainment professionals to find out what their experiences were surrounding tattoos.
They interviewed nine people total and there seemed to be a general consensus. If you're constantly cast as a character with tattoos then go for it.
However, they can seriously hinder being cast in a role because they can take hours of makeup to cover up. Many said that if you're going to get a tattoo, then it should be in a spot that isn't visible.
Since Madelyn Cline has yet to make it to A-list status, she is probably better off without the ink.