Madelyn Cline plays Sarah Cameron in the TV show Outer Banks which takes place in North Carolina. Is Maddie from the same area?
Madelyn Cline grew up in Goose Creek, South Carolina, USA where she was also born. Her parents are Pam and Mark Cline. While she lived and grew up in Goose Creek, she often spent time in New York City pursuing an acting and modeling career all throughout her childhood. This led to minor roles in shows like The Originals and Stranger Things before Outer Banks.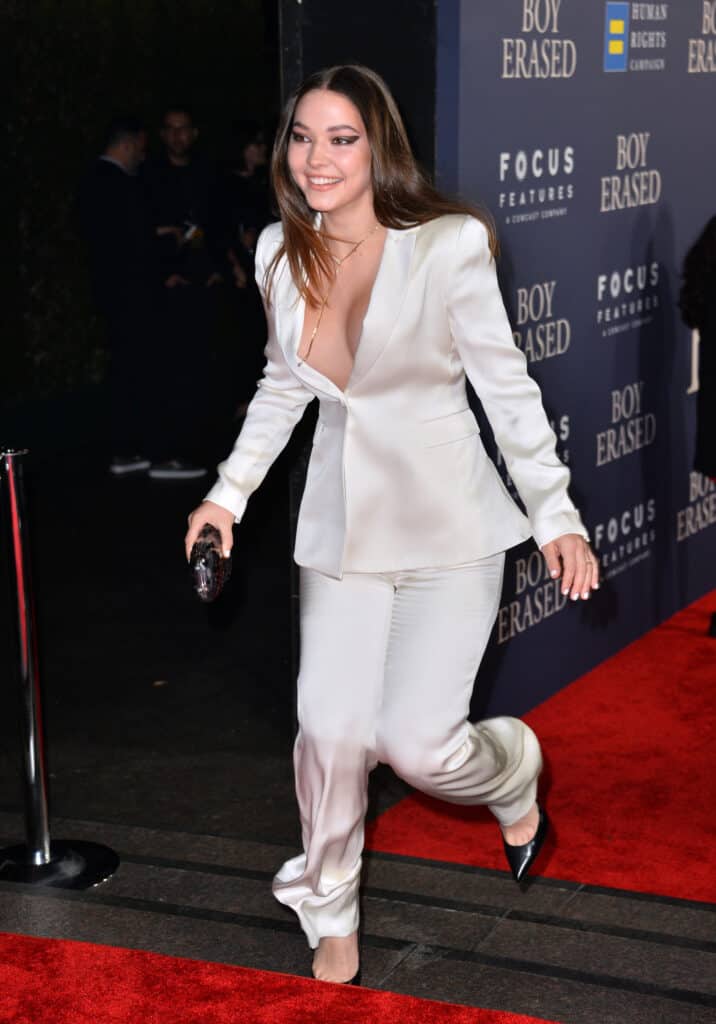 You can read more below about Madelyn Cline's childhood in Charleston, what she did in New York City, and what led to her role in Outer Banks.
Madelyn Cline's Childhood in Charleston
Maddie Cline was born on December 21, 1997, in Goose Creek, South Carolina only thirty minutes from Charleston. As we said above, her mother is Pam Cline and her father is Mark Cline.
While her family lived in Goose Creek, Madelyn attended school at the Charleston Day School, a private school. Goose Creek is a very picturesque town filled with McMansions and parts of it look like they could have popped right out of the 1998 Jim Carrey film The Truman Show.
Outer Banks was actually filmed in South Carolina but not Goose Creek; it was filmed in Charleston. This is despite the fact that the real-life Outer Banks is located in North Carolina.
In an interview with 1883 Magazine, Cline talked about how the filming of the show was moved to South Carolina due to the discriminatory and homophobic House Bill in North Carolina. So Madelyn Cline ended up shooting only twenty minutes from her hometown.
When Maddie was only ten years old, she started visiting New York City during her summer breaks to do print work. In her interview with Schon! Magazine, Cline said that "I loved the city, I loved being on sets and being around other creatives, and it was a way to save up for college later on, so it was kind of a win-win."
It was this thrill that she felt being on the creative sets that eventually led her to drop out of Coastal Carolina University to pursue her acting career. She was only nineteen at the time and ended up moving out to Los Angeles.
Cline's First Big Roles
It was while she was still in University that Madelyn Cline managed to land some bigger roles than the print roles she was getting in New York.
It was in 2016 when Cline was 19 years old that she landed the recurring role of Jessica in Season 4 of The Originals. That same year, Cline also landed the role of Tina in two episodes of Season 2 of Stranger Things.
You can watch one of Madelyn Cline's brief scenes in Stranger Things in the below YouTube video.
In the interview with Shon! Magazine mentioned above, Madelyn said that she was driving from Myrtle Beach to Atlanta frequently to shoot scenes for both shows and that it was getting to be exhausting.
This was because she was also attending college at the same time. While Cline wanted to continue her studies, she decided that she wanted to act professionally more.
That was her 'Aha!' moment where she knew that she had to chase after her dreams. She dropped out of college and shortly after ended up moving to Los Angeles, which she described as terrifying but also exciting.
The episodes that she was featured in for Stranger Things and The Originals were released in 2017 and that was also the year that she was being filmed for the movie Boy Erased. She again had a minor role, but this time it is was in an independent film starring Nicole Kidman, Russel Crowe, and Joel Edgerton.
Madelyn Cline Lands Outer Banks
While living in LA, Maddie's life was anything but glamorous. In an interview with Glamour Magazine, she recalls getting bed bugs and having to live out of her car for two weeks.
She also had to deal with a lot of rejection and watching her friends achieve success while she continued to get no callbacks. However, she did get a call back for the role of Sarah Cameron on Outer Banks.
Madelyn Cline flew from LA to Charleston for her callback and never ended up going back to LA. She landed the role and started filming right back where she grew up.