Patrick Dempsey, popularly known as Dr. McDreamy from Grey's Anatomy is one of our favorite celebs for his terrific acting. Asides from his role as a loving partner on the Grey's set, he is also a loving dad off camera.
The Grey's Anatomy actor, Patrick Dempsey, is father to three kids – a girl and two boys.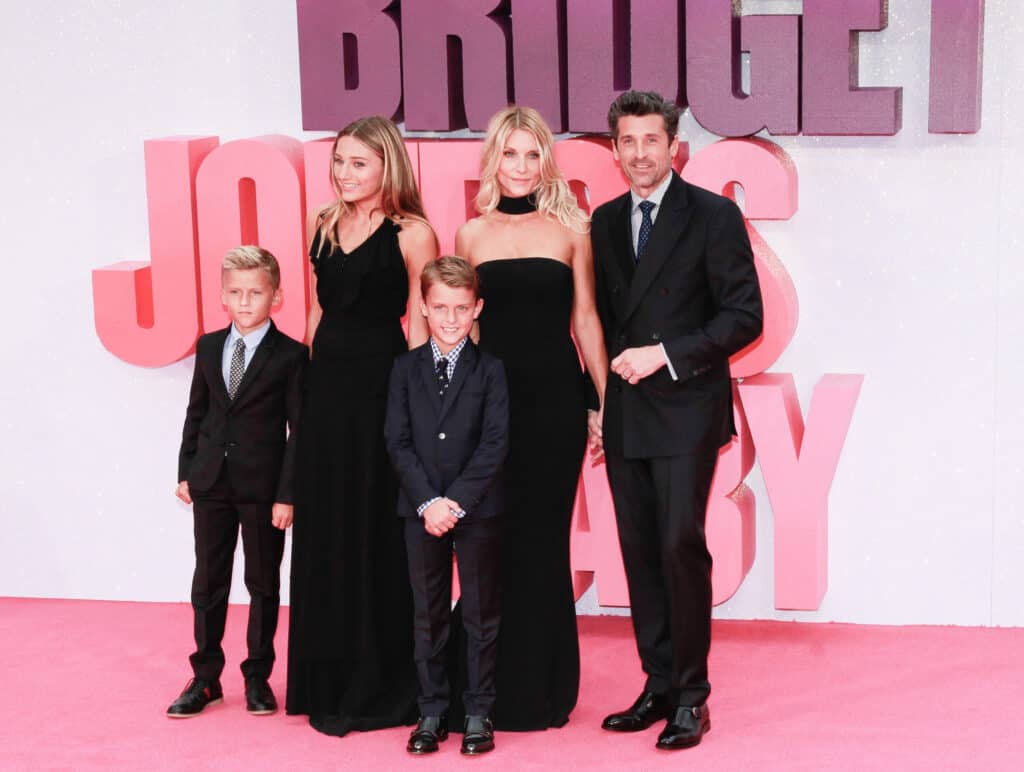 Patrick Dempsey is the kind of star we love to see because his marriage is going great, and his children are doing fine. So, here's a rundown on Patrick Dempsey's family.
Are Patrick Dempsey's sons twins?
Patrick Dempsey is loved in Hollywood, and his life off-camera is equally amazing. While it can be said that he experiences double measures of love, he is also blessed with two children who came out around the same time.
Sullivan Patrick and Darby Galen are the twin sons of Patrick Dempsey. They were born in February 2007. You will spot the twin boys in their brunette hair and dapper suits standing in front of their dad at red carpet shows. Sullivan and Darby are indeed as stunning as their father.
What is the name of Patrick Dempsey's daughter?
Patrick Dempsey is also the father to a beautiful girl, who is his first child. Her name is Talula Fyfe Dempsey and she was born in February 2002.
Talula graduated from a college in Washington and is an amazing older sister to her younger twin brothers. She's always seen matching her mom's outfit on red carpet shows.
How did Patrick Dempsey meet his wife?
Patrick met Jillian Fink in 1994 when he went for a hair appointment. Fink is a celebrity hairstylist and makeup artist, so they were in the same industry. It was almost as if their paths intentionally crossed.
When the would-be couple met, they were both in relationships. Patrick Dempsey was married to Rochelle "Rocky" Parker before they got divorced in 1994.
Since Patrick and Fink already had partners when they met, they remained friends until they eventually fell in love. In 1999, after they were both officially separated from their partners, they walked down the aisle, exchanged vows, and moved in together.
Three years into the marriage, Patrick and Jill welcomed their first daughter, Talula Fyfe. Five years after having only a daughter, the couple had their twin boys.
The entire family joins Dempsey at almost every red carpet event he attends.
When were Patrick Dempsey's children born?
Patrick Dempsey's first child, Tallulah Fyfe, was born on February 20, 2002. She turned 20 in 2022 and is a beautiful blonde. Sullivan and Darby, his twin sons, were born on February 1, 2007.
It must be a joy for the siblings to celebrate their birthdays in the same month.
Patrick Dempsey and Jillian Fink divorce
Patrick Dempsey may be an amazing entertainer, actor and father but, there's no perfect human being on Earth. Therefore, it's not impossible to hurt the ones we love and push them to want to get away from us.
January 15, 2015, Jillian filed for a divorce due to irreconcilable differences. Nobody can really say what they must have been going through after 16 years together to want to separate. Part of what Jillian wanted after the divorce was shared custody of their three kids, as well as spousal and child support. It was obviously a terrible time for them as they even asked the public to respect their family's privacy.
In November 2016, the couple were spotted in Paris giving us ultimate couple goals. The actor confirmed the news in an interview. He wasn't willing to let go of his marriage and realized that if he wanted to save his family, he had to sacrifice his time on the track as a race car driver. The decision helped him spend more time with his family.
Jillian pulled back the divorce papers and from then till now, they have grown stronger.
Who is Jillian Fink?
Jillian Fink, born February 4, 1966 is a celebrity makeup artist, hairstylist and entrepreneur. She married Patrick Dempsey on July 31, 1999 and has since given birth to three children.
The makeup artist is not only a magician with her brushes but also a great wife and mother. She supports her husband in many ways, including showing up with him at all his award and premiere shows.
Furthermore, Jillian respects her man's space by not always being in his face. So, despite being a loved stylist who has worked with many A-list celebrities (including Julia Roberts), she doesn't show up on his set as often.
The couple gives each other ample space to bloom in their respective careers, while raising their beautiful family together.