Vanessa Marie Bryant is a former model, businesswoman, and philanthropist. She was married to one of the National Basketball Association's greatest players, Kobe Bryant. She has mostly led a private life but only opened up to the public to further the causes championed by her late husband through their non-profit organization, Mamba & Mambacita Sports Foundation.
Vanessa only has one sibling, an older sister, Sophie Laine. They were raised by their single mother, Sofia Laine.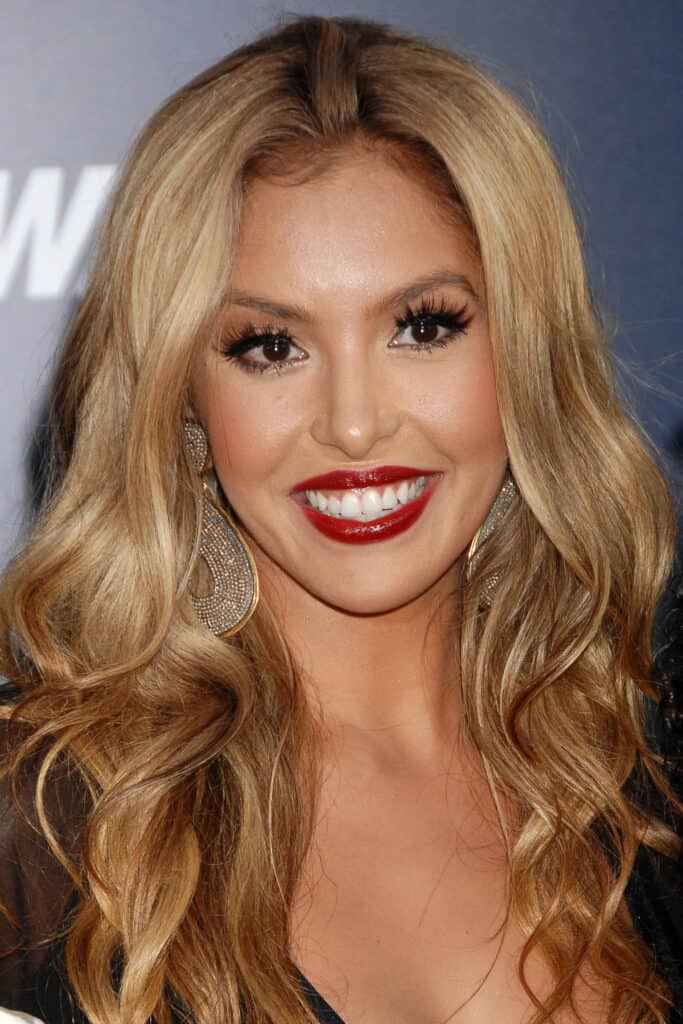 Let us learn more about the family background of the "Queen Mamba."
Early Life
Vanessa's parents divorced after she was born on May 1982, and eventually her biological father moved to another city afterward. She grew up with her sister, mother, and stepfather Stephen, whose last name (Laine) she officially took despite not being adopted by him.
At one point, she lived with her step-grandfather in Huntington Beach, CA. In high school, Vanessa was active in cheerleading and the theatre club.
Who is Sophie Laine?
Sophie Laine is the older sister of Vanessa Bryant. She has two sons, Kristian and Justin.
When Kobe and Vanessa got married in 2001, the NBA legend's parents, Pam and Joe Bryant, did not attend the wedding to show their disapproval. They believed the couple to be too young and that they did not like that there was no prenuptial agreement.
Meanwhile, Vanessa's mother Sofia and big sister Sophie embraced Kobe into the family. Very little is known about Sophie with her not having social media accounts–but she is a regular in Vanessa's posts.
Who is Sofia Laine?
Sofia Urbieta was a single mother raising her two daughters, Sophie and Vanessa. In 1990, she married Stephen Laine but got divorced in 2002.
Sofia sued her daughter, Vanessa, for financial support in 2016. In her suit, she claimed that Kobe, before his untimely passing in 2020, "promised to take care" of her.
Additionally, Sofia claimed to be a long-time nanny to her grandchildren and personal assistant for Vanessa and Kobe Bryant. She, however, claimed that she "was never paid for her services despite promises."
Vanessa refuted this claim stating, "My mother is continuing to try and find ways to extort a financial windfall from our family". The legal dispute was officially settled on August 6, 2021.
Reconciliation with the Black Mamba's family.
Kobe and Vanessa's whirlwind romance and subsequent marriage created a rift between the Los Angeles Lakers star shooting guard and his family.
This was further compounded when Kobe sued his parents in 2013 for trying to sell his memorabilia without his permission. The case was settled and Kobe's parents, Joe and Pamela Bryant, issued a written apology.
It is unclear if they were able to mend fences before Kobe's and Gigi's tragic passing. They were, however, able to fix their relationship with Kobe's two sisters, Sharia and Shaya.
In a 2016 interview with Ramona Shelburne, Kobe shared how proud he was of his sisters for being able to forge their own legacies.
He described them to be smart women, who were able to stand on their own and take care of themselves. He was proud to share that his sisters have managed to have a better sense of self, without the resentment that came with relying on others–in this case, on him.
More sisters to the rescue.
Since the death of her husband and their daughter, Vanessa has relied heavily on family and friends for emotional support. Sharia Washington and Shaya Bryant-Tabb were also present, consoling the grieving widow and their brother's children.
Shaya and Sharia expressed their support for Vanessa and her daughters by issuing a shared statement: "On behalf of our family, we join Vanessa, Natalia, Bianka, and Capri in grieving the loss of Kobe and Gianna in such a tragic accident."
They added, "We are devastated by the loss of our brother, son, niece, and granddaughter, and our hearts go out to all the families who lost their loved ones on Sunday. Our lives are forever changed."
Also, Sharia showed her love when she got a new tattoo with a black mamba, her brother's on-court persona, in the symbol of an infinity with the numbers 2 for Gianna and 24 for Kobe.
Their closeness was further displayed in Vanessa's posts when she and her daughters vacationed with Sharia and husband, Jerrod Washington, in Jamaica. The sisters-in-law and kids went on a trip to Disneyland, reportedly as an advanced peek of the Avengers Campus before its official launch. She also surprised Sharia with a brand new white Tesla.