As the de facto king of song parodies, 'Weird Al' Yankovic has been producing decades of pop-music mockeries throughout his career as a singer and songwriter. Has the larger-than-life musical comedian brought his zany personality beyond the songs, in the form of any tattoos?
Alfred "Weird Al" Yankovic does not have any tattoos. Though he wrote a song about being covered in tattoos and was featured in an article speculating he may have had one, Yankovic actually has none.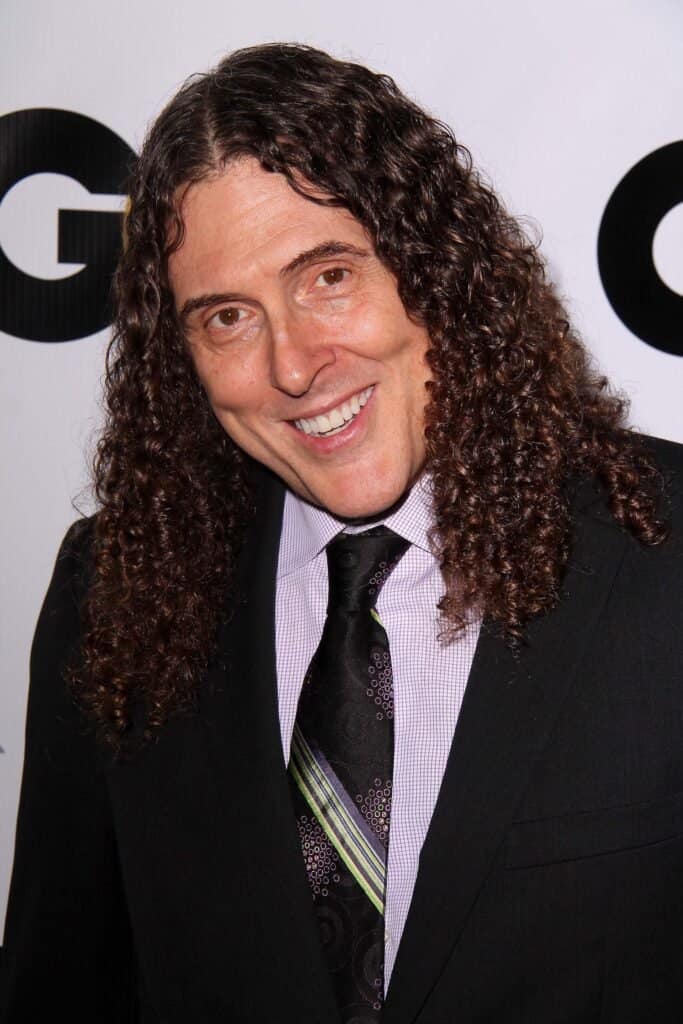 Based on his one song covering the topic, it's pretty safe to assume from the lyrics that getting a tattoo is not very high on the singer's list of things to do. That being said, there have been rumors in the past about his getting a tattoo – albeit very flimsy rumors that were clearly untrue.
Another Tattoo
Yankovic's 2011 release Alpocalypse featured one track in particular that covered the topic of skin ink, that song is "Another Tattoo". As the title hints at, the song sarcastically examines the culture behind tattooing, following the point of view of someone who has received multiple ill-advised tattoos.
A parody of the B.o.B track "Nothin' on You", the lyrics are drenched with Yankovic's usual playful wit that he injects into his parodies. There's a sardonic undertone to some of the lyricism, however, perhaps revealing how Yankovic feels about tattoos, or at least getting an excessive amount of them.
Lines like "I'm really ink obsessed," and "At every job interview, they're just so impressed," paint the picture that Yankovic perhaps doesn't particularly care for tattoos. Or, maybe it's just because the title and lyrics happen to rhyme with the lyrics of the original song, who knows!
A Permanent Shirt
While there may be a sliver of a chance that he's got a tattoo hidden somewhere on his body, it seems unlikely that somebody somewhere wouldn't have spotted it by now, unless it's very well hidden.
One tattoo that is definitely ruled out is the piece of art that an article claimed he had decided to get. The article speculated that Yankovic may have gone and got the design of an entire Hawaiian shirt tattooed on his body.
Now, look. There isn't anything necessarily wrong with having a wardrobe full of that kind of thing, but we definitely don't recommend anyone to go out and get their favorite shirt tattooed on their body, no matter how much they like the design.
That's especially true if you were planning on doing it because you were under the impression your favorite parody artist did the same thing. He might like those Hawaiian shirts a lot, but there's definitely no tattoo.
The same website proposed the possibility that Yankovic's entire next studio album following Alpocalypse was going to be tattoo-themed. Obviously, that turned out to be false, since the next one turned out to be Mandatory Fun in 2014.
The Weird Al Tattoo Gallery
If you're rich, famous, or a celebrity of any renown for just about any reason, then there's probably someone out there walking around with your face drawn on one of their body parts. It's no different for Yankovic, either.
Perhaps the biggest difference is that in the case of Yankovic, his fans have gathered in one spot to show off their tattoo tributes to the king of parody. On a forum that serves as a hub for all things Yankovic, one particular corner is dedicated to the most fanatical amongst his supporters.
Most of the tattoos on display are signatures, possibly tattooed over Yankovic's penmanship, but among that there is also the weird and wonderful to behold.
When we mentioned people getting Yankovic's face tattooed on a body part, we weren't kidding. One tweet from a fan shows they've turned their calf into a sort of Weird Al mural, complete with his face and some flashy banners.
Portrait tattoos can be pretty hard to pull off and have the unfortunate potential to come out looking like melted abominations in comparison to the photo or reference used. In the case of the tattoo above, though, it turned out pretty well!
Like Yankovic said in his own lyrics, though, it's best not to get a tattoo like that anywhere that'll impress prospective employers at job interviews.