'Weird Al' Yankovich's career parodying songs by other artists has spanned over four decades and gained him infamy in every generation. So what song started it all?
'Weird Al' Yankovic's first song was 'Belvedere Cruisin'' and it aired in 1976 on Dr. Demento's comedy radio show. 'Weird Al' was only sixteen at the time. The parody song was about driving around in his family's Plymouth Belvedere. It was during University that his first big parody song 'My Bologna' landed him a deal with Capitol Records.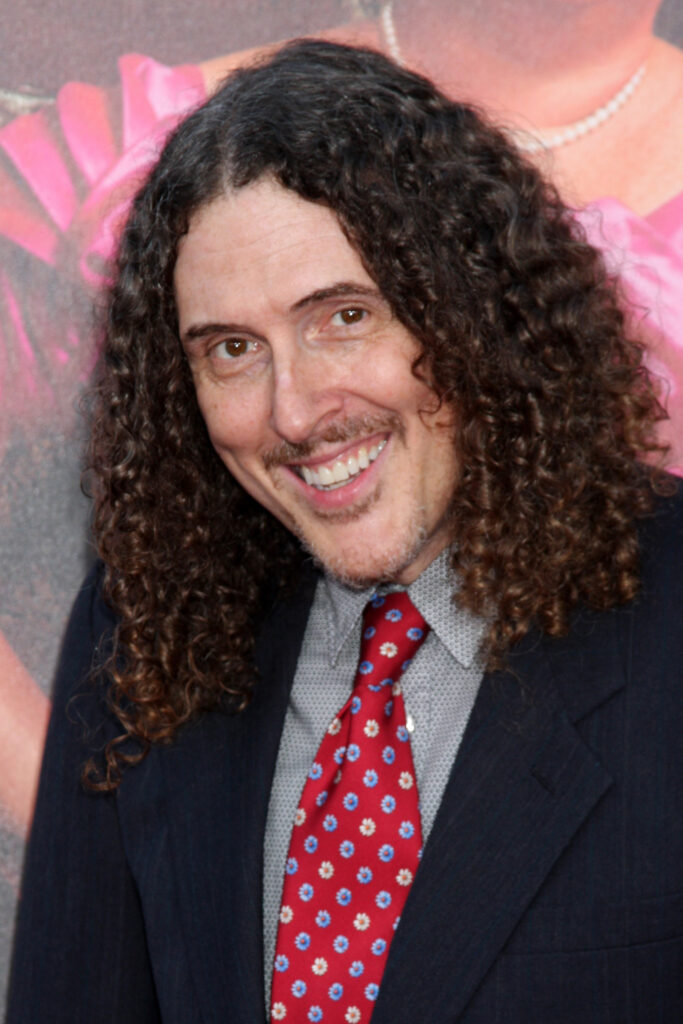 You can read more below about the 'Weird Al' Yankovic's rise to fame in his early years.
'Weird Al' Yankovic's Very First Song
'Weird Al' has had a fairly interesting life, to say the least. And, in order to understand his rise to success, you also have to understand his relationship with music.
In 1966, right before his seventh birthday, Yankovic's parents bought him an accordion to learn how to play. He took lessons, learned how to read sheet music, and even figured out how to play songs by ear.
Growing up, 'Weird Al' lived a very sheltered life with strict parents, yet he never rebelled against them. He listened and did what they asked of him.
This was until his growing love for comedy overtook his subdued demeanor. Throughout his early teen years, 'Weird Al' discovered how much he loved humor from Monty Python to Mad Magazine.
These choices were all harmless in his parent's heads. However, it was late one Sunday that Yankovic discovered a radio show from Dr. Demento that played novelty music by legends and nobodies.
His mother caught him listening to it one night and told him it was inappropriate so he wasn't allowed to listen anymore. It was too late though, 'Weird Al' had discovered that his two passions, music and comedy, could thrive together.
It was then that he took his tape recorder and accordion and recorded his very first song, "Belvedere Cruisin'" when he was 16. The song was about driving around in his family's Plymouth Belvedere.
Yankovic sent the song to Dr. Demento's radio show. It was Dr. Demento, whose real name is Barry Hansen, who identified Yankovic's huge potential in the lyrics of the song.
He played it on the show. This was just the beginning of 'Weird Al' Yankovic's massively successful career in parody music.
You can listen to "Belvedere Cruisin'" in the below YouTube video from Rarities Archive. While the sound quality isn't amazing, it shows the latent ability that Hansen saw within Yankovic's music.
'Weird Al' Yankovich's Rise to the Big Leagues
'Weird Al' Yankovich continued to send music to the Dr. Demento radio show and soon became a staple on it. He had written a song called 'School Cafeteria' that made it onto the show's Top 10.
However, he didn't pursue music as a career out of high school. Instead, he continued to follow the path that he had set out for himself since he was 12-years-old: going to California Polytechnic State University for architecture and then becoming an architect.
It was at Cal Poly that Yankovich got a job as a disc jockey for the campus FM radio station. While there, he took on the professional name 'Weird Al' and was on air Wednesday nights from midnight to 3 am.
Also while at Cal Poly, Yankovich performed at the school's open mic night with his friend Joel who played the bongos. He began to focus more and more on music and less on school.
Then in 1979, the song "My Sharona" by The Knack hit the radio waves, and 'Weird Al' couldn't resist parodying it into his own version call "My Bologna," which he recorded in the school radio station's men's room.
He sent the song to Dr. Demento's and it was immortalized on the airwaves in much the same way as the original "My Sharona." When The Knack played a show at Cal Poly, Al snuck backstage and introduced himself.
The Knack's lead singer, Dog Feiger, said that he thought "My Bologna" was a great song and introduced Yankovic to Capitol Records Vice President Rupert Perry. Perry just happened to be at the show that night.
Feiger said that the song should be put out by Capitol and Perry agreed to do it. That's the weird way that 'Weird Al' Yankovich got his first deal with a label.
While he didn't get a record deal, it wasn't long before his comedic music became a hit nationwide.