Johnny Cash was an American singer, songwriter, and musician who passed away in 2003. He was known for his deep and calming voice, and much of his music involved themes of moral tribulation and sorrow. His unique voice and all-black performance wardrobe earned him the nickname of "The Man in Black". Johnny Cash is one of the best-selling music artists of all time and has sold over 90 million records worldwide.
Johnny Cash proposed to his wife of 35 years, June Carter, after the conclusion of one of his performances. He asked her to marry him in front of his entire crowd consisting of around 7,000 people in 1968.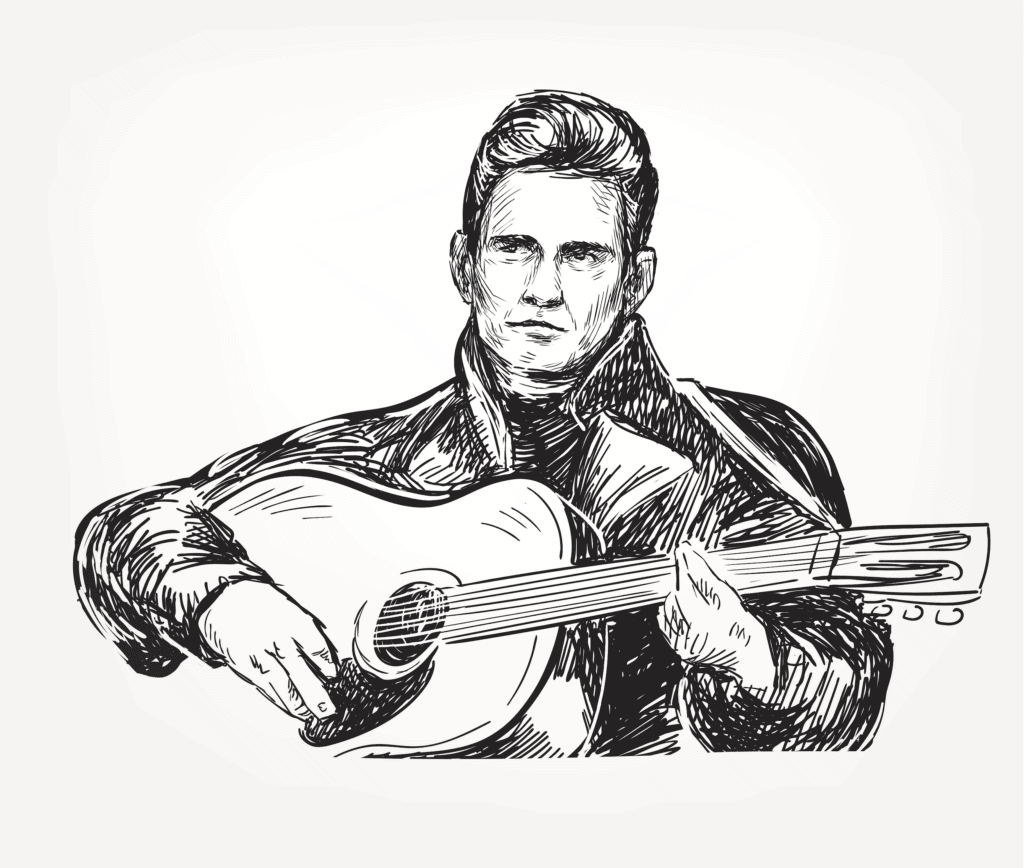 Johnny Cash remains one of the biggest icons in music history and his music career included songs from a variety of genres including country, rock and roll, blues, folk, and even gospel. He has been honored in the Country Music, Rock and Roll, and Gospel Music Hall of Fame.
Johnny Cash's Career Before June Carter
Johnny Cash was born in 1932 in Kingsland, Arkansas. His parents were poor Southern Baptist farmers and he was one of seven children.
Johnny spent the first 18 years of his life working alongside his parents in the fields, in order to help pay off their debts. He didn't have an easy life and one of the only ways to find an escape for the family was to listen to music.
Cash had been surrounded by music for many years, whether through listening to his mother's folk ballads or by the music he heard people swinging out in the fields.
At the age of 12, Johnny Cash started to write his own songs, and seeing his passion for music, Johnny's mother scraped together enough money to buy her son music lessons. The music instructor right away noticed the boy's unique voice and told him to never stray away from his natural tone.
After graduating from high school, Johnny Cash enlisted in the U.S Air Force and was later stationed in Landsberg, West Germany. Johnny, along with some friends in the Air Force, formed the Landsberg Barbarians, a music group that allowed him to play more of the guitar and even perform some live shows.
The group continued to play together even after returning back to the United States and released songs "Cry, Cry, Cry" and "Hey Porter" in 1955, both of which gained popularity on the charts.
He signed with Columbia Records in the early 1960s after moving to California and spent a lot of time on the road with his group now known as the Tennessee Three. He worked alongside June Carter who co-wrote many of Johnny's signature songs and was a regular backup dancer, duet partner, and entertainer during his shows.
Cash's personal life spun out of control after being on the road for so long, leading him down a dark path of drugs and alcohol. His wife filed for divorce in 1966 after being fed up with Johnny's constant absence.
The Relationship of Johnny Cash and June Carter
As Johnny struggled with dealing with his divorce and his addiction to drugs and alcohol, June Carter was the lifeline he needed to get sober. She helped the singer recover and refocus on his faith.
His story includes him wandering into a cave near the Tennessee River prepared to die when he suddenly found God and saw June and his mother waiting for him with open arms. He's stated that it was the day he swore off drugs and decided to take control of his life.
Johnny Cash proposed to June Carter in February of 1968, on stage after one of his concerts at the London Ice House in front of a crowd of 7,000 people. Of course, June said yes and the two married a few weeks later.
Together, the couple continued to make music for many years after meeting each other, sharing Grammy Awards and even their own TV variety show called "The Johnny Cash Show". June Carter won 2 solo Grammy Awards and her husband won 11, as well as a lifetime achievement award.
They ended up only having one child together, John Carter Cash who was born in 1970. He became a musician and music producer on his own when he grew up.
They ended up staying married for the rest of their lives, passing away only four months apart.