From an early age, Johnny Cash knew he wanted to sing on the radio. Although he encountered several curveballs during the pursuit of his goal, his determination never faltered.
In 1954, Cash moved to Memphis, Tennessee where he studied to be a radio announcer. After some time playing with his band the "Tennessee Two," made up of guitarist Luther Perkins and bassist Marshall Grant, he summoned the courage to visit Sun Records studio. After initially getting rejected, Cash eventually won over Sam Phillips, who signed him to the label. Cash's first song recordings were released in 1955; "Hey Porter" and "Cry, Cry, Cry." His songs were met with considerable success on the country music circuit.
After he got a taste of his songs on the radio, his desire to become a musical success only intensified.
Early Years
J.R. "Johnny" Cash was born on February 26, 1932, one of seven children to Ray and Carrie Rivers Cash, sharecroppers in Arkansas.
Cash and his family shared a house and worked on the crops together. He spent the majority of his youth helping his family pay off debts by working in the fields.
As a way to cope with the physically intense work, his family would listen to music to help them relax. Much of Cash's early exposure to music was in the form of gospel, folk and hymn ballads.
Cash showed a proclivity to music from a young age, and by 12 he was writing his own songs. He often sang gospel tunes and religion had a huge impact on his upbringing.
Military Deployment
In 1950, 18-year-old Cash enlisted in the Air Force and completed his basic training in San Antonio, Texas.
It was in Texas that he met his first wife, Vivian Liberto, at a roller rink. Only three weeks into their courtship he was shipped to West Germany for three years.
Cash rose swiftly in the ranks and became a Morse Code Operator, in charge of listening to Soviet communications.
While stationed in Germany he stayed in constant contact with Vivien and started a band, The Landsberg Barbarians.
Moving to Memphis
After his discharge from the military in 1954, Cash returned to America, married Vivian, and moved to Memphis, Tennessee where he started working in retail to make ends meet while studying to be a radio announcer.
As Cash himself acknowledged, "The extent of my dream was to sing on the radio station in Memphis. Even when I got out of the Air Force in 1954, I came right back to Memphis and started knocking on doors at the radio station."
He created another band with his friends Marshall Grant and Luther Perkins. They often played gospel music together, with Cash playing on a cheap guitar he brought from Germany.
Grant later wrote of Cash in his autobiography, "He was a decent singer, not a great one, but there was power and presence in his voice."
Getting Signed to Sun Records
Cash's luck improved in 1954, when Elvis Presley, also from Memphis, hit it big and took the musical world by storm.
Sun Records owner Sam Phillips was treated to an impromptu visit from Cash, Grant and Perkins later that year. They auditioned, and while Phillips was impressed with their sound, he turned them away due to their gospel music and asked them to come back with original songs.
Cash wasn't deterred and poured himself into his songwriting. They returned to the studio with his original song, "Hey Porter," and "Cry, Cry, Cry," which impressed Phillips.
They were signed and branded as, "Johnny Cash and the Tennessee Two," with "Hey Porter" getting released in May 1955.
Later that same year, "Cry, Cry, Cry," was released and reached No. 14 on the Billboard music charts.
In 1956, Cash wrote, "I Walk The Line," which hit the country music charts at No. 1 and established him on the music scene.
Later, in 1957 he released his debut album, "Johnny Cash with His Hot & Blue Guitar," which afforded him more recognition and success.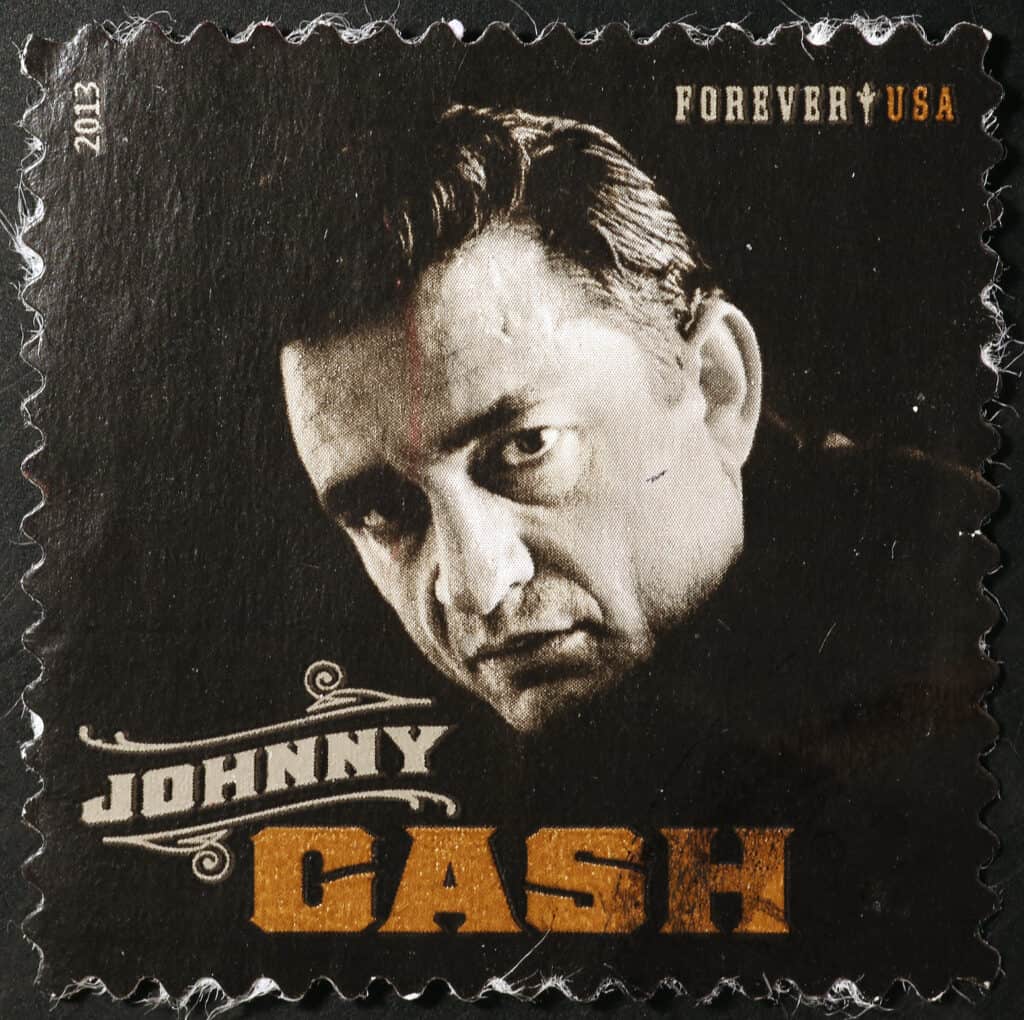 Cash's Lasting Impact
In the early 1960's Cash relocated his family to California and was signed to Columbia Records, where he enjoyed a huge amount of success.
He started touring often, and released one of his most well-known songs, "Ring of Fire," in 1963, which was co-written by his future second wife, June Carter. A string of albums, late night shows and movie cameos allowed him an illustrious career.
Later in his career, Cash was inducted into both the Country Music Hall of Fame and the Rock & Roll Hall of Fame.
Cash passed away on September 12, 2003. Two years later, a film about his life, Walk the Line, was released.
While it took him some time to become established, Cash's tenacity and determination to achieve his goals never faltered, and he remains a musical icon to this day.