A legendary style and music icon of the 90s, Gwen Stefani has enjoyed a massively successful career and has managed to remain relevant throughout the years. During said years she's also managed to stay in incredible shape, and everyone wants to know-how.  
Gwen Stefani stays in shape by eating a clean vegetable-based diet and taking part in 60-75 minute high-intensity exercises five times a week. She takes her health and fitness seriously, and though she finds the focus on her body to be "ridiculous" at times, she works hard to keep it trim and toned.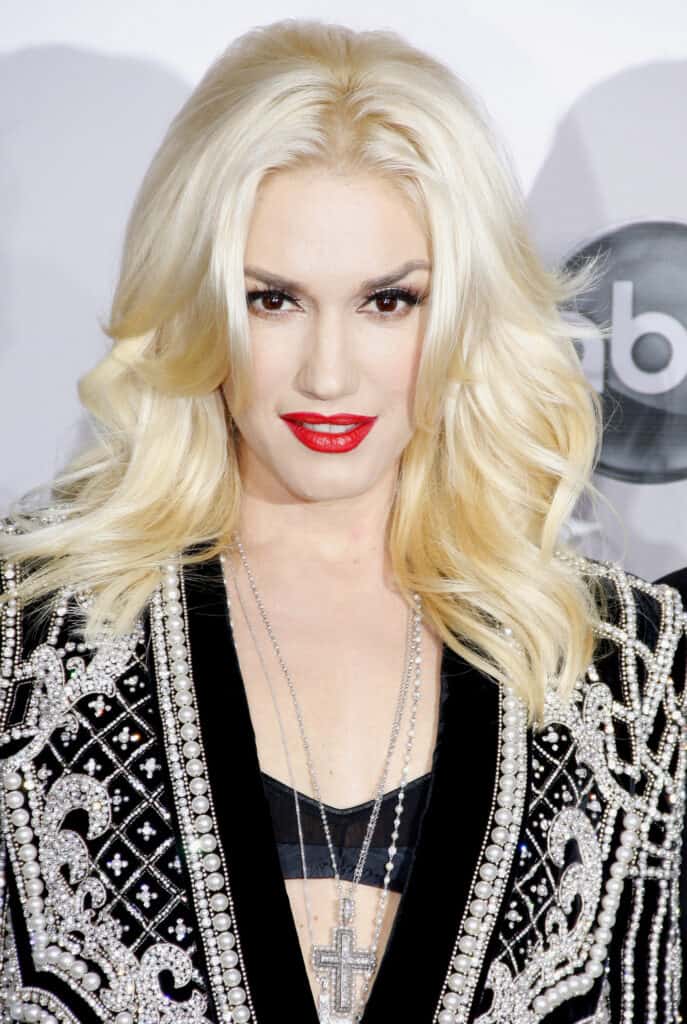 In this article, you're going to find out all about how Gwen Stefani stays in shape, what her typical exercise routine looks like, and what she eats at home and on the road. Are B-A-N-A-N-A-S the secret to Gwen's enviable physique?
Gwen Stefani's Diet
For reasons unknown, Gwen has stuck to a strict vegetarian diet since the age of twelve. Throughout the years she's jumped aboard the vegan train a few times too but her love for cheese is too strong to fully commit.
Gwen's diet is largely plant-based and instead of snacking on processed foods, she opts for fresh fruits and vegetables. She and Blake even grow their own watermelons in the backyard of their 12000-acre property in Tishomingo, Oklahoma.
When she's touring and staying in hotel rooms, the star's diet remains as strict as ever. A 'tour rider' obtained by TMZ shows that Gwen's must-haves include 30 bottles of still water, vitamin water, fruit, organic cashews, unbleached almonds, whole vegetables, and tea with organic honey on the side.
Gwen struggles to stick to her diet when she's with Blake, who she says is "a feeder". She revealed, "Everything's fried! It shocks me because growing up in California…we learn how to be healthy. And in Oklahoma, they learn just how to have fun and eat and like not worry about it."
Gwen Stefani's Exercise Routine
Having a body like Gwen's takes a lot of work that she once described to the Daily Mail as "a daily struggle". The platinum blonde spends 60-75 minutes working out five times per week.
Her exercise style of choice is fast and furious and high impact exercises are her favorite. Her former personal trainer, Mike Heatlie, claims that "a high-intensity weight training routine combined with some quality cardiovascular training" is the way to go.
Gwen said "I have no magic thing that I do to stay fit. I eat really clean, do my shows, and work out. I always feel better when I'm in a routine even though I sometimes hate it. I play tennis, badly, with Blake. Then we go to the gym"
At the gym, Gwen likes "to do squats and lunges and light weights" and respects her body and its boundaries. She told Shape, "I don't go crazy like I used to. I do just enough to make my body feel good."
Gwen Stefani's Body Image
The star has long been known as a style icon, but this title comes with a steep price tag. She told Elle Magazine, "I'd like to have no rules and eat what I want, but I've learned over the years that I'm so disappointed when I can't wear the clothes I want to wear."
She goes on to say "If I let myself down, appear on stage when I'm not looking my best, it's not fun for me. I just beat myself up about it."
In the eyes of the world, Gwen has always had the perfect body but the star seemingly disagrees. In 2014, she posted a 1983 throwback in which she described herself as "chunky me".
Many were unhappy with the Hollaback Girl's self-deprecating tweet and she got called out for body-shaming herself. This tweet, combined with the fact that she has been on one diet or another since she was in the sixth grade, was cause for concern for Gwen's fans.
Whether she has a warped body image or not has yet to be revealed, but it won't be Gwen that reveals it.
That's because Gwen told Harpers Bazaar, "I hate talking about my body all the time; it's ridiculous. There is no secret: you just have to eat healthy, work out, and torture yourself!"
Gwen puts a lot of effort into looking as good as she does, and she's certainly not shy about that. She told Fitness Clone, "I have to work very hard to look the way I do. I want the girls out there to know that."