Jessica Alba started her acting career at the mere age of 13 and rose to prominence when she was 19. After two decades and three kids, the actress still looks phenomenal.
Jessica Alba stays in shape by focusing on eating organic foods and going to group fitness classes when possible. Alba also does activities like cardio and weightlifting, but she has said that group fitness is her favorite way to stay in shape. Her friends make working out a lot more fun.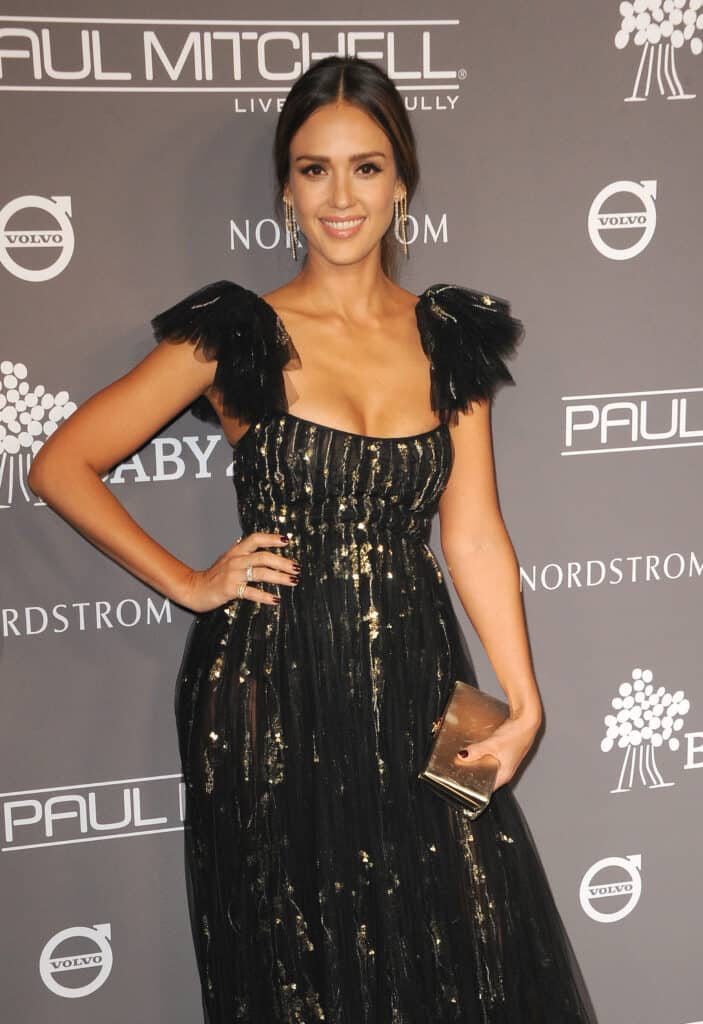 Scroll down to read more about Jessica Alba's diet, what type of group fitness classes she does to stay in shape, and her tricks to continue looking young.
Jessica Alba's Diet
Alba isn't one to hop onto any food trends or up and coming diets, she is more a person of moderation. She has said she won't go on deprivation diets and instead prefers to eat everything in moderation.
As a busy mom of three, this totally makes sense. Who has time to count out their food when they need to make sure their kids are eating well?
Instead, Jessica Alba has some diet staples that help keep her in shape and that are also healthy for her kids. One of those staples is to often make smoothies for everyone first thing in the morning.
In an interview with Byrdie in 2020, Alba said that she starts off the day with a protein shake for herself and her kids. The protein smoothie is often made up of almond butter, Zico coconut water, some chocolate powder, and banana.
Then she has her coffee too.
When she was asked what would be found in her fridge on a regular basis, she said that hot sauce, Zico coconut water, a lot of fruits and veggies, girl guide cookies would all be found in her kitchen. She also stated her guilty pleasure is nachos.
Alba is not a vegetarian or vegan like many other celebrities, she has said that she likes to cook cornish game hen for her family and that they do a lot of barbecuing in the summers. She is a huge fan of cooking but likes to make fast dishes.
Jessica also loves avocado toast with a poached egg on top. And, like many people out there, her go-to snack is popcorn, which she makes with coconut oil and Himalayan sea salt.
This is actually a pretty down to earth diet for someone with a six-pack to kill for and a net worth of a couple hundred million dollars.
You can watch Jessica Alba's below video from her YouTube channel where she makes avocado toast with Lizzy Mathis.
Alba's Workout Routines
When it comes to fitness and working out, Jessica Alba knows just how important it is to stay in shape through your workout routine. That's why she puts a big emphasis on making her workouts fun.
She told Shape magazine, as reported by Hello!, that "If I work out four times, I consider it a successful week. But it's typically more like two to three days a week because that's what I have time for."
This makes sense because she has kids and it can be a juggling act to manage your own work, kids, and working out all at the same time. However, she admitted in the same interview that she will cut back on sleep to get a work out in.
Some of her favorite activities are spin classes if the teacher and playlist are good, hot yoga if it's at the right pace, and High-Intensity Interval Training with a killer soundtrack. She has also said that she likes participating in dance classes.
Jessica Alba's Tips for Looking Young
Alba's skin is the epitome of rejuvenation and it probably has to do with the amount of time she spends focusing on her health and skincare routine. Her YouTube channel is filled with skincare tutorials for any age.
The Honest Company founder has some crazy tips and tricks for healthy young skin. As she told Vogue Paris, one of those tricks is to use a face-contour machine that looks like a hairdryer for your face. 
She also uses a vitamin C serum and a lot of different moisturizers. Her biggest trick though, like many celebrities, is to stay hydrated throughout the day.
Alba is always drinking coconut water to stay hydrated and in shape. It definitely shows too.