Argentina's football ace Lionel Messi is not only arguably in the running as one of the greatest football players of all time, but he has redefined expectations on how fast it is possible to move while staying in possession of the ball. How well does someone with such precision control perform in a vertical jump test?
Thanks to footage and more recent developments in statistical tracking tools, it is estimated that Lionel Messi's total jump height is around 2.74 meters. Considering his height in the equation, his jump height is far above the average.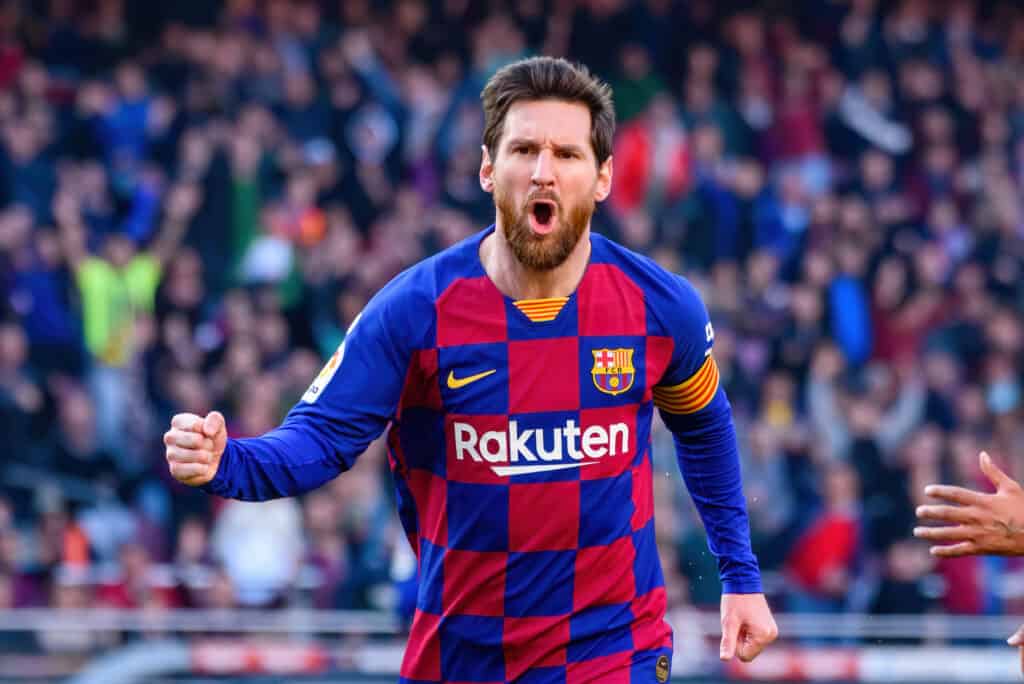 Although it's not the first thing that you might think of when you are considering what makes Messi one of the greatest players of all time, he has actually made some dramatic and impressive airborne plays in his career. What can having a look at Messi's headers tell us about his jump height?
The Significance of The Vertical Jump
If you're not big on doing any level of personal training, or you don't keep up with all the ins and outs of how fitness is measured in sports, then you might be wondering exactly what the significance of something like jump height is.
The vertical jump is a test of not only the overall fitness levels of an athlete but as one of the best plyometric exercises, it's also a good measure of speed and strength. The exact kind of speed and strength that is crucial to a footballer who relies on their ability to deftly traverse the pitch like a bolt of lightning with a ball.
His ability to navigate and maneuver at high speeds with the ball, all the while being able to change direction at will and turn on a dime, is one of the aspects of Messi's game that has made him the star he is today. That level of control over fast-twitch muscle fibres is the exact kind of thing that can be measured with a vertical jump test.
With all of that in mind, let's have a closer look at Messi's vertical jump and how it scales together with both his physical stats and his performance on the pitch.
Messi To The Moon
We touched on it earlier, but we really need to take a look at Messi's height to truly understand just how miraculous some of the headers that he has performed are. Of players in more recent memory that we can look at for comparison, there is fellow GOAT-nominee Cristiano Ronaldo.
One common feature of players that are particularly gifted at scoring headers, and getting the height necessary to control the ball in mid-air, are that they are all of a certain height. Ronaldo, for example, is a little over 6ft tall, naturally giving him a better shot at reaching the ball.
Messi, on the other hand, is a comparatively short 5 foot and 7 inches. Logic dictates that he shouldn't have as much vertical reach compared to other players, but in the same way that his speed while controlling the ball defies conventional thought, so does his ability to leap through the air like he's got a pair of springs in the bottoms of his shoes.
If you want to see a perfect example of Messi soaring through the air, look no further than the Barcelona v Manchester United game in the final of the UEFA Champions League in 2009. After an incredible assist from Xavi that sends the ball soaring towards the net, the camera barely has time to catch up to the ball to see the beginnings of Messi taking flight.
As can be seen in the above clip, the stars aligned to make the shot perfectly shoot exactly where Messi wanted it to; straight into the corner of the net.
This was a feat on multiple fronts, a testament to his timing, skill, and athletic prowess. His shorter stature makes it all the more incredible and was a goal that he has rightfully described as one of his best of all time.
Now if you ever hear anyone saying that Messi can't score headers, you can politely point them to this article or the above video. Undeniable proof of his ability to do so and also his supernatural jump height.