Bobby Flay is one of America's most beloved and most popular celebrity chefs who not only runs his own television series but has fully operational restaurants across the United States. However, out of these restaurants, how many have the prestigious Michelin star, and how many does he have in total?
As reported by FineDiningLovers.com, as of September 2020, Bobby Flay has zero Michelin stars, despite his multiple restaurants and having cooked for both the Chinese and US presidents throughout his career. He did have one once but lost it a year later.
Surprised with the result? Though he had more? Today, we're going to nose dive into Bobby's career, exploring exactly what his empire is made of and exploring some of the reasons why he may not have a Michelin star to call his own.
The Empire of Bobby Flay
There's no doubt that Bobby Flay is one of the TV's greatest chefs who's regularly featured on the Food Network, a household name in many states, and perhaps you've even eaten in one of his restaurants yourself. He's definitely one individual who has taken the world by storm.
Did you know, his career started all the way back when a busboy in his father's restaurant called in sick, and Bobby was asked to fill in his shoes. He did a great job, and this turned into regular work, kitchen work, and eventually, the boss paid for him to attend the French Culinary Institute in Manhattan.
Fast forward to 1991, and Bobby opened his own restaurant, Mesa Grill, which was quickly rated the 'Restaurant of the Year' by New York Magazine writer Gael Green, and this simply snowballed into everything Flay has to this day.
This includes nine cookbooks that come under his own name, multiple competitive television cooking series, including Iron Chef, Beat Bobby Flay, and more, and he is known for being one of the richest chefs in the world (number 13, if you were curious).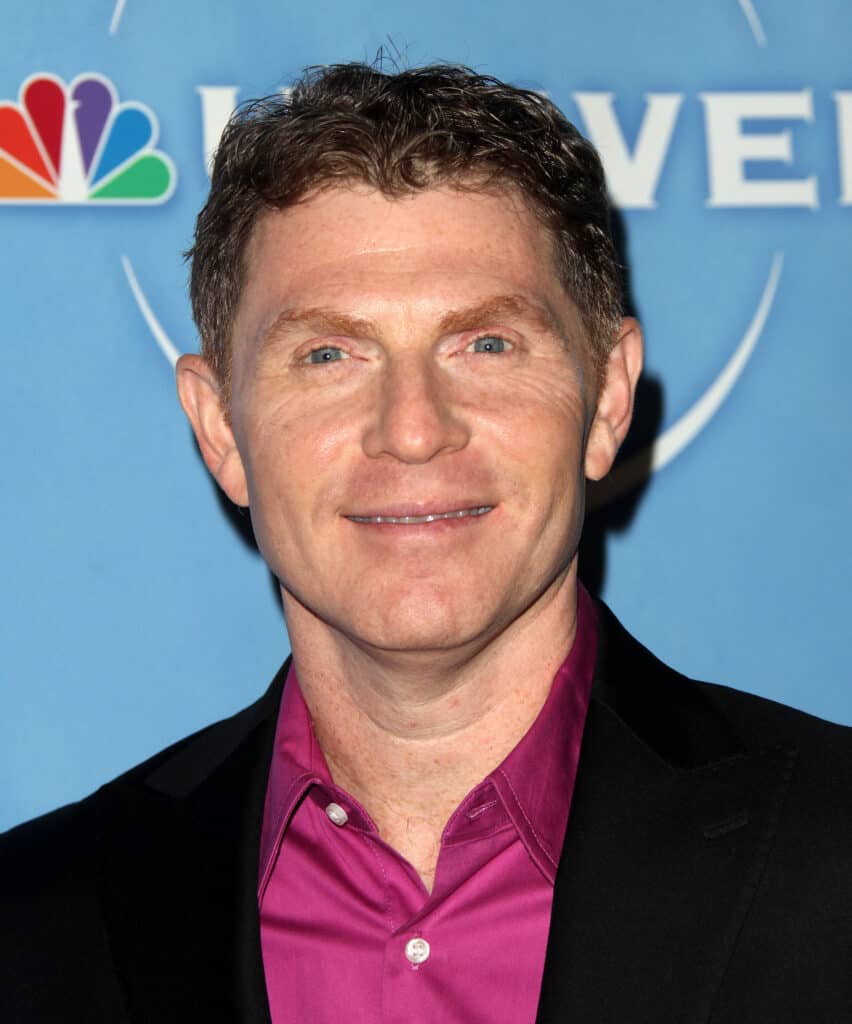 Over the years, he's opened 19 restaurants across 11 states, each with its own style and theme, and each one being relatively successful, which is a truly impressive feat for anybody to achieve. So, where's his Michelin Star?
Bobby Flay and Michelin Stars
It's true that Bobby did have one Michelin star in his lifetime. It was awarded to his second opened Mesa Grill, based in Las Vegas, and was awarded back in 2008. However, the star was never rewarded in the 2009 edition.
Michelin also then stopped publishing a Las Vegas edition of the Michelin Stars, which meant that no star could ever be earned back on that same restaurant. Sad times.
So, why is this the case?
It's important to note that a Michelin star is never really awarded to the chef or owner of a restaurant, but rather to the restaurant itself. This means that owners can have multiple stars. Alain Ducasse, a French chef, for example, has multiple restaurants around the world, and has over 20 stars under his belt, which makes him the record holder.
Flay has multiple restaurants too, so why doesn't he have one?
How to Get a Michelin Star
Bit of a lesson now and a great chapter if you own a restaurant as we're going to look into what you need to have in your restaurant to maximize your chances of getting your own Michelin star.
In an interview with LightSpeedHQ, Werner Loens, the Director of the Michelin guide itself, was asked what the judges look for in order to achieve a star status, which he narrowed down to just five simple criteria. These are;
High-quality produce
Chefs with mastery in the kitchen and professional culinary techniques
The taste of the food (dur)
Consistency in the overall dining experience
And savoir-faire
That last one is properly defined as 'the ability to say or do the appropriate thing in a social situation, which we're sure relates to the overall social experience you get from being in a restaurant.
Of course, the first thing that comes to mind is just how subjective these criteria are, but we can imagine how much easier they would be to judge if a guide like this has been running for over a century because damn, that's a lot of experience in restaurant sampling.
That being said, it must just be clear that Flay's restaurants aren't meeting these criteria, at least not to the standard that the Michelin guides are looking for, nor as consistently as they should be. Nevertheless, Bobby's restaurants are still very popular among patrons, and there's always time to get a star awarded in the future.