Gordon Ramsay and Bobby Flay are two of the most successful chefs in the world and their (mostly) friendly rivalry has led many to question who is better.
Ultimately, it is impossible to say which chef is "better" with any certainty. Both Ramsay and Flay have vast culinary empires, successful TV shows and are considered among the best in their field. Ramsay's restaurants have been awarded numerous Michelin stars, while Flay has only received one. However, Flay has far more competitive cooking experience due to his tenure on "Iron Chef". The two have, as of writing, never faced each other in a contest.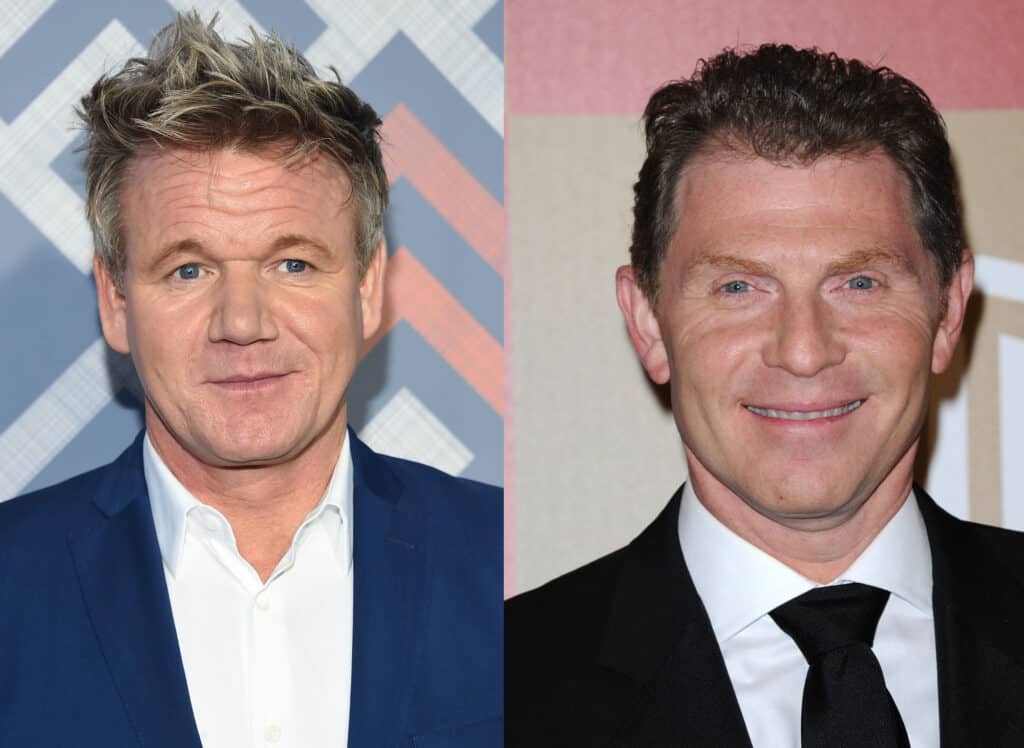 For a closer look at the careers of these two superstar chefs and their feud, read on.
Making Their Names
Both Ramsay and Flay have enjoyed long careers as TV chefs, in addition to their successful culinary careers. Gordon Ramsay became a celebrity in the UK in the late 90s before exploding onto American screens with "Hell's Kitchen" in 2005.
Where "Hell's Kitchen" was about aspiring chefs competing to be deemed worthy of working for Ramsay, "Kitchen Nightmares" saw him traveling across America and attempting to change the fortunes of struggling restaurants. His explosive temper coupled with genuine expertise made him an instant success and he is now considered one of the wealthiest TV stars in the world.
Bobby Flay first made his name as one of the most successful competitors on "Iron Chef", where he specialized in Southwestern cuisine. Even after his stint on the show, he continues to challenge other chefs to contests, reveling in culinary competition.
Ramsay has, as of 2020, been awarded a total of seventeen Michelin stars across his restaurant empire throughout his career. Flay has been awarded one, though for much of his career he has focused less on managing restaurants and more on personal competition.
The Rivalry
The public feud started in 2013 when Ramsay was asked about Flay and claimed to have 'forgotten more than he's known'. Flay didn't take kindly to the comment and, ever the competitor, challenged the British chef to a cook-off, "Iron Chef" style.
Initially, Ramsay declined, considering the challenge from Flay to be beneath him. He later changed his tune and, in 2016, Ramsay traveled to Flay's Las Vegas restaurant to engage in a cooking duel. This time, Flay declined to appear, leading Ramsay to verbally attack him in several media appearances.
In 2017, Flay again talked about the possibility of facing Ramsay in a cooking competition for charity, saying that the event should be on pay-per-view. He also claimed that Ramsay was the reason the contest still hadn't happened, due to his excessive financial demands.
Whatever their history, as of writing the contest between Ramsay and Flay still hasn't happened and the simmering tension between the two seems to have faded, at least for now. As with many dream matchups, this seems to be one that won't happen or one that might eventually occur when the public has stopped caring.
Ramsay or Flay?
Currently, we can only theorize about who is the better chef of the two. As professional chefs and restaurant owners, there is little comparison between the pair. Gordon Ramsay's restaurant empire is vast, spread out across the globe, and wins acclaim from the top food critics in the world.
Still, this isn't a debate about owning successful businesses or being awarded Michelin stars. Bobby Flay has decades of success competing against many of the world's top chefs in culinary battles. He knows how to cook under those strict conditions and how to appeal to the tastebuds of the judges.
Both men are hugely successful chefs and will probably continue to be for many more years. However, if they stepped inside the cooking arena, whose cuisine would reign supreme? We might never find out.