Long-time Microsoft employee and right-hand man to Microsoft founder Bill Gates, Steve Ballmer has been with the company through thick and thin, rising through the ranks to replace Gates as CEO. How many shares did he amass throughout his tenure with the company?
Steve Ballmer, as of the most recent report, owns around 333 million shares in Microsoft, valued at least at $40 billion. Much of Ballmer's tens of billions net worth is down to the value of his shares in Microsoft.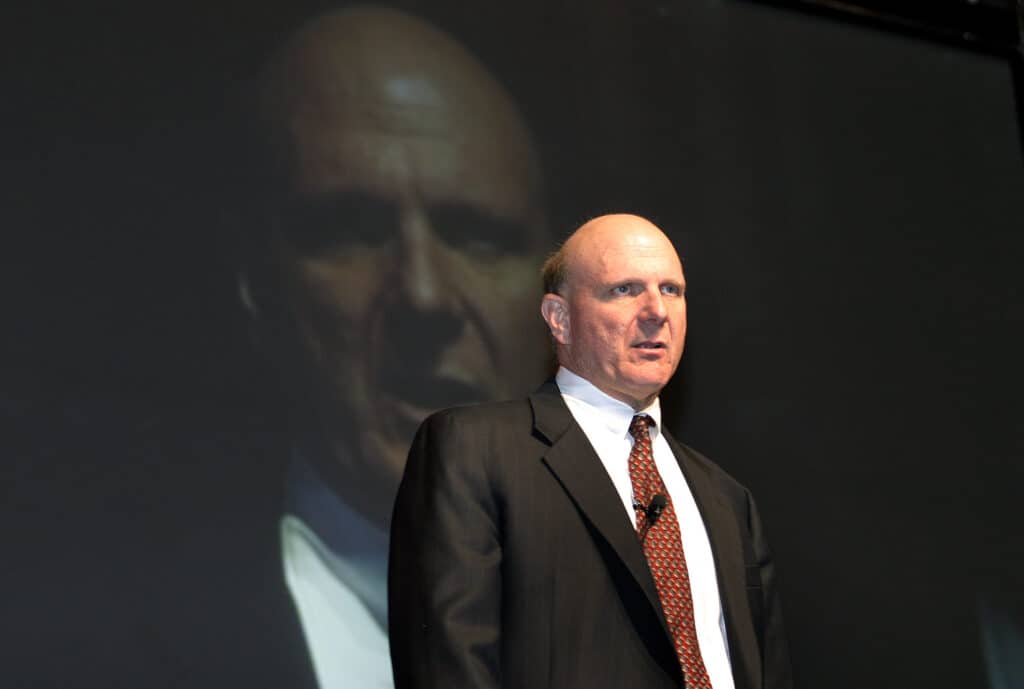 After spending multiple decades with the company, it should come as no surprise that Ballmer owned such a large portion of Microsoft's shares, especially in the CEO position that he occupied. At one point he even exceeded founder Bill Gates' total percentage of control in the shareholdings.
Steve Ballmer's Journey Through Microsoft
It was 1980 when Ballmer first joined Microsoft, and the company was still in relative infancy at the time. Ballmer's job back then was to be a business manager for the future technology giant, officially becoming the first person to have accepted that post.
The salary for the job was spectacular, offering $50,000, a sum especially impressive for Ballmer who had only just recently left University. Even more important, however, was the 5-10% ownership of Microsoft thrown in to sweeten the deal, a bonus that would eventually turn Ballmer into a billionaire in the early 2000s.
When you take a look at the history of the company and the carefully planned strategic decisions that were taken to ensure their success, you can see Ballmer's touch at many of the more crucial points. One perfect example was the acquiring of DOS, the building block for the first iteration of their operating systems.
Although he's most remembered for his high-energy antics and ranting outbursts, behind the veneer of youthful excitability there is a shrewd businessman.
Skyrocketing Share Value
From what we know now, the value in shares that Ballmer inherited from his ownership stake in Microsoft ended up being worth far more than any salary that he could have been given. Over the course of his years at Microsoft, the company quickly transformed into the leading provider of software in the ever-growing computing and technology space.
The pairing of two serial workaholics in Ballmer and Gates meant that the pair had elevated Microsoft far above their competition, with the company reaching such a ludicrous turnover of profits that they were able to throw away $150 billion to bailout long-time rival Apple.
Just a little over 5 years after the bailout, Ballmer came to enjoy some of that well-earned wealth himself, as he reduced his then 8% ownership of Microsoft down to 4%, taking nearly a billion dollars to the bank in doing so.
Ballmer's Current Shares
The hard figures on what shares Ballmer owns in Microsoft aren't readily available, but we do know how many shares he had when he retired from the company in 2013. A self-professed "bleed Microsoft" software veteran, Ballmer's loyalty and belief in the company meant that even after retirement he decided to keep his 4% ownership, which equated to 333 million shares at the time.
It's been a long time since 2013, and those shares that Ballmer wisely held on to have done nothing but grow and grow in the time that has passed. Forbes places Ballmer's net worth somewhere in the region of $70 billion and beyond, an amount that it seems likely has a fair chunk of his Microsoft wealth as its foundation.
Putting Shares to Good Use
Ever since his retirement, Ballmer has made numerous other investments, ranging from buying shares in other promising tech companies such as Twitter to turning a hand towards philanthropy.
It seems like Microsoft is the one company that he will forever hold loyalty to, however, still owning his shares in the company. In the case of a company like Twitter, despite his interest and belief in their ability to succeed, Ballmer preferred to sell his shares and get out while the going was good.
Whatever he decides to do next with his immeasurable wealth, let's hope that at least some of it may continue to be in the vein of the good work that he has done with his Ballmer Group, offering back some of that value to the disenfranchised.