No one really knew that Shrek was going to be the massive success that it was and it made a killing at the box office. So how much could Eddie Murphy have made for his role as Donkey?
Eddie Murphy made $3 million for voicing the character Donkey in the first Shrek movie. In the film's sequel, he made $10 million for Shrek 2. The actor's net worth is rumored to be at around $85 million and when he divorced ex-wife Nicole Mitchell, it was reported he had to pay her $20 million in alimony. The two had five children together.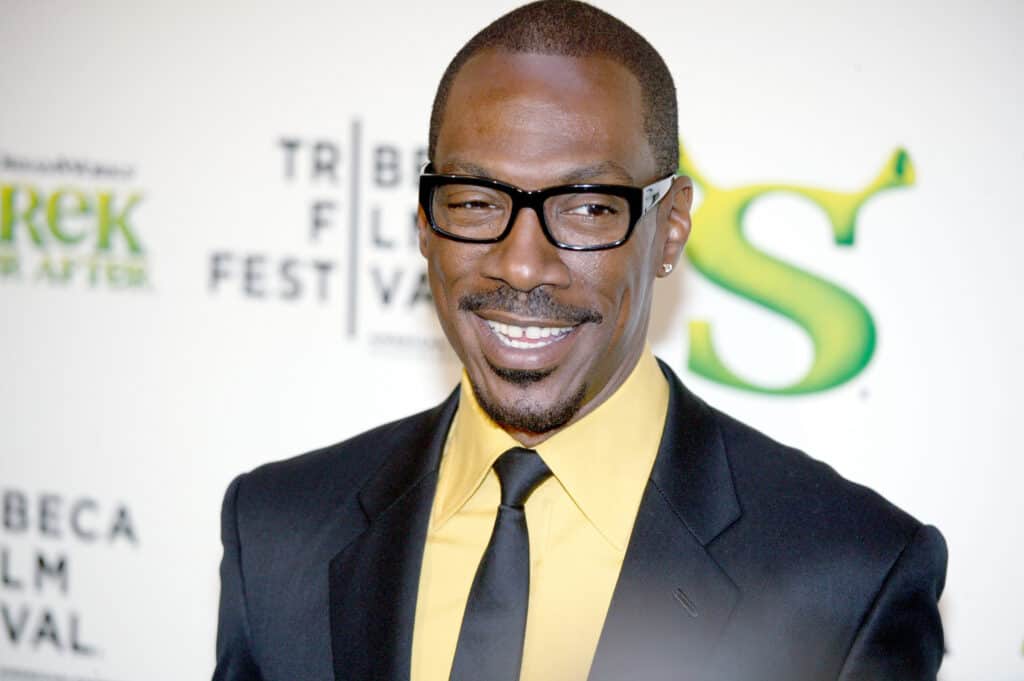 You can read more below about Eddie Murphy's paycheck for other films and more on how he was paid for the Shrek franchise.
Eddie Murphy's Paycheck Over the Years
It has been reported that Eddie Murphy has a net worth of $85 million USD and his films have grossed over $7 billion worldwide. This means he has been paid some pretty large paychecks throughout his career.
Murphy's career started with him appearing on the sketch comedy show Saturday Night Live back in 1980. He was an unknown actor at the time so he was being paid the SNL base rate for any new performer on the show of $600 an episode.
In 1982, he appeared in the buddy cop film 48 Hrs. for which he was paid $450,000 and the popularity of the film helped him to earn more on SNL. The hit show wanted to keep him on after his 1983 success with the film Trading Places, but they saw it was clear he was making it big so they let him go halfway through.
According to Celebrity Net Worth, Murphy made his first paycheck of $1 million for his role in the 1984 film Best Defense. By 1987, he was making $8 million a film with his roles in Beverly Hills Cop II and Coming to America.
The amount he was making per film only continued to increase from there too. The same article above states that "He earned $16 million for The Nutty Professor (1996), $17.5 million for Doctor Dolittle (1998), $20 million for Nutty Professor II (2000)."
The 1980s, 1990s, and early 2000s saw Eddie Murphy rise to a huge level of fame and fortune. In fact, it has been estimated that over his career he has earned anywhere from $250 to $300 million USD.
Interestingly enough, with all of this fame, you would think that Eddie Murphy would have been paid more for his role as the loudmouth, no-filter, and blurting out a continuous inner monologue character of Donkey in Shrek.
You can watch the very first time the world was introduced to Donkey in Shrek in the below video.
Eddie Murphy's Donkey in Shrek
When all was said and done, Eddie Murphy ended up with only $3 million in the bank when the movie Shrek was released. According to Nicki Swift, Murphy was only paid $350,000 for the role and had then opted in to receive a portion of the box office revenue.
Murphy wasn't the only one to do this either. Apparently, Cameron Diaz and Mike Meyers opted for the same deal.
Either way, $3 million is a lot of money for someone to be paid for a voice acting role. Especially considering other huge stars have made less for lead roles in animated films.
A case in point would be Tom Hanks and Tim Allen who only made $50,000 each for their roles in Toy Story.
Like any film franchise that does well, Murphy ended up making a lot more money in the Shrek sequels than he did with the original film. Shrek 2 saw Murphy coming out with a paycheck of approximately $10 million according to the New York Post.
The salary of the cast for Shrek the Third and Shrek Ever After was never reported so there is no knowing how much Eddie Murphy made for those two films. However, at the end of the day, the Shrek franchise grossed just under $3 billion USD at the box office.
With the Shrek franchise complete, Eddie Murphy has still continued to act in other films. This is unlike one of his Shrek co-stars, Cameron Diaz, who retired from acting in 2014.
Murphy has starred in other films like Dolemite Is My Name, A Thousand Words, and the sequel to Coming to America, which is titled Coming 2 America.