The engagement ring that Hailey Baldwin received from Justin Bieber features a huge diamond in the center. The ring is absolutely stunning.
Hailey Baldwin's engagement ring is worth an estimated $400,000 to $600,000 USD and it had a six to ten-carat diamond with an 18-carat yellow gold band. The ring also features melee diamonds beneath the oval cut. Justin Bieber worked with the NYC jeweler, Jack Solow, to find Hailey the perfect engagement ring.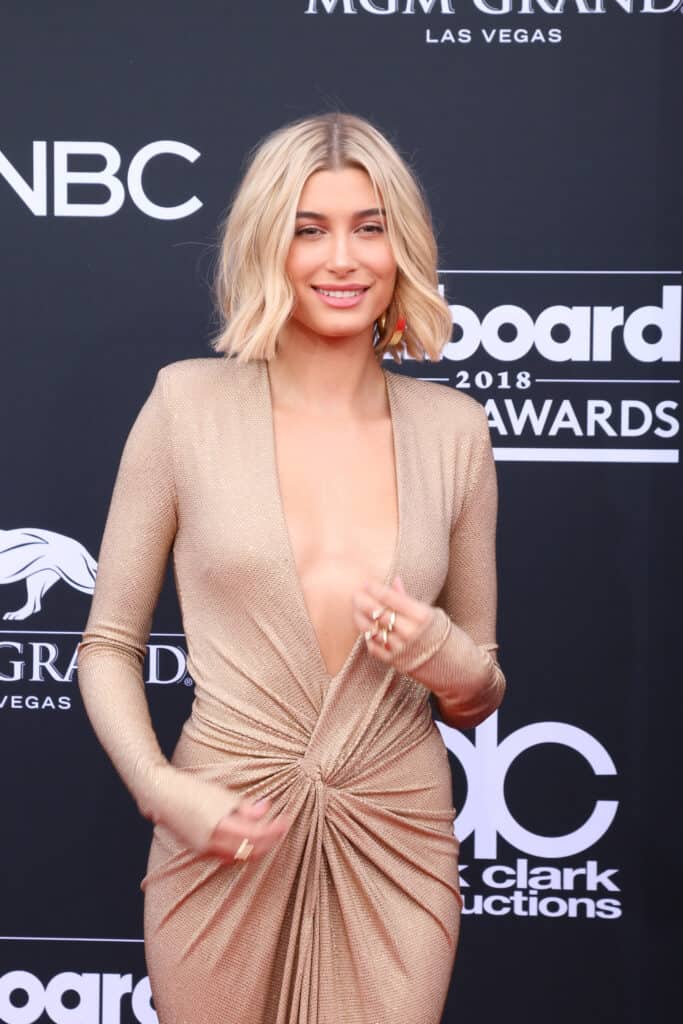 Scroll down to read more about Hailey Baldwin's engagement ring, how Justin proposed to her, and what their wedding bands look like.
Hailey Baldwin's Flashy Engagement Ring
As mentioned above, it was the jeweler Jack Solow who helped Justin Bieber pick the ring for his soon to be fiance, Hailey Baldwin. Jack Solow is a fourth-generation jeweler and runs his family's jewelry store Solow & Co.
Jack Solow and Solow & Co. have been behind jewelry that has been featured in Vogue Magazine and worn on celebrities like Jessica Simpson. He even helped Ariana Grande's fiancé, Jacob Dalton, find a ring for the pop star.
So it's no surprise that J. Biebs went to Solow for help in finding the perfect ring.
In an interview with People, Jack Solow went over the entire process he went through with Justin to find the perfect ring for Hailey. Jack Solow met Justin Bieber through Justin's manager Scooter Braun.
In the interview, Solow said "Justin wanted something that would gracefully accentuate Hailey's beautifully-shaped hands. We settled on an oval stone that was just exceptional in its length and grace."
The ring is reported to have cost anywhere from $400,000 to $600,000 USD and Jack Solow has said that the oval diamond is six to ten-carats. The ring sits on an 18-carat yellow gold band and features melee diamonds beneath the massive oval piece.
Justin Bieber's Proposal
It was during a trip to the Bahamas in July 2018 that Justin got down on one knee and proposed to Hailey. Initially, it was reported that he proposed to her at the resort restaurant in front of a bunch of guests who were asked to put their phones away.
However, Hailey quashed this story in a 2019 interview with Vogue. She clarified that it was just the two of them in a house in the Bahamas when the Biebs got down on one knee.
It was also in this interview that Hailey revealed Justin had gone the old fashion route of asking her famous father, Stephen Baldwin, for his daughter's hand in marriage.
You can watch the full 73 Questions interview that Hailey Bieber (Baldwin) did with Vogue in 2019 in the below video. You also get to see her engagement ring in the video.
Their engagement was well-received by many fans, except for those who were supporters of 'Jelena' aka Justin Bieber and Selena Gomez. The two had dated seriously from 2010 to 2012 and briefly got back together in late 2017 to early 2018.
However, Hailey and Justin had known each other since 2009 and while they dated for only 8 months in 2016, they managed to remain friends. This was the opposite of Selena and Justin's relationship that seemed to be frequently on the rocks.
J. Biebs and Hailey Baldwin's Wedding Bands
Justin and Hailey Bieber decided to tie the knot only two months after their engagement in the Bahamas. They did it at a New York City courthouse on September 13, 2018.
The couple confirmed their marriage in October of 2018 and Hailey changed her last name from Baldwin to Bieber in November of the same year. However, the couple didn't appear to wear wedding bands until June of 2019.
People reported that the two were wearing matching silver wedding bands. However, it wasn't until after their second wedding in South Carolina, with their friends and family, that the two were seen with more extravagant matching bands.
It was People who once again reported on the photos of the new wedding bands from Tiffany & Co. Stating that the wedding bands were "a Tiffany Soleste 18-carat gold diamond-encrusted band (valued at $3,125) and a Tiffany Soleste 18-carat gold and diamond V-ring (valued at $2,150)."
It was at their wedding in South Carolina that they enjoyed a closed ceremony and celebration with their famous friends and family. They chose the Montage Palmetto Bluff Hotel in Bluffton, South Carolina as their venue.