From her regular appearance on her own TV show, The Ellen Degeneres Show, to her work as a standup comedian and activist, Ellen DeGeneres is a well-known Hollywood figure. What sort of numbers does having one of the longest-running talk shows in television history pull?
Ellen DeGeneres makes around $75-90 million per year, based on the salary she receives from her talk show, as well as a few other profitable endeavors on the side that she pursues.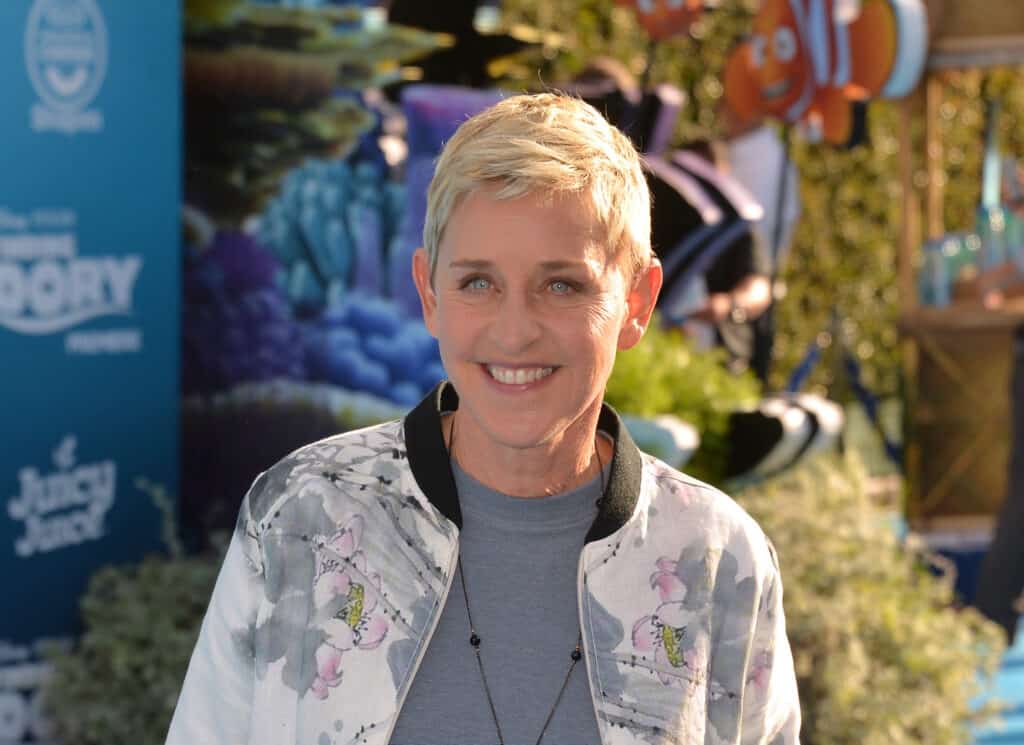 No matter what your opinion of her is, or whether or not you watch her show, it's hard to argue against the kind of numbers that Ellen pulls in. She's the queen of daytime television, with a paycheck that reflects the fact.
Daytime TV Queen
Although it sounds a little hyperbolic, in the case of Ellen, it really is an accurate description. Among her peers on daytime TV, she was unmatched, with only Judy Sheindlin of Judge Judy fame coming anywhere close to the kind of figures she was pulling.
Although Ellen was involved with other TV shows, such as her sitcom Ellen, her road to the legendary status that she would later earn began in 2003 when her talk show was first launched.
To understand how she got from a newly cooked up talk show, all the way to being the most well-paid TV show host, you can even just take a quick glimpse at how well the opening season was received amongst the public and critics alike.
That first run earned her no less than 11 nominations for Daytime Emmys, with the next 2 seasons bringing that tally up to 25. It has reliably risen in popularity since then, never skipping a beat.
Even among her talk-show contemporaries, she stands out, far ahead of the rest of the pack when it comes to her earnings. No other host in the world that is currently active makes an amount that could even be considered in the same realm as what she makes.
Even historically, the only TV host that could boast higher popularity and earnings is the woman whose throne Ellen claimed, Oprah Winfrey. That's a hard act to follow, however, seeing as Winfrey wasn't just the queen of daytime TV, she was the queen of all media.
As a comparative exercise showcasing Ellen's unbelievable yearly earnings, we need only look as far as yearly salaries for the top-earning TV hosts to start getting a clear picture of where the up to $90 million figure is coming from.
Ellen is the top of the food chain in that world, raking in a staggering $50 million from The Ellen Degeneres Show alone, explaining more than half of the astronomical $90 million.
Other Earnings
Although it's been a long time since her beginnings as solely a comedian, they are roots that Ellen has taken some time to get back to more recently, starring in her own Netflix special. Although her comedy was worthy of merit just by its own value, the kind of popularity and viewer pull she enjoys helped her to swing a $25 million payday.
Another huge boost to her possible yearly earnings, that kind of payday for a comedy special not only puts her on a list with once in a lifetime talents such as Jerry Seinfeld, Dave Chappelle, Chris Rock, and Ricky Gervais. Although she may not have received as much as them, she was the highest-paid female comedian ever for her special.
Outside of what is considered her wheelhouse, Ellen has quite a few other irons in the fire.
Ellen has long been dipping her toes in other industries with a variety of companies, creating or endorsing products that she is personally interested and invested in, such as her line of PetSmart products.
In her own world of TV-show entertainment, she's also the executive producer of the show Little Big Shots, a talent variety show that enjoyed an enormous amount of success on its opening, as well as for years after as it would be renewed multiple times.
Expanding on the idea of her exercising creative control over her endeavors, Ellen has also experimented in the world of the digital, with her own online production company, Ellen Digital Ventures.
Clearly, with her entrepreneurial spirit and go-getting attitude, there will almost always be some avenue of opportunity available to her, regardless of what she decides to do in the future.