An American actor, producer, environmental activist, licensed pilot, and father, Harrison Ford is a household name. If you haven't heard of him, your parents and grandparents definitely will have! With a reported net worth of $300 million, you may be interested in knowing just how much Harrison Ford makes per movie.
Harrison Ford reportedly makes between $12-$65 million per movie. Back in 1992, he earned $9 million for his role in the Patriot Games, by 1997 he was earning $20 million for movies like The Devil's Own, and in 2008 he earned $65,000,000 for Indiana Jones and the Kingdom of the Crystal Skull.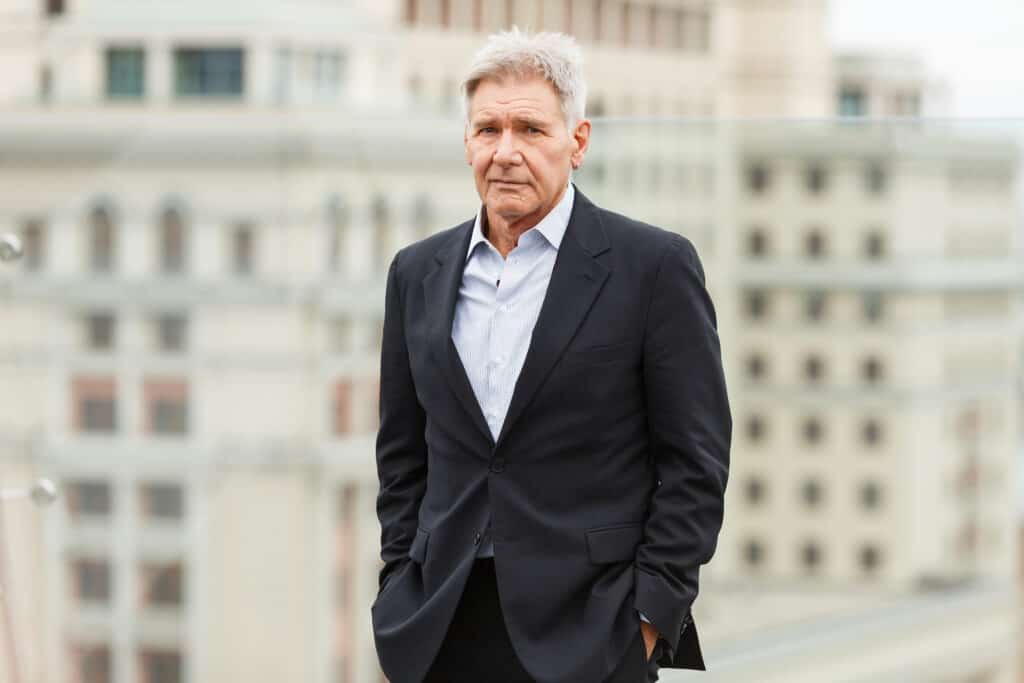 While it's hard for most people to even imagine earning that much money, Harrison Ford has been a professional actor for more than 6 decades and has worked extremely hard to get to where he is. Without further ado, let's take a look at how much Harrison Ford makes per movie and which ones had him laughing all the way to the bank.
Who is Harrison Ford?
Harrison Ford was born on 13 July 1942 in Chicago, Illinois, to former radio actress Dorothy Ford and former actor John William Christopher Ford. He started his career as an entertainer when he became a student voice broadcaster for Maine East High School before eventually becoming the school's first sportscaster in his final year.
In 1960, Harrison attended his first-ever drama class and by 1964 he was crossing the Ts and dotting the Is on his very first contract: a $150-per-week contract with Columbia Pictures' new talent program to play bit roles. Most of these roles were uncredited.
His first credited appearance in a movie was in the 1967 Western flick A Time For Killing and the rest is film-buff history. He then went on to become one of Hollywood's most sought-after leading men.
Harrison's most famous roles include those of Han Solo in the Star Wars films, Indiana Jones in the Indiana Jones series, Rick Deckard in Blade Runner, and Jack Ryan in Patriot Games. Let's take a look at what other films the famous actor has appeared in — and how much his appearances cost.
What Movies Has Harrison Ford Been In?
Harrison Ford's filmography is impressive, to say the least, and the renowned actor has been in more than 75 movies. Some of the more recent entries on his resume include starring in films such as The Call of the Wild, The Secret Life of Pets 2, The Age of Adaline, The Expendables 3, Anchorman 2: The Legend Continues, Ender's Game, Paranoia, 42, Cowboys & Aliens and many more.
When it comes to the salary for appearing in these films, Harrison is a notoriously costly hire. His roles in Air Force One, Six Days Seven Nights, Random Hearts, and What Lies Beneath he earned a whopping $20 million – each!
Now let's talk about how much he earned from a handful of the movies that led to him becoming a household name.
Star Wars has earned him $10,000 for his first role and $100,000, $500,000 and $20 million thereafter. Playing Jack Ryan first saw him earning $10 million and it's safe to assume that figure rose steadily with each appearance.
Nobody knows for sure just how much Harrison's starting salary for Indiana Jones was but we know that his most recent portrayal of Indiana Jones earned him a staggering $65 million.
How Does Harrison Ford Make Money?
Other than the notable earnings his acting career brings in, Harrison has his fingers in many pies but mostly in the property arena.
In 2006 he sold his Bowen Island waterfront property for $13,000,000, in 2012 he sold his Brentwood property for $8,195,000 and his New York City penthouse for $15,000,000, and in 2016 he sold his Los Angeles estate for $12,000,000 — and he still owns at least three properties.
On top of his success in the real estate world, Harrison has a collection of 4 vintage cars, a 1993 Triumph Daytona 1200 superbike and a BMW R1200 GS motorbike, 10 planes, and a helicopter. But he doesn't just use these machines as a luxurious mode of transportation as he has been known to lend his helicopter out for emergency rescues — in 2000, he even rescued a stranded and dehydrated hiker himself!