Henry Ford, an example of American industrialism and the father of a car associated with reliability and affordability. Harrison Ford, the beloved silver screen icon with a career of defining roles, shares the same surname as the Ford Motor Company founder, but are they related?
Despite sharing the same surname, Harrison Ford is not related to Henry Ford. Harrison Ford is the son of Dorothy Nidelman and John Ford, both of whom have no relation to Henry.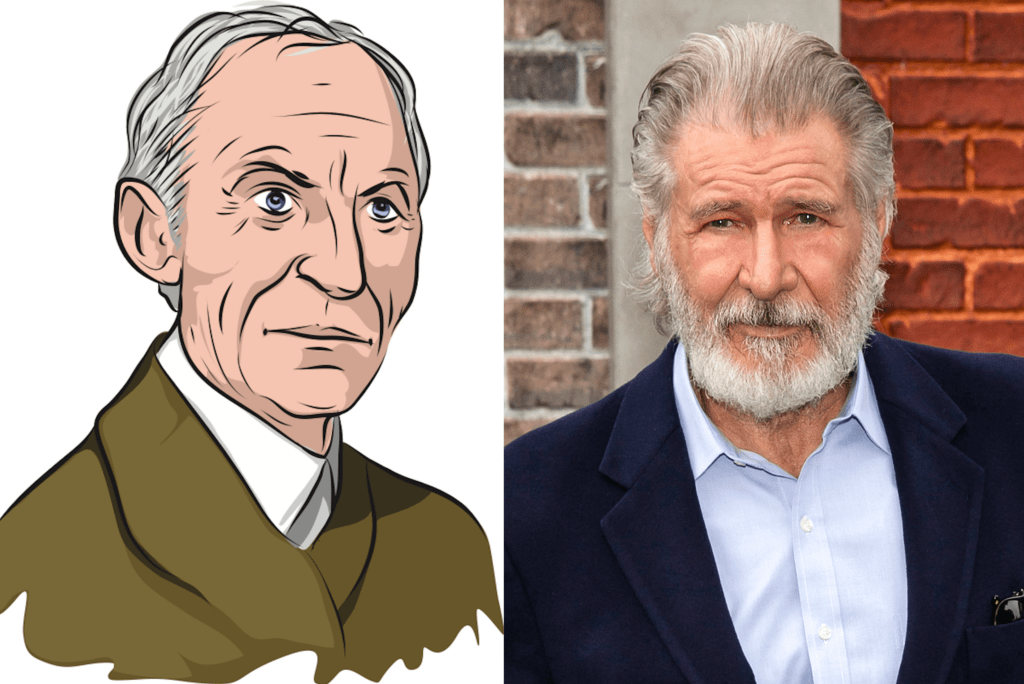 If you were hoping for some sort of family connection between the two, then you'll be disappointed by the answer that there's no relation. Of course, it was pretty unlikely that there would be any connection between the two based on surname alone, but is there any chance at all that they are somehow distantly related?
History of the Ford Name
The origins of the Ford surname aren't entirely clear, but there are two prevailing possibilities when it comes to etymology, one of which interestingly relates to Harrison Ford's own parentage.
The most interesting potential genesis of the Ford name is it is derived from either a selection of Irish surnames or maybe Jewish surnames. An unpredictable mixture, but also one that relates directly to Harrison Ford, seeing as how between his parents he has a combination of those two lineages in his ancestry.
On the Irish side, Ford was derived from a mistaken interpretation of the Gaelic in the names Mac Giolla na Naomh and Mac Conshámha. Whereas with the Jewish aspect of the origins, it has been Americanized from other Jewish surnames that sounded similar.
Distant Links
With all of that in mind, could there be any relation at all, no matter how distant, between the two Fords in question?
The answer is still an overwhelming no. There are hundreds of thousands of Fords in the US alone, so much so that it was once the 89th most popular surname. Combine that fact with the wildly different background someone could have drawn from the name from, and you're going to be clutching at straws if you want to try and find a connection between the two men.
Even if there was a connection somewhere deep, deep down in their family tree, it's unlikely that we'd ever find out about it seeing as how Harrison Ford is notoriously private regarding personal life and his family.
One tenuous connection that the two do share, however, is that they both likely inherited the Ford name from the same origins, from their Irish roots.
Henry Ford's father was in fact born in County Cork, Ireland, matching up perfectly with what we know of where the name was derived from. Although the exact details are vague, we do know that Harrison Ford's father was also of mixed German and Irish descent.
So maybe, just maybe, the two may have had some progenitors that crossed paths back in their ancestral home of Ireland.
What of the rest of their family trees, do either of the Fords have any other interesting genealogical links?
Unfortunately, there's not much in the way of information on the side of Harrison Ford. He already prefers to keep his private life to himself, so he isn't the type to go public with the details of his family tree.
Other Celebrities Related to Important Historical Figures
The Harrison and Henry link might be a dead-end, but there's plenty of other celebrities who have ties to important or influential historical figures. In some of the cases, there are a few celebs who also have some links to royal bloodlines!
Abraham Lincoln boasts a few famous actors in the many branches of his sprawling family tree, including big names like George Clooney and Tom Hanks, multiple times removed cousins of one of the most important American presidents.
As for those who have some royal blood coursing through their veins, there are so many actors and actresses that have a connection to royal families that you'd think it was becoming the latest fashion trend. Having a King or a Queen somewhere in your ancestry is definitely the "in" thing.
Henry II in particular boasts a few Hollywood stars underneath on his family tree, such as Brad Pitt and Paris Hilton.
As for Harrison Ford, however, much like the persona that he portrays to the world, he's as down to earth as they come.