Sandra Bullock is one of those names in Hollywood that enjoys a rarefied spot of being instantly recognizable no matter where you are in the world, a true household name. How much money does that kind of prestige earn you for a role?
Sandra Bullock can earn upwards of $20 million per movie, not counting first-dollar gross or other arrangements. She has been earning that kind of money ever since the 2013 movie Gravity.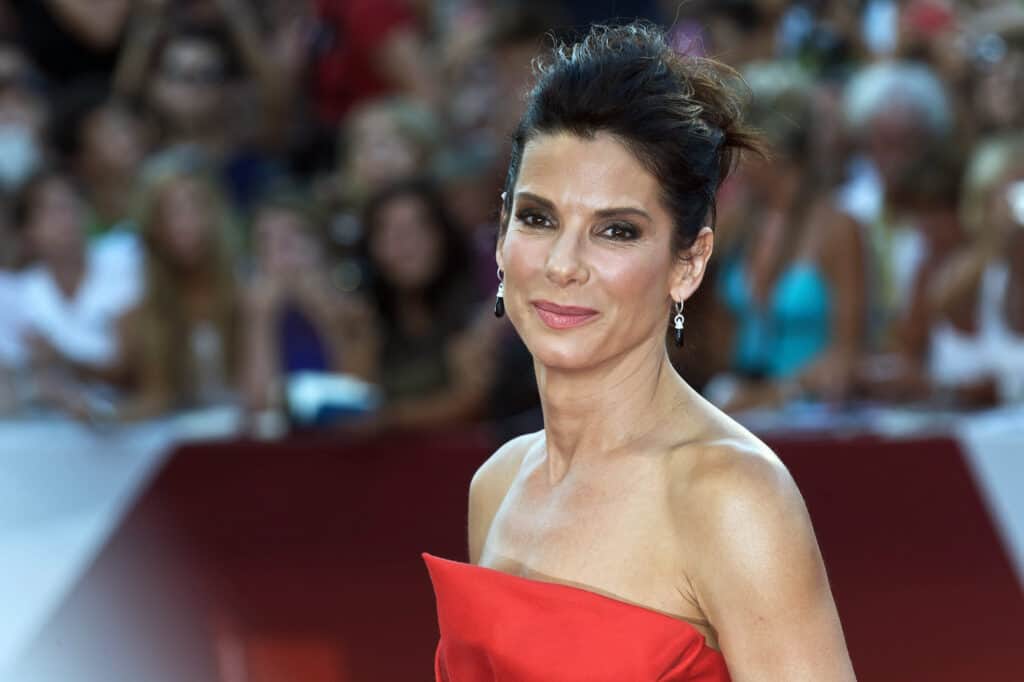 Banking those kinds of paychecks puts Bullock safely in a comfortable position on a list of best-paid actors and actresses. Knowing where to place her can be a little difficult, however, seeing as how the regularity of her appearances has become more and more infrequent over the years.
Bullock's Rising Star
There are a lot of correlations between not only the popularity of an actor or actress but the amount the movies they star in successfully manage to gross, which determines their paycheck. In the case of Bullock she's had a few movies in particular that caught the attention of movie-goers worldwide.
The movie that really took her into the mainstream was 1994's Speed. It's an iconic action-packed thriller, co-starring Bullock alongside another fan favorite and beloved actor, Keanu Reeves.
Speed saw Bullock in the role of Annie Porter, an innocent passenger on a bus that had the misfortune of being targeted by a lunatic bomber. In the movie, the bus that has been rigged with the explosives is unable to slow down below 50, or they will detonate.
In a way, you could see it as a little bit of metaphor. If the bus was Bullock's career, and minus the potential explosive device. Ever since Speed, her career has been driven forward from success to success with no signs of slowing down.
As is typical for a fresh face in the world of Hollywood, Bullock made only a fraction of the paycheck she receives now, earning a comparatively paltry $500,000. It seems strange to call $500,000 paltry, but when you see that she'd later earn almost ten times that amount, it pales in comparison.
It was a worldwide success, grossing over $300,000 at the box office. She came seemingly out of nowhere and managed to give a memorable performance, which in combination with some enviable box office numbers put her in the running to possibly receive a far bigger paycheck in her next outing.
If her part in Speed was the role that put her on the map, then 1996's A Time to Kill was the movie that put her there permanently. It marked the first time that Bullock got to join the other A-listers that were being paid millions for a part.
Bullock's Second Biggest Payday
Another movie with a devoted following of fans was Miss Congeniality. Although it received mixed reviews from critics at the time of release, it was still generally well-liked by the viewership and also earned Bullock one of her larger paydays up until that point.
She earned $13 million for herself, and a sequel for the movie. Although the sequel wouldn't be as much of a success as the first movie was, grossing half of the original, it was Bullock's second-highest payday.
These are all strong numbers, and Bullock had a series of movies paying similarly over the course of the 2000s, even if some of them did underperform at the box office.
Even today, that kind of salary would have Bullock knocking at the door of any list that sought to determine who the most well paid Hollywood stars are. There was another level of pay for her to access, however, one that she unlocked in 2013.
Salary Going Into Space
Fitting that 2013's Gravity was a sci-fi film because Bullock's paycheck was in another world for this movie. Not only did she get the hefty sum of $20 million bestowed on her right out of the gate for her part in the movie, but she also received a percentage of the gross.
If you count the gross in her salary, then that makes Bullock's final bank balance look over $70 million better off. Looking at numbers like that, it's perfectly possible that Netflix made a similarly sizable offer to her for her part in Bird Box.