The greatest quarterback in the history of the NFL, Tom Brady has achieved a legacy that might never be matched again. How much money does Brady make per year?
Tom Brady signed a two-year contract with the Tampa Bay Buccaneers in 2020, worth $25 million per year. He could also receive a further $4.5 million in incentives per year. Brady made a great deal of money during his two-decade-long career with the New England Patriots.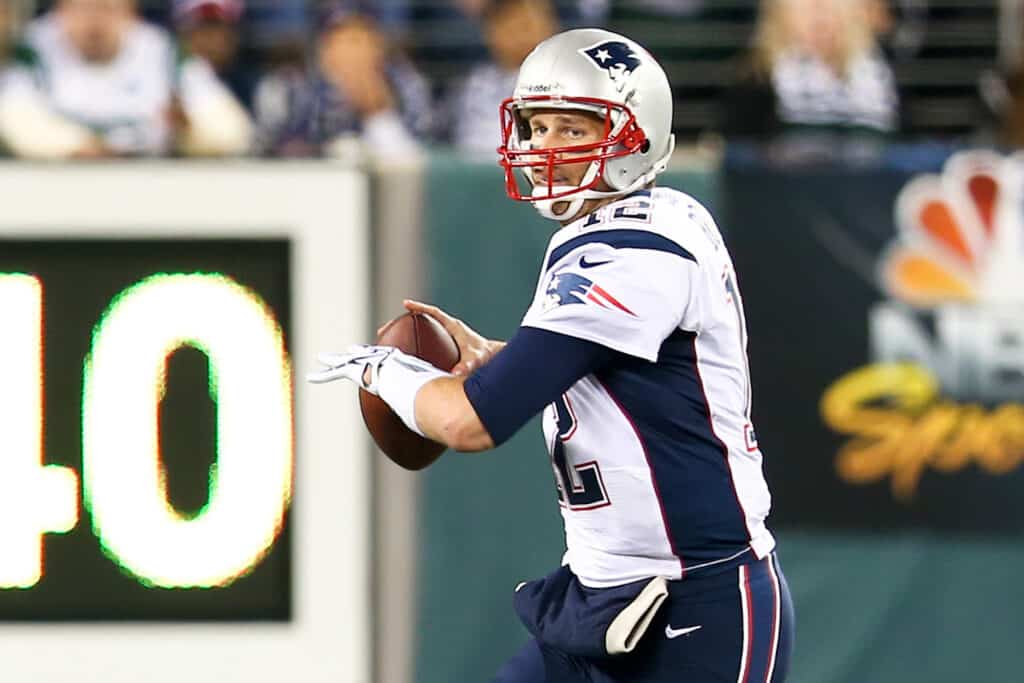 For more on Tom Brady's salary throughout his career, read on.
Tom Brady
Tom Brady's accolades throughout his two decades with the New England Patriots are too numerous to list in this article. Still, it is easy to mention some of his most impressive.
Brady's six Super Bowl wins are enough to make him the undisputed most decorated quarterback since the beginning of the Super Bowl era. In fact, Brady's wins are as many as any NFL franchise, let alone quarterback, has achieved, with the Steelers and Patriots both having won six times.
He has also been named Super Bowl MVP four times and NFL MVP in three seasons. Brady has also been selected for the Pro Bowl 14 times (with three as an All-Pro) but has rarely played in the game as he has been preparing for his nine Super Bowl appearances.
There are numerous other awards, both from the NFL itself and the sporting press, and it seems unlikely that even the most exceptional quarterback will achieve Brady's level of success any time soon.
Salary
With Brady's monumental success since joining the NFL, it's easy to forget the manner in which his pro football career started. Following an unspectacular NFL Combine performance, Brady was drafted as the 199th pick in the 2000 NFL Draft.
Rookie contracts have grown significantly in the years since Brady's first year and the future NFL icon signed his first contract for $193,000 per season.
There would be no "sophomore slump" for Brady, who stepped in to become the team's starting quarterback after first string QB Drew Bledsoe was injured in the second game of the season. He would go on to win Super Bowl XXXVI and Bledsoe was traded away to the Buffalo Bills, cementing Brady as the team's franchise quarterback.
With a year left on his contract, Brady signed a new five-year deal in 2002. He retained his rookie salary, $375,000 for the first year of the contract but then leaped to $3.1M, $5.5M, $5.5M, and $6M between 2003 and 2006.
Brady's contract was tinkered with throughout its run to allow the Patriots more salary-cap space, something that would occur repeatedly throughout his career.
In 2005, Brady signed another contract extension, this time for $60M spread across six years, with a $26.5M signing bonus.
As salaries continued to grow around the NFL, Brady and the Patriots had something of a standoff in 2010. After Brady was involved in a car accident, Kraft resolved to see the deal done and the QB eventually signed a new four year, $72M extension with a $48.5M signing bonus.
For the good of the team and seemingly more concerned with on-field success than making the most money possible, Brady's 2013 extension saw a significant reduction. He signed a three year, $27M extension with an extra $33M guaranteed, offering the Patriots huge salary cap flexibility.
Now older, Brady's contracts began to decrease in length but not in salary. In 2016, he signed a two year, $41M extension with a $28M signing bonus, then in 2019, he signed his final one year Patriots contract, earning him $23M with an $8M bonus.
Having not been paid like an elite QB for much of the 2010s, Brady tested free agency and signed with the Tampa Bay Buccaneers. Brady's two-year contract is worth $50M with a further $9M in incentives.