Julie Chrisley is an American reality television personality, wife, mother, and grandmother who has charmed audiences with her down-to-earth nature and relaxed parenting style. The Chrisley family is known for their extravagant lifestyle, but how much is Julie Chrisley worth on her own?
Julie Chrisley has an estimated net worth of between USD $3 and $4 million. While most of her earnings come from starring in 'Chrisley Knows Best', she's also earned a pretty penny through 'Chrisley Boxes' and other merch, real estate investments, and sponsored posts on social media.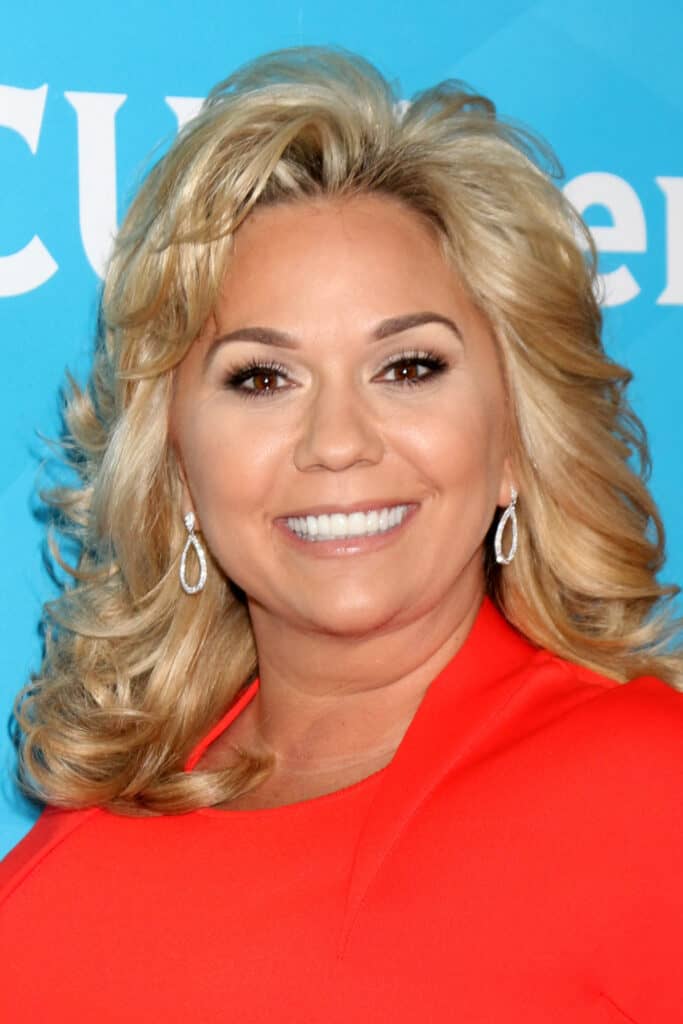 Her rags to riches story serves as an inspiration to many. Let's find out how Julie Chrisley achieved her millionaire status, how the other members of the family are faring financially, and take a peek at what her life was like before meeting Todd Chrisley.
Julie Chrisley's Humble Beginning
Today, Julie is a successful reality TV star and businesswoman, but she didn't always live the lavish life she's become known for — far from it.
Julie was born on 9 January 1973 in Winchester, South Carolina. Her parents were Pam Hughes, a bank teller, and Harvey Hughes, a mechanic.
It's widely reported that Julie grew up in a double-wide trailer in a park that was located on a dirt road called Charis Drive, though Julie herself has yet to publicly confirm or deny this.
She keeps mum about her past and for the most part, her life before Todd is shrouded in mystery. The closest Julie has come to discussing her past is when she said on the show "When we started, we had nothing."
How Does Julie Chrisley Make Her Money?
With an estimated net worth of between USD $3 and $4 million, many wonder just how Julie came into her small fortune.
Most of Julie's money comes from the show she stars in with her family, 'Chrisley Knows Best', and its spin-off shows. It's thought that she also made a few clever real estate investments over the years.
The family also sells 'Chrisley Boxes' for USD $149.95 each. These boxes contain an assortment of products that have been hand-picked by Julie and her family.
Investments, products, and her salary from the show aside, Julie's Instagram page reveals that promoting products keeps her fairly busy. She has ongoing sponsorships with brands such as Nutrisystem.
Despite Julie entering her marriage with Todd supposedly penniless, that is no longer the case. And don't think that she built her net worth up purely from being married to Todd.
When the news of her husband's bankruptcy was made public, documents emerged that show Julie lent him USD $4.4 million.
In 2014, Julie's attorney Robert Furr told People, "She is well-off. She has her own money. This is money that she lent him over the years for his business. It's as simple as that."
What Is The Net Worth of The Rest of The Chrisleys?
Believe it or not, but Todd is not the chief income earner in the Chrisley household anymore. Julie's net worth is the highest of all the members of the family.
Though she's the richest, she's certainly not the only family member that has an impressive net worth. In fact, all of the Chrisley kids are financially sound.
The oldest Chrisley child, Lindsie, has an estimated net worth of USD $2 million which she earned from her appearances on the show in its earlier seasons, from her blog, her podcast, and social media endorsements.
Kyle Chrisley's net worth is estimated to be around USD $500,000 which comes from his blossoming country singing career. Chase Chrisley is reportedly worth USD $500,000, money he's earned from being on the show and its spin-off as well as from his candle collection.
Savannah Chrisley is worth approximately USD $1 million. This she has earned from her appearances on the show and its spin-off, but she also has two clothing lines called 'Faith Over Fear' and 'Rampage' as well as a makeup line called 'Sassy Cosmetics'.
Even little Grayson Chrisley is doing well for himself, despite his young age. He has an estimated net worth of USD $1 million that he's amassed from the show alone.