Mat Fraser has won the CrossFit Games five years in a row and he has been the runner-up twice. His strength and stamina can only be attributed to some hardcore training.
Mat Fraser trains every single day for about six and a half hours a day. After his training, he spends another hour and a half stretching and rolling out any pain from training. He also gets about ten hours of sleep a night. This and a healthy diet has helped him to win the CrossFit Games and be titled Fittest Man on Earth.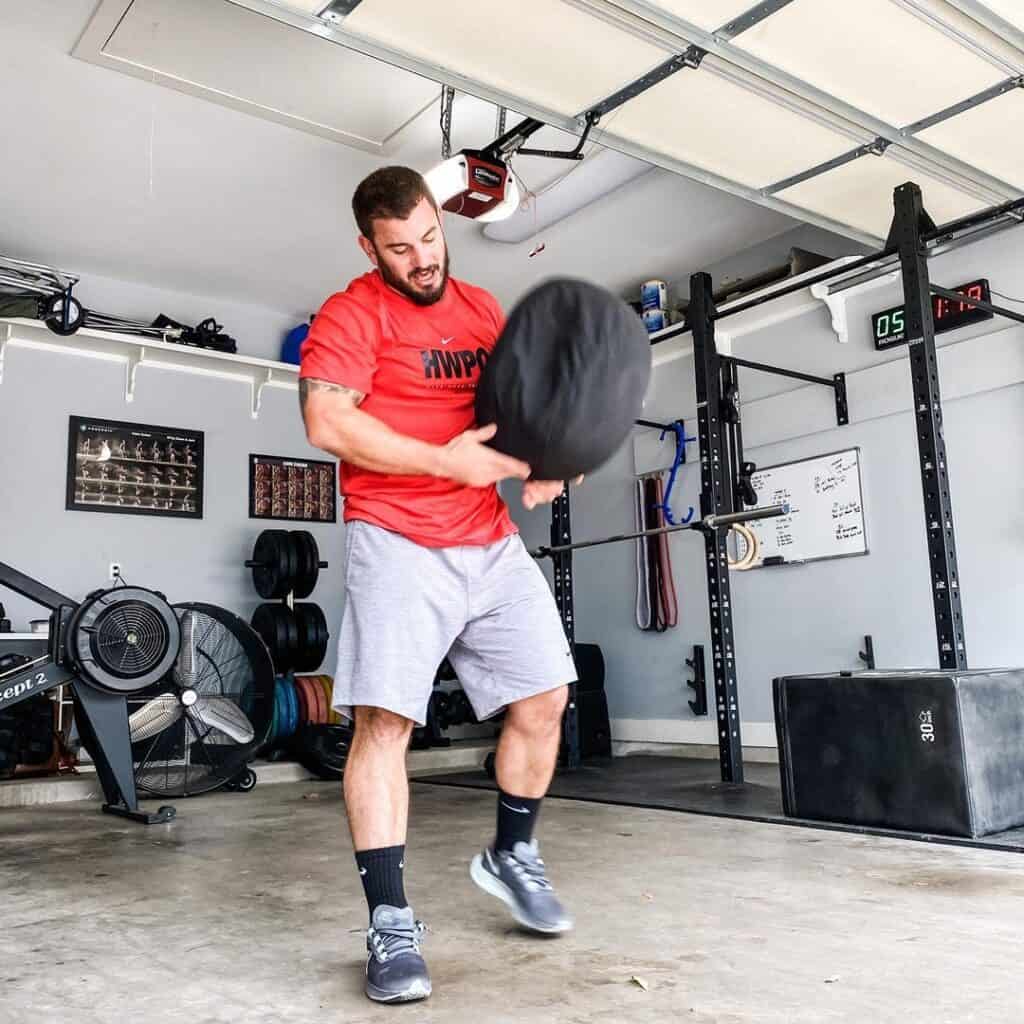 Scroll down to read more about Mat Fraser's daily routine and what he eats to stay so in shape.
Mat Fraser's Daily Routine
Mat Fraser trains a lot, we really mean a lot. His sole focus in life is on having a daily routine that supports his success in CrossFit.
The very first big thing to note about Fraser's training routine is that he has said he gets nine to ten hours of sleep every night. This amount of sleep helps his body to recover faster after his long days of training.
In 2018, he did a profile for GQ where he went over what an average day looks like for him. He said that he generally wakes up between 7:30 and 8:30 in the morning every day and immediately eats breakfast.
He said that his fiancee, now wife, prepares him all of his meals starting with his three-part breakfast of bacon, eggs, and oatmeal. Then he said that he will hit the gym.
Mat Fraser's morning gym sessions often go from 9:30 am until 1:00 pm, which is a whole three and a half hours of killer training. When he was asked what he does while at the gym, he said that his training is random every day.
How can it be random though? Didn't he have a plan behind him to become the champion of CrossFit?
Well in that sense yes, Fraser has stated that his workouts all depend on what he did the day before. He said that he always works everything in his body, but if he did more conditioning yesterday he'll do more weightlifting today.
After he finishes up his morning workout, he goes home where lunch is waiting for him. He eats and then hangs out for two hours before heading back to the gym to work out for another two or three hours.
When he's finally done his workouts, Mat Fraser heads home to have dinner and then stretch for another hour and a half.
Unfortunately, we can't pinpoint his exact workout routine because, with CrossFit, the workouts change every day. As he told Sports Illustrated, "I'm not trying to break a four-minute mile. I'm not trying to squat 800 pounds. I'm trying to run a five-minute mile and squat 500 pounds."
You can watch Mat Fraser competing in Stage 2 of the 2020 CrossFit Games in the below video.
Feeding The Frasers
The fact that his wife Sammy prepares all of his meals may seem a bit gender-stereotypical to some. However, she loves cooking and has a photo webpage called Feeding The Frasers.
The 'About' section of her website even talks all about how making food and feeding her husband is exactly what she wanted from life. She was raised with four other siblings and says that sitting around the table for family meals was one of her fondest memories growing up.
So what exactly is she feeding her hubby? It must be difficult considering the Fittest Man on Earth can consume anywhere from 3000 to 4000 calories on a regular basis and 7000 calories in the weeks before a big competition!
Well as mentioned above, as Mat Fraser told GQ, he eats bacon, eggs, and oatmeal for breakfast quite often. Looking at the Instagram page for Feeding the Frasers, this breakfast still seems to be in use too.
That's because Sammy posted that he ate eggs, bacon, strawberries, and a bagel with cream cheese on the morning of the first day of the 2020 CrossFit Games.
For lunch, Mat has said that Sammy usually makes him a sandwich to eat. While you may be thinking of a small homemade sandwich on some sliced bread, the sandwiches Mat Fraser eats are anything but that.
His are on a big bun and loaded with thick slices of meat. Other than these dishes, Sammy Moniz really seems to provide a huge variety in the meals that she prepares for her CrossFit champ husband.