Ana de Armas is a Cuban actress whose star has been steadily rising since becoming a Bond girl in 2021. She again made waves in 2022 when she played Hollywood icon Marilyn Monroe in the movie Blonde. How early did Ana de Armas get started in movies? Let's find out.
Ana de Armas was 18 years old in her first movie, Una rosa de Francia (2006). She played the role of Marie, and was credited as Ana Celia de Armas.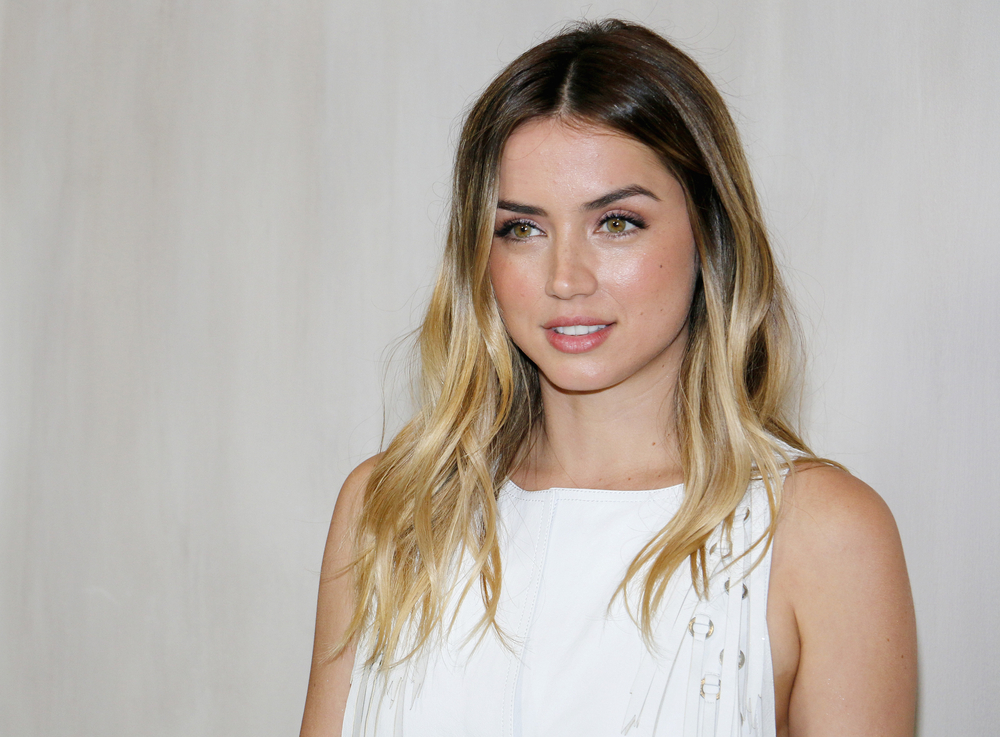 Scroll on to know all about the Knives Out actress' acting career thus far.
How old is Ana de Armas?
Ana de Armas, born Ana Celia de Armas Caso, was born in Havana, Cuba, on April 30, 1988. Her parents are Ramon de Armas and Ana Caso, and she has an older brother named Javier.
She got bitten by the acting bug at the age of 12 from watching local and Hollywood movies growing up and practiced monologues and scenes in front of a mirror.
At 14 she joined the National Theatre of Cuba where she gained her acting education and initial experiences in performance. In 2010 at 18 years old, Ana moved to Spain to pursue acting professionally. 
Born in 1988, Ana de Armas' age (as of 2022) would be 34 years old.
What was Ana de Armas' first movie?
Her first film was Una rosa de Francia which was released in 2006 when she was 18 years old. The Spanish-language period film follows the story of a man who illegally transports people to America and the sailor who discovers him and saves his life. The sailor eventually falls for the man's beautiful protegé (Marie, played by de Armas), and conflict ensues.
Did Ana de Armas appear on TV shows?
de Armas continued her career beginnings with roles in Spanish-language TV movies and short films. She also appeared in two Spanish-language TV series between the years 2007 and 2011: El internado (The Boarding School) and Hispania, la leyenda. Ana appeared in 56 episodes of the former (streaming on Amazon Prime) and 17 episodes in the latter. 
What is Ana de Armas most famous for?
Ana de Armas' first foray into Hollywood happened in 2014, when she moved to Los Angeles to further her career aspirations. Not long after, she landed her first mainstream Hollywood movie, Knock Knock (2015), opposite Keanu Reeves.
A steady rise
The newbie actress and the Hollywood veteran seemed to hit it off while filming Knock Knock that they worked together a second time soon after. Reeves invited de Armas to join the cast of a Spanish-language movie he was working on (as an actor and producer), then-titled Daughter of God. It was eventually released in 2016 as Exposed.
In 2016, Ana played a supporting role in the movie War Dogs, which featured Miles Teller and Jonah Hill in the lead. A year after, she appeared in Blade Runner 2049 (opposite Ryan Gosling) as Joi, the holographic love interest of Gosling's character, K. Although the movie did not do very well in the box office, critics and audiences took notice of Ana's performance, with some considering her role in 2049 as her mini-breakthrough.
Breaking out
But it was her role as Marta Cabrera in 2019's Knives Out that everyone seems to agree as being her true breakout performance. Aside from generally positive reviews from audiences, the film did pretty well commercially, too. Ana earned a nomination for a Golden Globe Award from her work in the film, which featured bigger Hollywood names like Daniel Craig, Chris Evans, Jamie Lee Curtis, and even Christopher Plummer.
An interesting pattern
Looking at de Armas' film roles since 2015, there seems to be a pattern with the actress doing a "double-take" – i.e. working with her co-stars a second time. The first one was with Keanu Reeves in Knock Knock and Exposed; the second of her double takes seems to be with Daniel Craig, with Knives Out and then in No Time to Die (where she played Paloma to Craig's James Bond); and the third (for now) is with Ryan Gosling, whom she co-starred in Blade Runner 2049 and again in The Gray Man.
Playing Marilyn Monroe
L'Officiel USA has its own list of the actress' best-known roles, but perhaps Ana de Armas' most well-known performance thus far is as Marilyn Monroe in 2022's Blonde, for which she was widely praised (although the film itself got heavily criticized).
She impressed everyone with her full transformation into Marilyn Monroe, from looks to mannerisms to voice and accent. Ana was barely recognizable playing the tragic Hollywood legend, and for her dedication, she earned many awards nominations for it.