Maya Hawke is one to watch as her star is quickly rising. This American model-actress-musician is of Hollywood royalty and everyone's eager to know everything about her! Starting off with some fast facts, let's find out how tall she is.
Maya Hawke stands 5 feet 8 ¼ inches (1.7 m or 173.4 cm) tall. She's on the tall side compared to the average female American height which is around 5 foot 4 inches.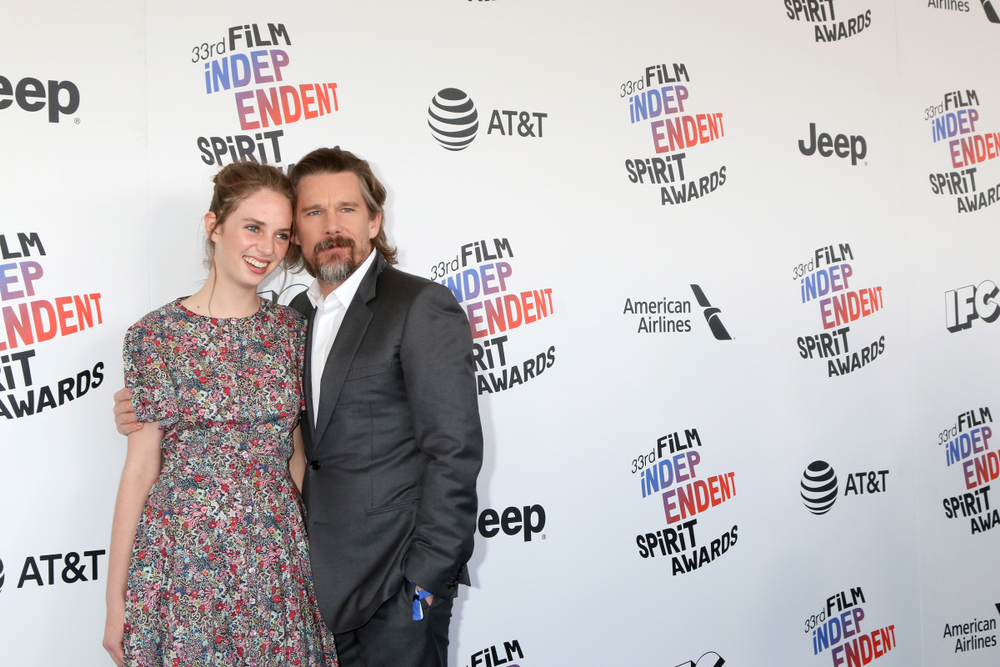 Considering her parents' heights (Ethan Hawke being 5'10" and Uma Thurman a statuesque 5'11"), we're not surprised at the actress' natural talent, looks, and figure.
Who is Maya Hawke?
Blond, blue-eyed Maya Ray Thurman Hawke was born on July 8, 1998, in New York City. She studied at Saint Ann's School, an institution known to emphasize artistic creativity among its students. She also attended one year of Julliard School before deciding to focus on her Hollywood career.
If genes were the sole predictor of one's future, then Maya Hawke will be set for life. Having famous, good-looking, and talented parents gave her the edge to succeed in Hollywood. As for her facial features, she's a spitting image of her mom, Uma Thurman, especially during her younger days. 
Their slim, model-like stature and legs for days made them models of famous brands. It's interesting to add that Maya's maternal grandmother, Baroness Nena Von Schlebrugge, was a Ford model in the 50s-60s, as was her great-grandmother, Birgit Holmquist, who posed for Axel Ebbe's statue Famntaget in Sweden.
Before pursuing acting, Maya modeled for Vogue and AllSaints' 2016/2017 collection. She also posed for a Calvin Klein underwear campaign.
Does Maya Hawke have siblings?
Maya is the older of two siblings from the Hawke-Thurman marriage, the other being Levon Roan Hawke, her younger brother. Maya has other siblings from each of her parents: two younger sisters from dad and his second wife, Ryan Shawhughes, and another half-sister from her mom and her ex-fiance, Arpad Busson.
Maya has a close relationship with all her siblings. She and Levon have been collaborating on music, where Maya will sing a melody and Levon creatively tinkers on his electric guitar. The siblings are also a regular feature on Maya's social media feed, especially when they take trips and vacations together as a family.
Is Maya Hawke dating anyone?
The Stranger Things star is quite private when it comes to her romantic relationships. But as her star continues to rise, the rumor mill continues to churn particularly on who she's dating at the moment.
Around 2019, she was seen going out with Rolling Stone President and CEO Gus Wenner. The two were on each other's social media feeds until it fizzled out in 2020. Maya released her album Blush, which contains songs inspired by the relationship struggles she had with Wenner.
Then in July 2020, she started a year-and-a-half relationship with The Sandman actor, Tom Sturridge. It was quite controversial since they had a 13-year age gap, which her fans didn't really approve of.
Currently, Maya Hawke has been spotted cruising the town with fellow musician Spencer Barnett. The couple is bringing on the PDA when they were spotted on Valentine's Day of 2022.
Barnett is a close friend of Maya's brother, Levon, which could explain the age gap (Barnett being 3 years younger).