Ranked as one of the most beautiful and highest-paid actresses in Hollywood, Nicole Kidman has captured the world with her charm, and notable performances. Here are some fast facts about the Big Little Lies actress and while we're at it, find out what Nicole Kidman's height is, exactly.
Nicole Kidman stands 5 feet and 10 and ½ inches tall. In meters, that would be 1.80, or 180cm.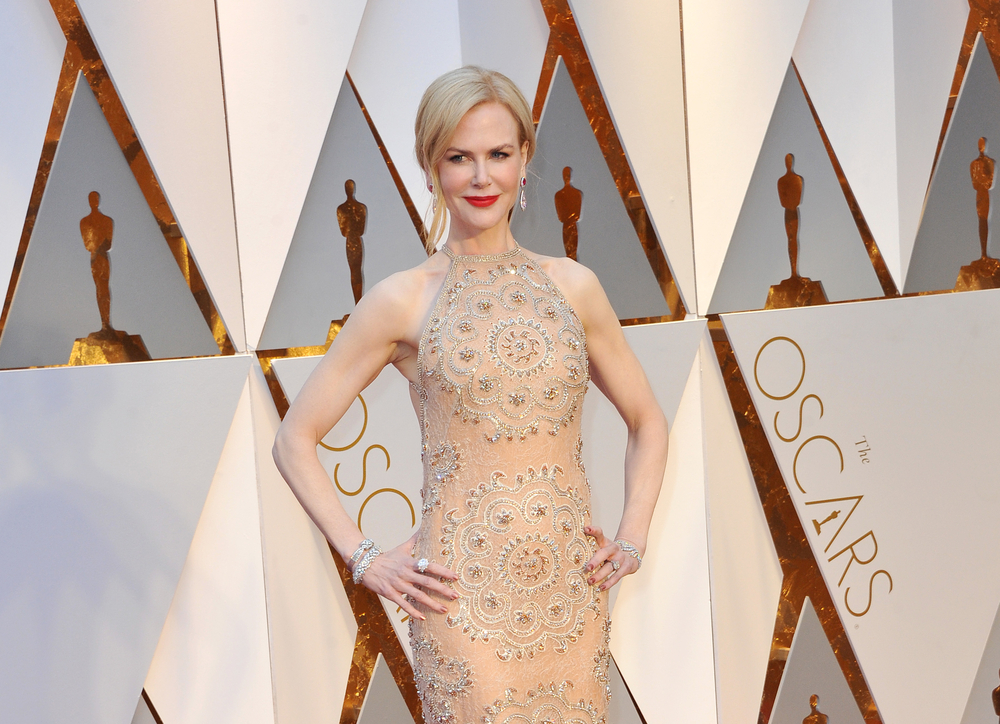 Look no further to learn more about Nicole Kidman.
Tall & Talented
Being statuesque and having mile-long legs is just one way Nicole got noticed in her chosen career. Her height doesn't just make her physically attractive, but it also keeps her relevant in such a cutthroat industry as Hollywood.
She is joined by equally tall actresses like Uma Thurman, Cate Blanchett – and Charlize Theron, who stand more than 7 inches taller than the typical American actress. Her height has literally propelled her career to greater heights.
Family Background
A big thanks to her parents for the good genes, Nicole and her younger sister, Antonia Kidman have the same height. Though growing up, Nicole says that she hated how she was taller than everybody else.
But later on, she revealed, she became confident and loved her tall physique and was quoted saying "I have no inhibitions about my height. I learned early on to be totally self-assured about it."
Early Years
Nicole Mary Kidman was born in Hawaii on June 20, 1967, to Australian parents who were in the United States to study. They went back home to Sydney when she was four. Young Nicole learned ballet and developed a liking for performing on stage. She honed her skills all throughout primary until high school and launched her career in 1983.
She started starring in Australian productions when she was only 16 years old and then caught media attention in her role in the 1989 movie Dead Calm. Then at the turn of the decade, she was paired with her would-be husband, Tom Cruise, for the movie Days of Thunder, which ranked as one of the highest-grossing films that year.
Breakthrough and Career Highs
There's been no stopping Nicole since then. Her movies Far and Away and Malice were both critically-acclaimed. Then in 1995, she bagged her first Golden Globe award for her performance in the film, To Die For.
Nicole's wise choices in her projects and sheer talent have made her a quintessential actress of our time, landing her the role of Satine in Baz Luhrmann's musical, Moulin Rouge opposite Ewan McGregor in 2001. This was followed by another lauded performance in the movie, The Others.
The following year was a massive success again for this Australian actress for she bagged not one but three prestigious industry awards. She received her first BAFTA Award, her third Golden Globe, and her first-ever Academy Award for Best Actress in the movie, The Hours, where she portrayed writer, Virginia Woolf. In the same year, she was also part of the World's Most Beautiful list by People magazine.
Who is Nicole Kidman married to?
Her marriage to Hollywood's most famous actor, Tom Cruise made her the talk of the town, and fans were eager to know who was this Australian beauty who captured Maverick's heart. Nicole Kidman and Tom Cruise were married for more than a decade. But, by 2001 their marriage was over – reports said that they cited irreconcilable differences as grounds for divorce. The couple shares two adopted children, Isabella and Connor Cruise.
Currently, Nicole is married to her husband Keith Urban, an Australian-American musician. They met in 2005 and got hitched shortly after. They have 2 daughters together, Sunday Rose and Faith Margaret, who was born through surrogacy.
As to heights and husbands – both men are a few inches shorter than Nicole, as seen on her red carpet photos taken with them. She once famously joked after her divorce from Tom Cruise was finalized that can finally wear heels.