He's been on the scene for decades now but the height of Snoop Dogg's career as a rapper and mainstream celebrity truly peaked when even fans of Martha Stewart knew of him. He's arguably the most well-known rapper in the game – but is he the tallest?
Most celebrity height sources seem to have a unanimous measurement of Snoop Dogg's height. The Gin and Juice rapper stands 6 feet 4 inches tall (1.93 m or 193 cm).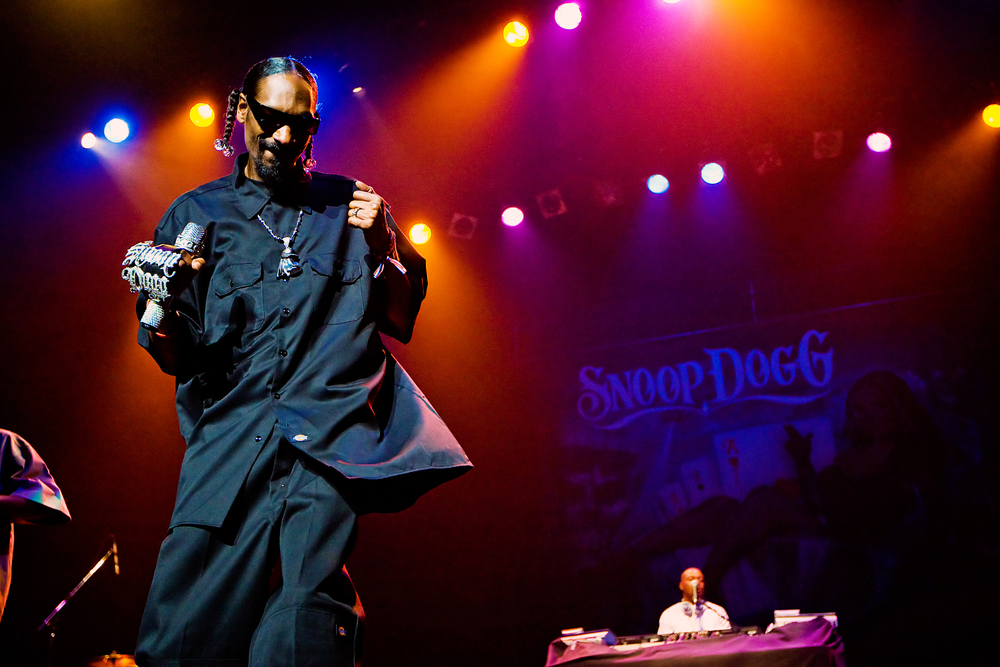 Here are more fast facts about the hip-hop artist and media personality.
How old is Snoop Dogg?
Snoop Dogg was born in 1971, on October 20th. He turned 51 years old in 2022.
What is Snoop Dogg's zodiac sign?
Snoop Dogg is a Libra sun sign. His ascendant (rising) sign is Taurus and his moon sign is Scorpio. According to the New York Post's deep dive into Snoop's astrological placements, becoming rap royalty seems to be part of his destiny. Snoop Dogg shares the same birthday and sun sign as United States politician Kamala Harris, actor John Krasinski, and historical figure Christopher Columbus.
What is Snoop Dogg's real name?
The Long Beach, California native was born Calvin Cordozar Broadus Jr. The Snoop in his nickname comes from Snoopy, the cartoon character as his mother thought he looked like the adorable Peanuts character. He used the name Snoop Doggy Dogg when he entered the LA rap scene with Dr. Dre, and kept using it until he met a life-changing trip to Jamaica in 2012. 
Visiting Jamaica in 2012 had the rapper (who was still known as Snoop Doggy Dogg then) converting to Rastafarianism and then changing his stage name to Snoop Lion per a High Priest's instructions. Snoop Lion released a reggae album and a documentary under this alias.
In 2015, the rapper transitioned to the name everyone now calls him by, which is Snoop Dogg.
Is Snoop Dogg married?
The Drop It Like It's Hot rapper is married to Shante Broadus (nee Taylor), his high school sweetheart. They tied the knot in 1997 when Snoop was in his mid-twenties. Their enduring romance is truly inspiring, but it's not without some ups and downs. According to Essence, Snoop and Shante nearly had a divorce in 2004 but fortunately for them and their adoring fans, the couple managed to reconcile and even renewed their vows in 2008. 
Does Snoop Dogg have kids?
Snoop Dogg is father to four children, three of whom he shares with his wife Shante: sons Cordé, Cordell, and Cori (his only daughter). He has a son, Julian Corrie Broadus, from another relationship.
Snoop and his wife Shante are grandparents to 5 living grandchildren; unfortunately, they lost their 6th grandkid, Kai Love, after only 10 days of being born.
Snoop and Shante's family was featured in the 2022 holiday campaign of Skims, the loungewear and shapewear company owned by reality TV star Kim Kardashian. Per Today's report, the campaign was a rare occasion that Snoop Dogg's entire family was photographed together. The campaign highlighted Snoop as a granddad, a role he plays that the public rarely gets to see. 
Is Snoop Dogg the tallest rapper?
Snoop Dogg is definitely one of the tallest rappers there are, but Yung Gravy takes the top spot on this one, standing 6 feet 7 ½ inches tall. In Playback.fm's list of top 10 tallest rappers, Snoop took the #7 spot.
Is Snoop Dogg the richest rapper?
Based on Wealthy Gorilla's list of the world's 30 richest rappers, he isn't the richest of all but he definitely is in the upper half, taking the top 11 spot. Snoop Dogg's net worth as of 2022 is estimated at $150 million. He shares the same estimate as Swizz Beatz and Lil Wayne.
Although his residential choice can be considered modest in Hollywood standards, Snoop is known to flex hard when it comes to cars. He was reported to have 15 cars in his collection, which includes customized Cadillacs, a Ferrari, and a Rolls Royce. Know all about Snoop Dogg's car collection here. 
Was Snoop Dogg really in a movie with Matthew McConaughey?
Academy Award winner Matthew McConaughey and Snoop Dogg did appear in a movie together in 2019 called The Beach Bum. It tells the story of stoner Moondog (played by McConaughey) living life by his own rules until an accident shakes things up for him. Snoop played R&B singer Lingerie in the movie.
The Beach Bum was directed by Spring Breakers director Harmony Korine. The comedy film also featured Isla Fisher, Martin Lawrence, Zac Efron, and Jonah Hill in the cast.