Adam Levine is famous for being the lead singer of Maroon 5 and a coach for The Voice, which he did for eight years. His band has sold millions of records and toured the world–the epitome of a successful musical career. But what about his personal life? You're curious and so are we.
Adam Levine is married to Behati Prinsloo, a Victoria's Secret model. They met in 2012 and two years later, tied the knot. The couple has two children.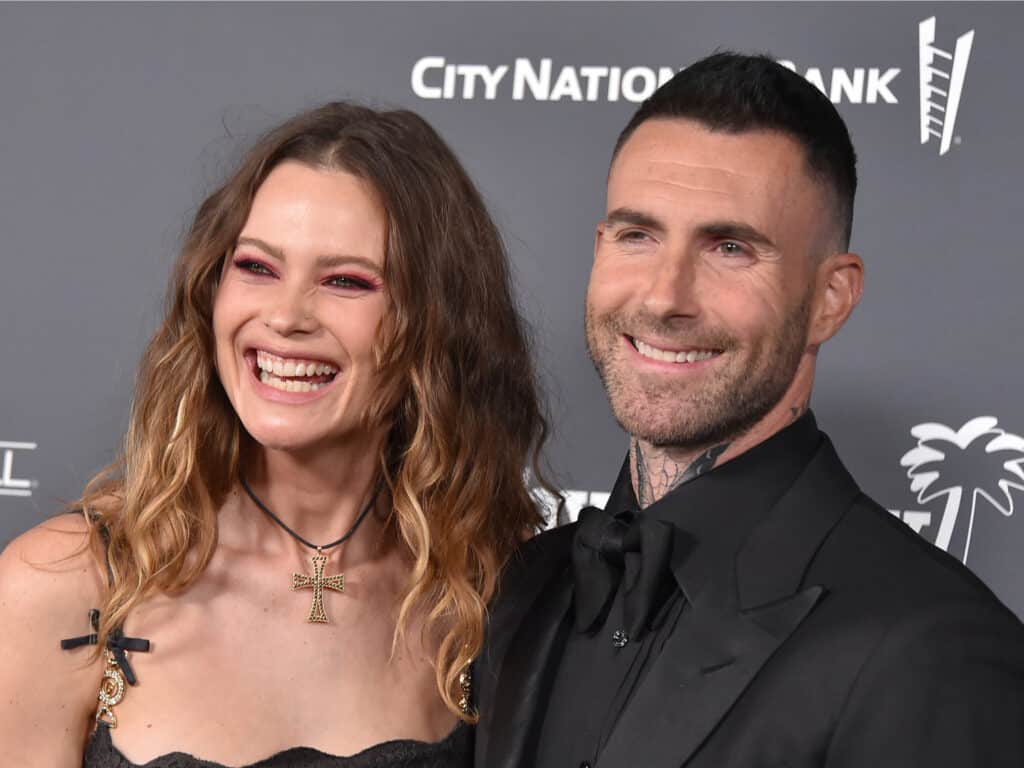 Read on to find all the information we have on Adam Levine's marriage, his wife, and a little trip down memory lane on his past loves.
Adam Levine's Exes
Before Adam Levine got married, he had been on relationships with quite a few famous names, one of which his music made so (find out below). Let's talk about Adam's past loves prior to meeting his would-be wife and mother of his adorable kids.
Jane Herman
In high school, emotions tend to run high because of puberty, hormones, and the adolescent need to explore. This is the time when most of us find our first love, the kind that feels like forever, but then usually ends up with heartbreak.
Seems like Adam Levine had the same experience with his first love, Jane Herman.
The couple started dating in 1997 but broke up in 2001. Although she's not a celebrity, you most likely have heard stories about her in Maroon 5's debut album, Songs About Jane. The album was inspired by Adam's four-year relationship with her.
Did this bit of info pique your interest in listening closely to the lyrics in the record?
Jessica Simpson
Adam Levine took some years to heal and recuperate from his previous relationship it seems. In 2004/2005 he was rumored to be dating singer Jessica Simpson.
Both never admitted to it, most probably because she was still married to Nick Lachey at the time. The rumors eventually died down, and fans speculate it was only a passing fling.
Cameron Diaz
By 2009 Adam was seen around Hollywood with another famous woman: Cameron Diaz. The actress is known for her roles in big-budget films as Charlies Angels, The Mask, and Shrek.
Neither of them admitted to the relationship. Like his rumored fling with Jessica Simpson, this one also left the rumor mill after some time.
Models 
Adam Levine was rumored to have dated Janine Habeck, Angela Bellotte, and Nina Adgal–all models.
While he managed to keep those relationships low-profile, his relationship with Anne Vyalitsyna, also a model, went public and was confirmed. They dated for two years from 2010 to 2012. Both say they have remained on good terms as friends after the split.
From Models to marriage
After the end of his last relationship, fans thought that the singer would try meeting new people in another field perhaps. However, he met another Victoria's Secret model, Behati Prinsloo. And the two hit it off.
But this time, he didn't let the relationship go as he put a ring on it! They got married in 2014 after dating for two years. Since then, he went from being a serial dater to a faithful husband and father.
Who is Adam Levine's wife?
Adam Levine got married to Behati Prinsloo in 2014.
Behati Prinsloo was born in Namibia, South West Africa. She was the only child to a church minister father and a mother who ran a bed and breakfast. By grade 9, Behati dropped out of school to pursue a career in modeling.
Behati Prinsloo became interested in modeling when a recruiter approached her at a mall and asked if she was a model. She then left school to pursue it as a career and made her debut walking the runway for Prada. Her debut ad campaign was for Marc By Marc Jacobs.
She has also modeled for big names like Louis Vuitton, Versace, Alexander McQueen, and Chanel, among others.
How did Adam meet Behati?
Adam Levine and Behati Prinsloo met in the most interesting way–through email.
The Maroon 5 crew needed a video vixen to do stunts in their music video. So a friend recommended Behati, describing her as a tomboy who can be perfect for the job.
Even if she couldn't appear in the video, they kept their friendship alive and continued to chat. They met in a dark studio that also served as a boxing arena.
The couple went for dinner and fell in love as they talked for hours. Eventually, they got married after briefly breaking up for two months.
Does Adam Levine have kids?
Adam Levine and Behati Prinsloo have two daughters – Dusty Rose and Gio Grace, born in 2016 and 2018 respectively.