Brandon Paak Anderson, famously known as Anderson .Paak, is an American singer, songwriter, rapper, record producer, and drummer. He is one of America's most exciting talents of the late 2010s because of his mixed Black and Asian ethnicity, and fans want a spot in his heart. So, what is his relationship status?
Anderson Paak is married to Jaelyn Chang.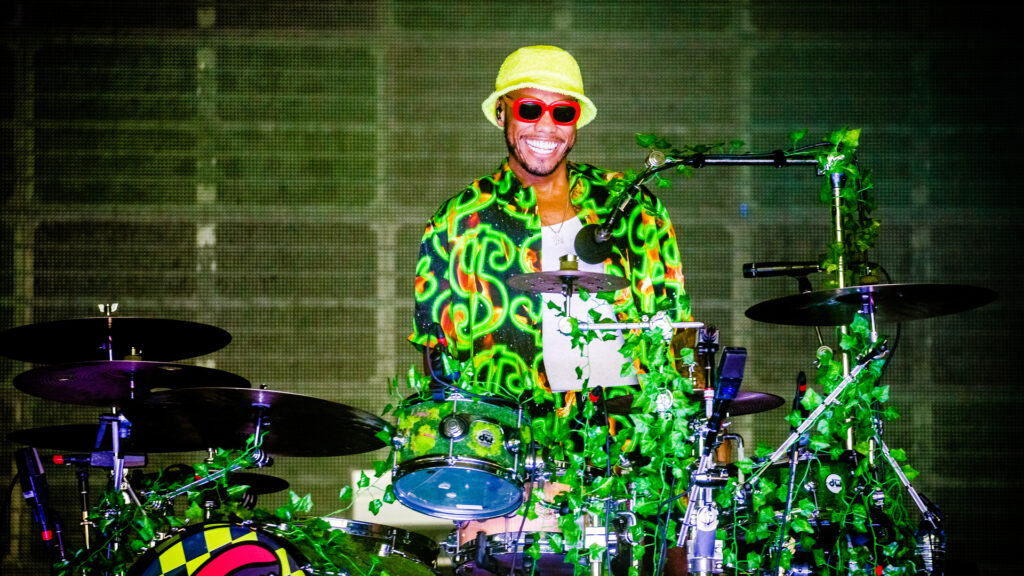 The singer has been winning hearts since he came into the limelight. Let's dive into the artist's personal life.
Anderson Paak's childhood
Anderson Paak was born in a Black American and Korean blended family in Oxnard, California, United States. He is the youngest of three siblings born to Ronald and Brenda Anderson.
Anderson Paak's parents split when his father took to cocaine addiction and was involved in many nefarious activities. He even tried to murder his wife at some point while physically abusing her.
Anderson's father was arrested and served a seven-year jail term. But, when they thought things were better because his father was in jail, Anderson's mother, Brenda, got arrested for illegally acquiring wealth.
He grew up playing the drums at his family church and recording songs in his room.
The singer dropped out of school to pursue a career in music. When Anderson Paak turned 21, he married but got divorced after two years.
His music career started between 2011 and 2013 before he took up the stage name Breezy Lovejoy and released his first EP. He then released more EPs and four studio albums, including Venice (2014), Malibu (2016), Oxnard (2018), and Ventura (2019).
How did Anderson Paak meet his wife?
Anderson Paak is married to Jaelyn Chang, a South Korean gospel singer with the Urban Pilgrims Church. She was born and raised in South Korea.
Jaelyn and Anderson Paak had in the Music Institute of Hollywood, where she hoped to pursue her singing career. Anderson was working as a teaching assistant then, and in a short time, they developed feelings for each other and married in 2011.
Where did Anderson Paak and Jaelyn Chang marry?
Anderson Paak and Jaelyn Chang married at a Label Services Centre Office specializing in immigration. They decided to get married when they found out that Jaelyn was pregnant. There was no elaborate proposal, just two lovers making a mutual decision to tie the knot.
Did Jaelyn and Paak face challenges after marriage?
Paak and his wife faced challenges as a young couple, including being homeless at one point in their lives.
Just two years after their marriage and birth of their first son, Paak worked on a marijuana farm in Santa Barbara. He earned up to $5 a week chopping, trimming and bagging multiple pounds of marijuana.
Paak lived on the farm and slept in the stash house while his wife stayed at Timen's house in Thousand Oaks, a hostel in North Hollywood.
Living in the stash house meant that the singer would make more money. However, things went south when he was fired without notice, rendering him and his family homeless.
But, Paak got back on his feet through a friend who helped him secure a drumming gig for Harley Reinhart, an American Idol contestant.
Is Anderson Paak divorced?
Anderson Paak first married when he was 21 to a girl he'd met in his family's church. Paak admitted wanting to divorce the young lady right after the marriage, but they somehow stayed together for almost two years before they finally split.
Anderson Paak got married for the second time to Jaelyn Chang, and they remain happily married.
Is Anderson Paak's wife famous?
Anderson Paak's wife is not a celebrity like her husband. She is not known for making many public appearances.
Jaelyn Chang rarely appears on Paak's social media pages. She also has no active social media accounts, so there's almost no information about her.
Does Anderson Paak have children?
Anderson Paak has two sons – Soul and Shine. His first son, Soul Rasheed, was born in 2011, while Shine was born in 2017.
His first son, although young, is an avid K-Pop fan who has collaborated on several projects, from Instagram dance memes to music videos with his father.
His second son, Shine, is shy and is barely seen on Anderson Paak's social media pages. 
How many awards has Anderson Paak won?
Anderson Paak has won three Grammy awards since his music career started. He won Grammys in 2019 for Best R&B Performance and Best R&B Album. He won his third award in 2020 for Best Melodic Rap Performance.