When it comes to science and religion, it's no secret that the two are wildly incompatible. Whilst scientists take an evolutionary approach, religious institutions favour creationism, the idea that the universe originates from acts of divine creation. As one of the most pre-eminent scientists of the last century, we can expect Microsoft-founder Bill Gates to take an empirical approach to religion. But is this true?
Bill Gates is religious. He follows Catholicism and believes in God, but as a data-driven scientist, he is far from a devout Christian. Speaking to Rolling Stones magazine Gates said: "I think it makes sense to believe in God, but exactly what decision in your life you make differently because of it, I don't know".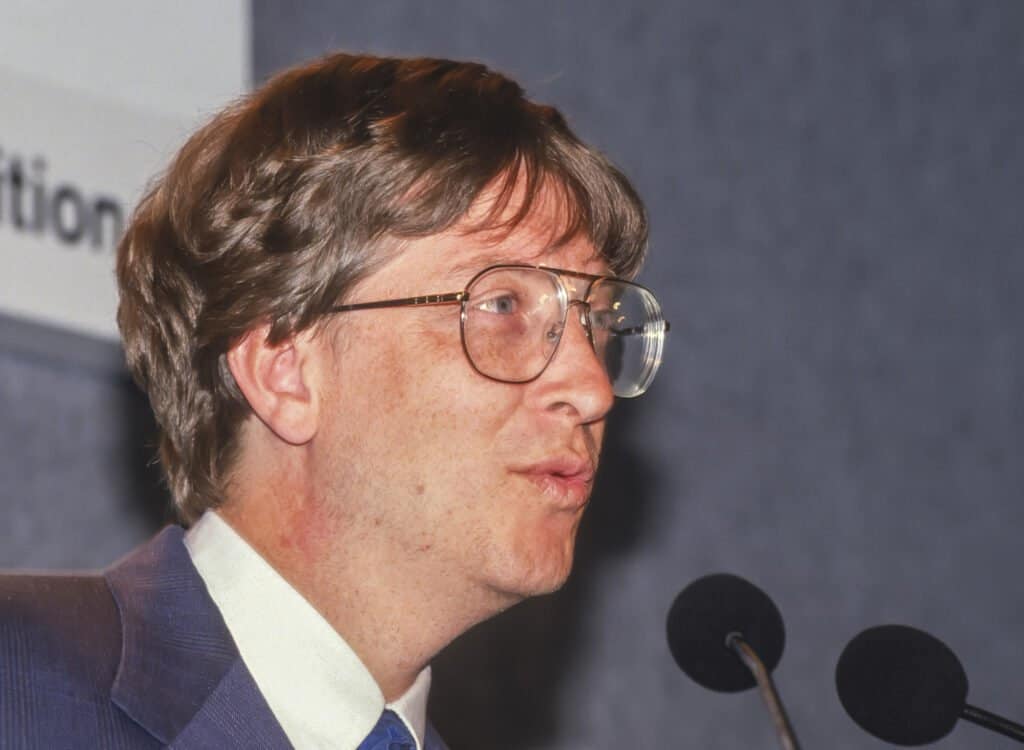 Bill Gates may be known for his outspoken views on topics such as anti-vaxxers, veganism, and poverty, but when it comes to religion Gates is tight-lipped. The few declarations that Gates has made about religion in a bid to decipher what he believes in and what he doesn't.
Is Bill Gates Christian?
Born in 1955 in Seattle, Washington, Bill Gates was raised in a Christian household. He grew up attending a Congregationalist church, which is now a defunct form of Protestantism. But it seems that Bill didn't carry his faith into adulthood.
In 1995 at the age of 40, Gates was interviewed by David Frost about the topic of religion to which he said:
"I'm not somebody who goes to church on a regular basis. The specific elements of Christianity are not something I'm a huge believer in. […] In terms of doing things I take a fairly scientific approach to why things happen and how they happen. I don't know if there is a god or not."
More recently in 2014, Bill was asked by Jeff Goodell from Rolling Stones whether his charitable work has changed his opinions on religion. Bill replied:
"The moral systems of religion, I think, are super important. We've raised our kids in a religious way; they've gone to the Catholic church that Melinda goes to and I participate in. […] I agree with Richard Dawkins that mankind felt the need for creation myths. […] Now science has filled in some of the realm that religion used to fill"
So we can conclude that Gates has quite a flexible approach to religion. He classifies himself as a Christian and argues that it makes sense to believe in God. Although he agrees that religion has virtue, he prefers to rely on absolute truths, and science is his first port of call.
It's a Family Matter
From the 1995 PBS interview to the 2014 Rolling Stones interview, Gates' religious beliefs seem to have gotten stronger. He initially said "I don't know if there is a god or not" but later argued, "it makes sense to believe in god". Could it be that the views of Bill's wife, Melinda, rubbed off on him?
Born in 1964, Melinda grew up at an all-girls Catholic high school in Dallas under the mentorship of Ursuline nuns. Unlike Bill, Melinda's devotion to Catholicism has not faltered and she still classes herself as a strong Roman Catholic.
But this doesn't mean that the Catholic church remains uncriticised by Melinda. In her 2019 book, titled 'The Moment of Lift: How Empowering Women Changes the World', Melinda raises questions about equality and the role of women within Catholicism. 
Contraception
One example of Bill and Melinda's liberal approach to Catholicism comes from their work on contraception. The Catholic Church has long been opposed to contraception, in 1968 Pope Paul VI declared that artificial contraception is considered intrinsically evil.
Despite this, the Gates' have advocated for better accessibility to contraception. In 2013 the Bill and Melinda Gates Foundation awarded $100,000 to fund research into pleasure-enhancing graphene condoms. Similarly, the foundation launched an initiative to make artificial contraception available to 120 million poor women by 2020.