Lionel Messi is one of the world's greatest soccer players and he has a net worth to show it. Is he a billionaire though?
Lionel Messi is not a billionaire. He has earned over $1 billion throughout his career but that is not his net worth. His net worth sits around $400 million and he is one of the highest-paid athletes in the entire world. He has a contract that earns him $80 million a year alone.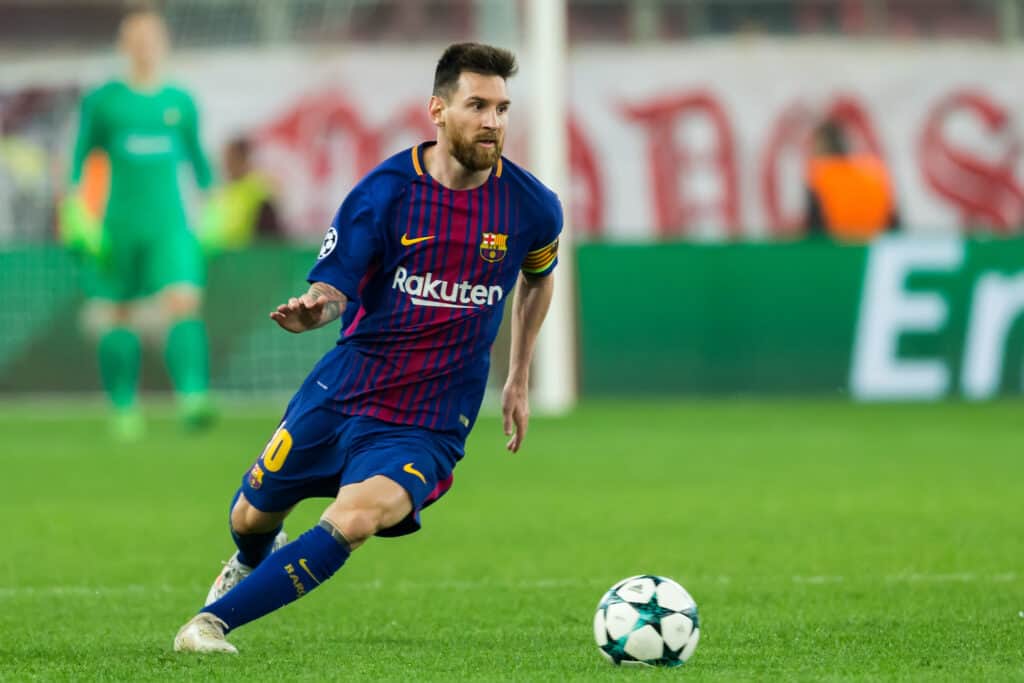 Scroll down to read more below about Lionel Messi's earnings versus his net worth, why he's paid so much, and what he spends his millions on.
Lionel Messi Is Not a Billionaire
In September 2020, all of these news reports started to surface stating that Lionel Messi had become one of only two soccer players to ever be a billionaire. However, this wasn't exactly true.
Mesi had become one of only two soccer players to ever earn $1 billion total in their career. Net worth is different from earnings.
Net worth is the total sum of a person's investments and assets after taxes. Earnings are the total gross amount of money a person has made before taxes and expenses.
Since the $1 billion announcements was just about Messi's total earnings, it doesn't mean that he is a billionaire. His net worth is actually around $400 million and he is in the top 3 of the highest-paid athletes in the world.
On Forbes list of 'The Highest-Paid Athletes of 2020', Messi took spot number three and was topped only by his fellow soccer player, Christiano Ronaldo, and tennis player Roger Federer.
Lionel Messi isn't only an incredibly high earner in the world of sports, he's a high earner among celebrities too. He also made it onto Forbes 'The Celebrity 100: The World's Highest-Paid Celebrities 2020'.
Messi took spot number five on the list. The two athletes listed above also ranked above him once again on that list. The only other celebs to rank higher in terms of earnings were Kylie Jenner and Kanye West.
Clearly, Messi is making some major bank to be ranking just below Jenner and West when it comes to earnings. So what is Messi costing the FC Barcelona payroll?
You can watch the below video from The Finest that highlights the 15 most expensive things Lionel Messi has spent his millions on.
Messi's Paychecks
When it comes to his paychecks, Lionel Messi has been raking in the dough for years now. This makes a lot of sense since he is considered by many to be the greatest soccer player of all time.
In fact, a copy of the contract that he signed in 2017 with FC Barcelona was leaked to the Spanish newspaper El Mundo at the end of January 2021. The news outlet reported that Messi was paid $168.5 million a season for the four-year contract.
That is some major money. However, the tax system in Spain would require him to pay at least half of that back in taxes. So it isn't as much as it seems.
Lionel Messi signed to FC Barcelona when he was just 13-years-old and has been playing with them since. The deal to sign him was amazingly struck on a napkin but it proved to be beneficial for both him, his family, and FC Barcelona.
He has gone on to score over 600 goals for the team and really is one of the best players in the world. That's why he is paid so much money and why he also has so many assets.
Lionel Messi's Assets
When you're worth $400 million, it's pretty easy to buy whatever you want. There's a lot of stuff that Lionel Messi has spent his hundreds of millions on, but we'll just list the biggest of those purchases.
Messi owns a $7,000,000 mansion in Castelldefels which he did a $2,000,000 renovation on. Then he also bought the house next door so he could have more privacy.
He has an insane car collection that is worth a rumored $3,000,000 and filled with tons of rare cars. It was also rumored that he purchased the most expensive car in the world, a 1957 Ferrari 335 Sport Spider Scaglietti, for $35,000,000.
Like many multi-millionaires, Messi also rents private jets, yachts, and gives back a lot of his money to charity.
However, it seems he is keeping the bulk of it for himself.