Lionel Messi is many things: a husband, a father, the owner of the hotel chain MiM Hotels, the face — and body — of countless brands, and one of the greatest football players of all time. But can he include 'vegan' on his long list of titles?
Lionel Messi is not vegan, though he once followed a vegan diet to help him improve his performance out on the football field. While Lionel does eat red and white meat as well as fish, his current diet is largely plant-based.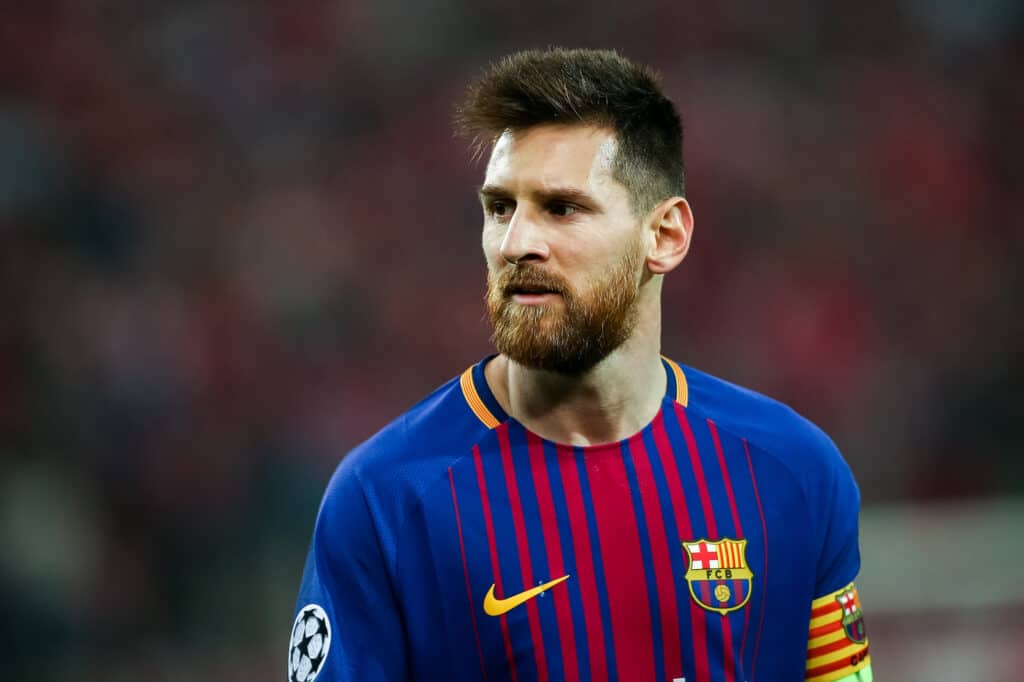 Many people aspire to have a physique and set of skills similar to Lionel's, and those people turn to his typical diet plan for information on how to achieve this. Let's take a look at Lionel's diet, his past and present relationship with food, and how veganism impacts the sports world.
How Lionel Messi's Diet Affected His Health
Lionel hasn't always followed the healthiest of diets, and this severely impacted not just his on-field performance but also his health.
He told America TV, "I ate badly for many years. At 22, 23 years old, I had no idea and did not think about it. I ate chocolate and gingerbread and drank lemonade."
His poor diet that consisted largely of carbonated drinks, junk food, and unhealthy snacks caused him to frequently vomit in the middle of games.
Naturally, this worried his fans and manager to no end though he brushed off their concern by saying "This happens all the time".
Lionel eventually recognized that his diet was impacting his performance and was quoted saying "What you can put in your body at 18 or 19 years of age is not the same as what you can put in at 27."
It was clear that his diet was negatively impacting his health and his performance, and he sought the help of Italian sports medicine practitioner Guiliano Poser. When he changed his diet, Lionel admitted that his vomiting "didn't happen anymore".
Guiliano Poser transformed Lionel's diet, which saw him lose weight, increase his overall health, and improve his performance on the football field.
The famous forward was told "Eat what your body needs, not what it wants" and that's exactly what he did.
Lionel Messi's Diet
Despite several articles that erroneously claim Lionel is vegan, he isn't by any stretch of the imagination as he eats fish and meat of the red and white variety.
However, in the early days of working with Guiliano, he was placed on a vegan diet. Some sources claim that Lionel switches to this fully vegan diet during football season, although the footballer has yet to confirm or deny this.
Today, Lionel's diet is void of flour, yeast, refined wheat, pork, eggs, beef, shellfish, dairy products, alcohol, fizzy drinks, processed food, and any food containing pesticides, antibiotics, herbicides, or medication.
The foundation of Lionel's diet is water, fresh fruit, fresh vegetables, whole grains, and olive oil. According to FC Barcelona, Lionel's favorite meal is roasted chicken with a side of root vegetables including leek, onion, and carrots.
Veganism in the Sports World
Lionel might not be vegan, but many athletes — specifically footballers — are. This is likely because it's thought that a vegan diet can enhance athletic performance as a whole.
Research into veganism and the sports world suggests that a vegan diet has the ability to enhance cardiovascular health, reduce blood pressure, and reduce cholesterol. It also aids in weight loss.
Hector Bellerin, Jack Wilshere, Chris Smalling, Jermain Defoe, Sergio Aguero, Fabian Delph, Sebastian Perez, and Russell Martin are all vegan footballers. Most of these footballers adopted a vegan diet to help them prevent or overcome sports-related injuries.
Veganism is rife within the football community. So much so that there is even a fully vegan football club called Forest Green Rovers, that plays in EFL League Two and abstains from all meat and animal byproducts.
Stepping away from the football field, athletes from other sports are also jumping on the green train. Formula One champion Lewis Hamilton is a famous vegan, as are NBA star Kyrie Irving, Olympic weightlifter Kendrick Farris, NFL player Derrick Morgan, and the Williams' sisters.