Olivia Newton-John has faced many trials and tribulations throughout her life from cancer to the disappearance of her one-time boyfriend. Was she ever able to find true love amid all the chaos?
Olivia Newton-John is married to John Easterling. The two were married in 2008 at her Malibu home. Newton-John had been married before to actor and dancer Matt Lattanzi. She also dated cameraman Patrick McDermot before he disappeared off the coast of California in 2005.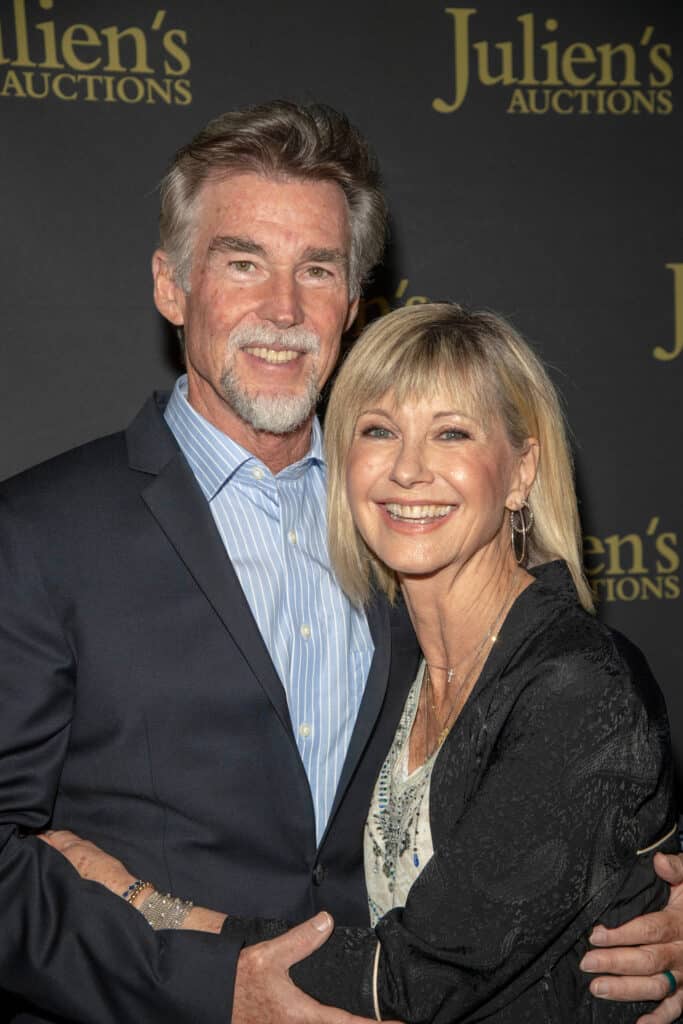 You can read more below about Olivia Newton-John's ex who disappeared and her happy marriage to John Easterling.
The Disappearance of Patrick McDermott
Although Olivia Newton-John had been married, had a child, and then divorced her husband after he cheated on her, that still never stopped her from continuing to try to find true love.
In 2005, Olivia Newton-John had been seeing a man named Patrick McDermott. McDermott was an American cameraman of Korean descent and the two dated on and off throughout the early 2000s.
They weren't actually dating when McDermott disappeared. He had gone on a fishing charter trip that left and docked in San Pedro, Los Angeles.
While no one reported him missing until July 6, 2005, it was believed he fell off of the boat and drowned on June 30, 2005. He had been seen only 30 minutes before the boat was supposed to dock in San Pedro.
McDermott had even taken the time to pay his bill. His passport and all of his belongings were found on the bed of his stateroom.
While the Coast Guard claimed that McDermott had fallen from the boat and drowned, many people thought that it was more likely that he had faked his death. Why though?
Well, he had filed for bankruptcy and owed his ex-wife, Yvette Nipar, over $11,000 in child support. So a lot of people speculated that he had faked his own death to avoid paying child support and then fled to Mexico.
Over the decades since his disappearance, there have been at least 20 reported sightings of McDermott. However, Newton-John and Nipar both maintain that they believe he did drown in June 2005.
Olivia Newton-John's Happy Marriage
Some would call Olivia Newton-John's life tragic from her three battles with cancer to her first divorce to the disappearance of her one-time boyfriend. However, Newton-John has still found a deep connection and love in her marriage to John Easterling.
She and Matt Lattanzi had divorced after 11 years of marriage in 1995 after it was discovered that he had cheated on her. This was only a few years after Newton-John had undertaken her first battle with breast cancer.
The two had a daughter together and Newton-John spent most of the next ten years in and out of relationships. That was until her longtime friendship with John Easterling, also known as Amazon John and the CEO of the Amazon Herb Company, turned into something more.
You can watch the below 60 Minutes interview with John Easterling about herbal medicine.
She met John Easterling at an environmental show in the early 1990s and the two formed a platonic friendship. While their initial meeting was at that environmental show where Easterling was selling botanicals, the two kept bumping into each other at different charity events.
Over the years they became close friends and then it was while on a trip to Peru in 2007 that the two friends fell deeply in love. It was only a short time later that they decided to tie the knot.
In July 2008, the two were married at Newton-John's home in Malibu surprising guests who thought they were attending an Independence Day barbecue.
Since their marriage, the two have carried a strong bond that seems to continue getting stronger through each trial they face as a couple.
In 2013, Newton-John faced her second battle with breast cancer. John helped to support her through the battle with many of the healing products he has access to.
Olivia Newton-John kept this diagnosis out of the public eye. However, her third battle with the deadly disease in 2018 was publicized and Easterling was there by her side again with his unconditional support.
Together, the couple founded the Olivia Newton-John Cancer Wellness & Research Centre, a public hospital for cancer patients in Victoria, Australia.
Olivia Newton-John and John Easterling are clear examples that a couple who volunteers and gives back together stays together.