They're both award-winning singers, they're both comfortable in front of film crews and on television sets, and they're both British. Olivia Newton-John and Elton John sure do have a lot in common — they even share a surname — but are they related?
Olivia Newton-John and Elton John are not related, not even in the distant cousin twice-removed kind of way. Though they may not catch up around the family dinner table at Thanksgiving, they are very close friends — and collaborators — in real life.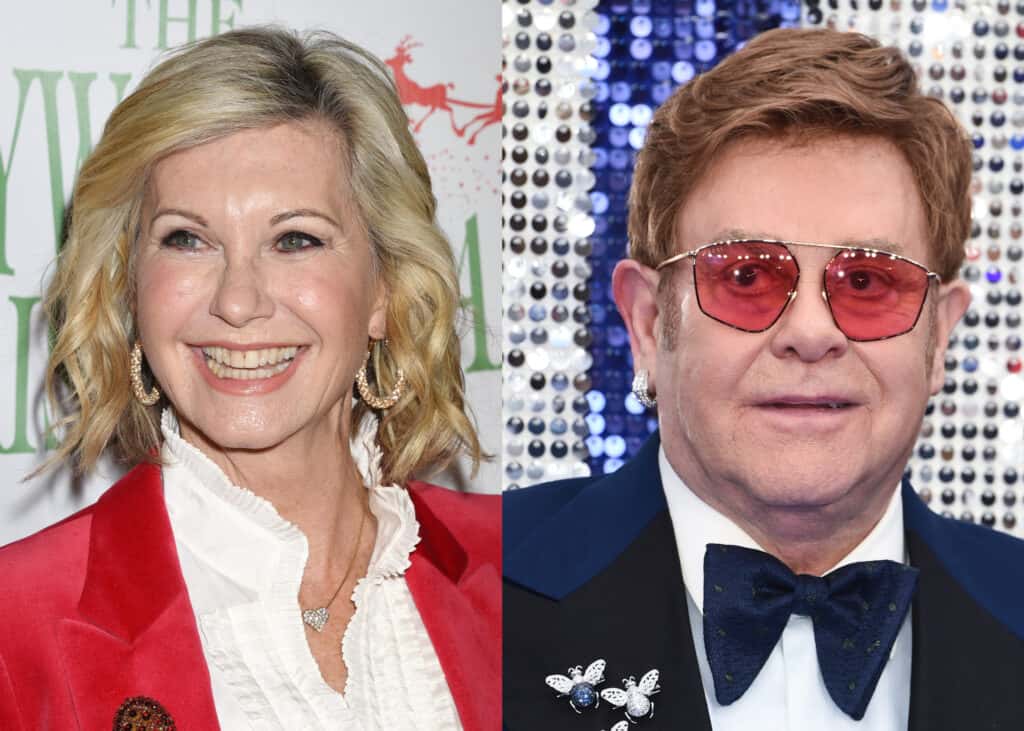 Now that you know that Elton John and Olivia Newton-John aren't related, let's discover who their actual family members are. Let's also take a look at their special relationship that proves that they don't need to be family to love one another.
Who is Elton John's Family?
You might not recognize the name Reginald Kenneth Dwight, but you're bound to recognize the name this gentleman switched to. Elton John.
Elton was born on 25 March 1947, in a Middlesex suburb named Pinner. His parents were Stanley Dwight and Sheila Eileen Farebrother, a Royal Air Force flight lieutenant and housewife.
Stanley is described as "strict and remote and had a terrible temper" while Sheila is remembered by Elton for being "argumentative and prone to dark moods".
Unfortunately, Elton didn't have a happy childhood and admits the topic is "one thing I'm still sensitive about."
Stanley's parents, Edwin and Ellen, were born and raised in Buckinghamshire. Edwin was a cable hand and bootmaker while Ellen stayed home looking after Stanley who was the couple's only child.
Elton was not raised by his parents, but rather his maternal grandparents with whom he lived until he was six years old. These grandparents were Ivy Sewell and Frederic 'Fred' George Harris.
Fred was a soldier turned groundsman and Ivy was the daughter of a merchant seaman. Ivy was one of the most important and influential people in Elton's life.
Elton married a man named David Furnish as soon as they were legally allowed to do so. Using the same surrogate mother each time, the pair are fathers to their sons Zachary Jackson Levon and Elijah Joseph Daniel.
Who is Olivia Newton-John's Family?
Olivia Newton-John was born on 26 September 1948 in Cambridge, United Kingdom. She was the youngest of three children to parents Brinley 'Bryn' Newton-John and Irene Helene.
Brinley and Irene were both born in 1914, though he was born in Wales, United Kingdom, and she was born in Berlin, Germany.
Irene was a writer and environmentalist and Brinley was seemingly a professor. He was also a secret MI5 officer — but Olivia only found this out when she was in her thirties!
Olivia's maternal grandparents were Hedwig Martha Ehrenberg and Max Born. Hedwig was the daughter of renowned jurist Victor Ehrenberg while Max was a mathematician and Nobel Prize-winning physicist.
On her father's side of the family, her paternal grandfather was Oliver John and her grandmother was Daisy Newton which is where her double-barrel surname originated from. Oliver was a council school's manual instructor and Daisy was thought to be a housewife.
In 1984, Olivia married Matt Lattanzi after meeting four years earlier on the set of 'Xanadu'. Two years later the pair welcomed their daughter Chloe Rose Lattanzi, who is Olivia's only child.
Do Olivia Newton-John and Elton John Know Each Other?
Though they are in no way related, Olivia and Elton know each other. In fact, the pair are close friends who have worked together on various projects in the past.
Back in 1980, Olivia invited John as a guest on her TV special 'Olivia Newton-John: Hollywood Nights". The pair sang an iconic rendition of his famous song 'Candle In The Wind'.
After their duet, the two became close friends. In 1988 Olivia and John collaborated and co-wrote and sang on a track for her album 'The Rumour'.
When Olivia's battle with breast cancer was revealed to the public, fellow cancer survior Elton dedicated his song 'Don't Let The Sun Go Down on Me' to his friend at his 2020 Farewell concert in Melbourne.