Ozzy Osbourne is a legendary heavy metal musician and former reality TV star. He gained fame and notoriety as the lead singer of the heavy metal band Black Sabbath, which he would later leave to subsequently form an illustrious solo career.
Ozzy Osbourne is British. He was born John Michael Osbourne on December 3, 1948, in Marston Green Maternity Hospital, Coleshill, England but he grew up in Birmingham.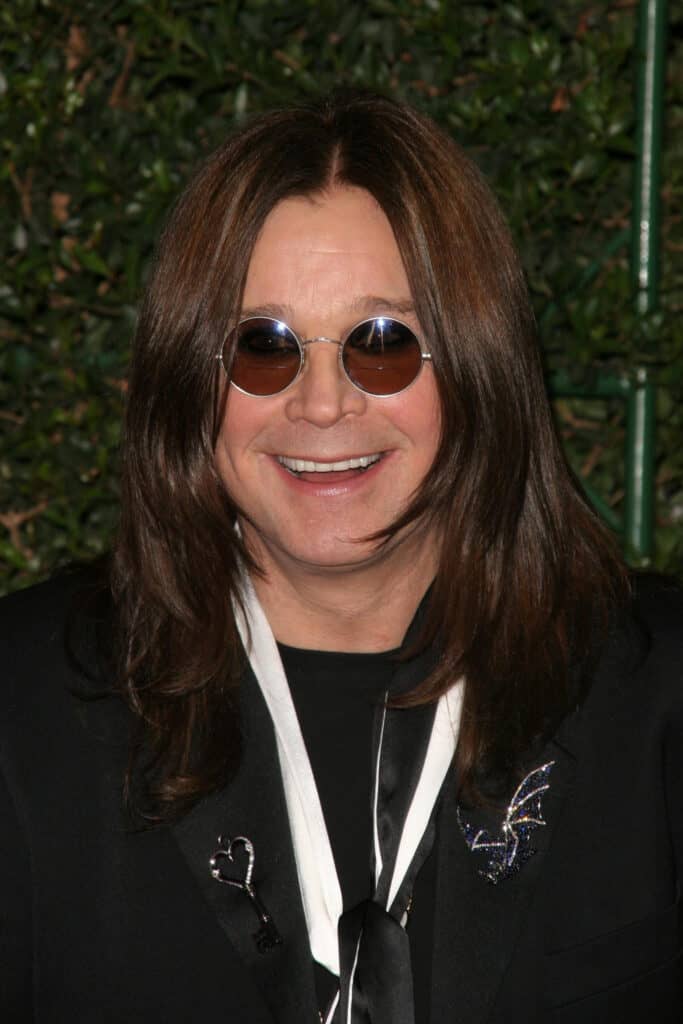 Early Life
Nicknamed "Ozzy" since primary school, little John was a middle child with three older sisters and two younger brothers. He suffered from dyslexia and had a troubled childhood laden with bullying and sexual abuse. Ozzy also claimed to have attempted suicide several times as a teenager. He would later be inspired by the Beatles to become a musician.
At age 15, Ozzy dropped out of school and got involved in petty crimes. At 17, he was convicted of burglary. His father refused to pay the fine (likely to teach the boy a lesson), which led to a six-week incarceration for Ozzy. At that point, he knew he was destined to be a rock star–and so he began performing in some local bands upon his release. 
Black Sabbath
He eventually joined a band named Earth, which would later be renamed "Black Sabbath" after the horror anthology film starring Boris Karloff.
It was while performing as Black Sabbath that they noticed that their audiences enjoyed being frightened during their shows. This inspired them to incorporate the occult into their music and performances.
Their self-titled debut album was released 1970 and was a surprise hit in both the United Kingdom and the United States. Ozzy and the band enjoyed a successful run throughout the 70's, releasing an album almost every year.
However, Ozzy was eventually fired from the band in 1978 due to issues arising from his alcohol and drug abuse.
Solo Career
Ozzy still retained manager Don Arden, who also managed Black Sabbath. Don then assigned his daughter, Sharon, to look after Ozzy in the hopes of eventually reuniting with Black Sabbath.
Sharon, however, had other ideas and encouraged the heavy metal singer to form his own group. This, in turn, gave birth to the band The Blizzard of Ozz, but their self-titled debut album was credited solely to Osbourne, launching him as a solo artist.
It was one of the 100 best-selling albums in the 80's and sparked a successful solo career for the Prince of Darkness. He is estimated to have sold a total of 100 million albums, which include those as the lead singer of Black Sabbath and as a solo artist.
Satanist?
He was dubbed a satanist by Christian religious groups for his genre of music–which some call music-horror–as well as his onstage shenanigans.
While performing onstage durIng one of his concerts in 1982, he bit the head off a live bat, which he thought was a toy bat. He was subsequently treated for rabies as the said bat bit the singer back.
To commemorate the 40th anniversary of the infamous "bat-biting" incident, an 'Ozzy Plush Bat' toy with a detachable head was released on his website.
Ozzy also adopted the nickname "Prince of Darkness," and in 2005, he released a box set of the same name. In contrast, he has denied being a satanist and has been reported to be a member of the Church of England.
Family Life
He married Sharon Arden in 1982 after his divorce from his first wife, Thelma Mayfair. Ozzy had a total of six children: Jessica, Louis, Elliot, Aimee, Kelly and Jack.
In March 2002, Ozzy took part in the MTV reality show, "The Osbournes," which also featured his wife Sharon and their two youngest children, Kelly and Jack. It quickly became MTV's most popular program, and its first season is considered to be the most-viewed MTV program in history.
Ozzfest
One of Osbourne's most lucrative financial successes was the metal musical event aptly named "Ozzfest." Managed by his wife Sharon, the first Ozzfest was held in Phoenix, Arizona on October 25, 1996, and in Devore, California the following day. It gave commercial exposure and helped launch many up-and-coming bands.
This eventually led to Ozzy reuniting and performing with his former band, Black Sabbath, in 1997. Ozzfest would become an annual event in the United States and periodically tour Europe and Japan as well. 
Health
In 2020, Ozzy revealed on the TV show "Good Morning America" that he had a "mild form" of Parkinson's Disease, a degenerative neural disorder that causes involuntary movements such as twitching and shaking, affecting balance and coordination.