Quincy Jones is one of the most prolific arranger-producer-writer-composer's of music this generation has seen. He has even continued his work through health problems.
Quincy Jones is not blind. However, he was very good friends with the blind musician Ray Charles. His health has been relatively good, but he did suffer a brain aneurysm in 1974. His family thought he was going to die and held a memorial service for him that he attended.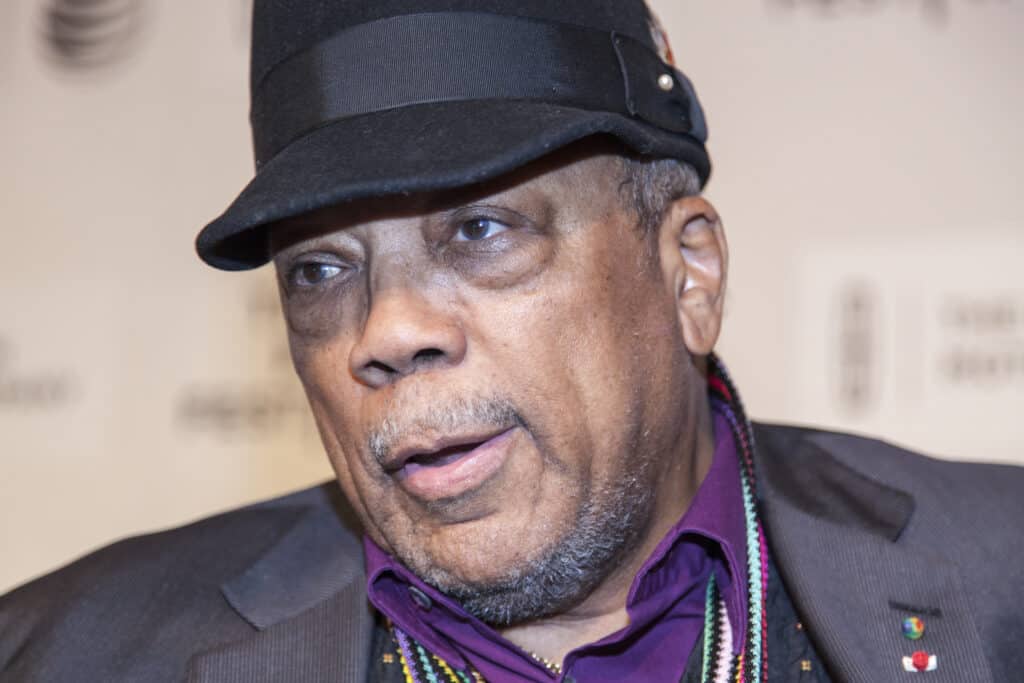 Scroll down to read more about Quincy Jones's friendship with Ray Charles and his brain aneurysm.
Quincy Jones & Ray Charles's Friendship
Quincy Jones and Ray Charles had a solid friendship that spanned over fifty years. It was a relationship that benefited both musicians.
They met when Ray Charles was 16 and Quincy Jones was 14 in Seattle, Washington. Jones and Charles both hadn't grown up there though, they had each made their way to the rainy city on their own.
Charles moved to Seattle from Florida after his mother had passed away and he was struggling to land bigger gigs. Jones's move to Seattle was a bit more complex than the motive behind Ray Charles's move.
Quincy Jones grew up in Chicago, Illinois but his family moved from the state when his father got a job working at a shipyard in Washington state during WWII. When he was still quite young, his mother had a schizophrenic breakdown that resulted in her being admitted to a mental institution and Quincy's father divorcing her.
His father remarried and then got the Washington job and the whole family relocated minus his mother. At the end of WWII, the Jones family moved to Seattle, which eventually led to Quincy Jones and Ray Charles meeting and becoming good friends.
In an interview with Terry Gross on NPR's Fresh Air, Jones recalled meeting Charles. He said that they met at The Elks Club, a tennis club for white people. They performed songs there from 7 pm to 10 pm and then they would play the black clubs after.
It was through these gigs that the two became close friends. In the same interview, Jones recalled that he was jealous of Charles's independence at the time. Even though Charles was blind he had his own apartment, a girlfriend, and he got around town by himself.
However, he said "I guess what impressed me the most with Ray is that he was so independent, and his sightlessness did not hinder him at all. It's one of the treasured, cherished friendships that I really have because as kids we used to talk about everything."
Charles taught Jones how to write songs in Braille and the two would talk about all of the big things they were going to do together in the music industry. All of these dreams ended up coming true for both of them too.
You can watch Quincy Jones inducting Ray Charles into The Rock and Roll Hall of Fame in the below video.
Quincy Jones's Brain Aneurysm
While Quincy Jones is not blind, he did have a brush with something that can cause blindness in some cases and death in most. That was when an aneurysm in his brain exploded in 1974.
He recalled the incident a while back with a post on his Facebook page. In the post, he talked about how it felt like someone had fired off a shotgun in the back of his head. It took the doctors 7.5 hours to operate on Jones's brain and they found something even worse while operating.
There was another aneurysm that was ready to burst. A second disruption like this would kill him this time. He was lucky to have even survived the first one. So, when Quincy Jones had recovered enough from the first surgery, the doctors went in and operated a second time to remove the other aneurysm.
As he told GQ, the surgery left him with a clip in his brain that if it came loose would kill him. Since he was a trumpet player, he was told that he could no longer play trumpet because the way that trumpeters were required to blow would cause the clip to come loose.
Even though he was told not to, while on tour in Japan, Jones briefly took to his trumpet to see if he could still play it. When he blew into the instrument, he felt a new pain in his head and stopped immediately. He had almost loosened the clip.
Fortunately for him, his brain aneurysms did not result in Quincy Jones going blind.