Many people might aspire to marry someone as wealthy and philanthropic as Richard Branson, but can they marry the man himself?
Richard Branson has been happily married to his wife, Joan Templeton, since 1989. Before his current marriage, Richard Branson was married to his first wife, Kristen Tomassi, until 1979.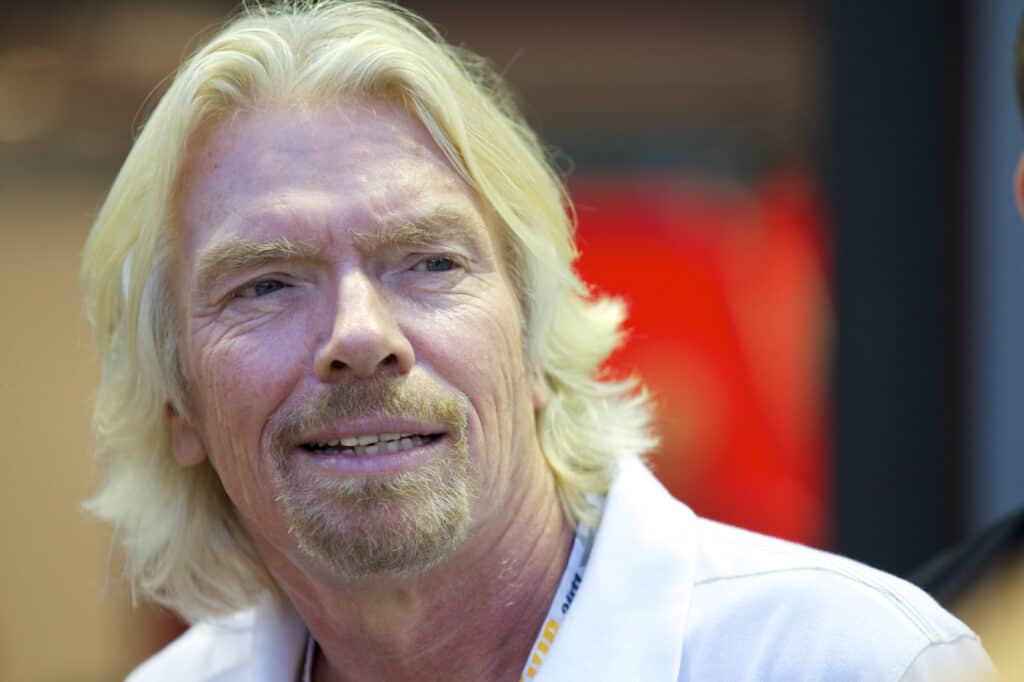 Joan Templeton and Richard Branson share a fascinating life which began with what was, by all accounts, a whirlwind romance. Read on to learn more about the wealthy couple.
Their Love Story
As a married couple that has been together for over four decades, the Bransons must have an exciting outlook on love and relationships. Were they besotted at first sight?
In fact, Joan Templeton wasn't even interested in Richard Branson at first!
The first time the two met, Joan Templeton was married to a rock star, Ronnie Leahy, from the Scottish hard rock band 'Nazareth.' She ran into Richard Branson in a Virgin Records music studio – Branson founded the Virgin Group brand.
Why wasn't she interested in the multi-millionaire? Aside from her married status (and his married status), she claimed that he dressed horribly at the time.
Although Joan Templeton may not have been impressed, Richard Branson sure was. He claimed that he fell in love with Joan at first sight.
He demonstrated his love through extravagant gifts and large-scale gestures of love and romance, such as befriending her friends and buying Joan her own island in the Caribbean.
Yes, an entire island.
According to CNBC, Richard Branson bought the 74-acre Necker island in the Caribbean for the low price of $180,000, just to impress Joan Templeton. He also later built a resort on the island as part of the discount deal for the island.
He used the island as an excuse to see Joan for a weekend trip, explaining in an interview with Travel and Leisure, "I thought, 'Well how could I persuade her to come away with me for the weekend?'…So I rang up an estate agent … I pretended I wanted to buy an island [in the Virgin Islands], and they said, 'Well, come on down. We'll send you two tickets, we'll find a helicopter, we'll lay on a house for you.'"
Although this may have been the point of interest for many women, Joan Templeton was different. She claims that it wasn't the expensive gifts and gestures from Richard Branson that won her over, but his consistency and personality did the trick.
Joan Templeton eventually left her then-husband in 1978 for Richard Branson, and the two began a life together. The couple eventually became parents to two children, a daughter named Holly and a son named Sam.
What's their secret to a long and happy marriage?
According to Richard Branson, it comes down to luck. In a Daily Mail article, he said, "We've been very lucky. It's been romantic, we've been fortunate in having delightful kids, which helps bind a relationship, and wonderful friends. We trust each other but we don't smother each other."
Richard Branson's Wealth
However, when it comes to business, the secret may not be luck but failure. In his 2013 book, 'Like a Virgin,' Richard Branson wrote that "I suppose the secret to bouncing back is not only to be unafraid of failures but to use them as motivational and learning tools. … There's nothing wrong with making mistakes as long as you don't make the same ones over and over again."
Branson has had a few notable business failures, including Virgin Cola, a soft drink that saw its profits fall flat. You can watch Richard Branson discuss this, along with his approach to life, with Graham Bensinger below:
He may not be afraid of failure, but he certainly has had enough success to make up for any potential shortcomings. Richard Branson has a net worth of $4.6 billion and, as the founder of the Virgin Group, has his hands in several fields, including airlines, space travel, and music labels.
Richard Branson is also a prominent philanthropist, known for his involvement in initiatives such as the Global Zero campaign, which aims to eliminate nuclear weapons, and as a prominent opponent of the death penalty.
In addition to these initiatives, Branson has pledged to contribute $3 billion to climate change initiatives; however, he has been criticized for contributing a much smaller figure of just under $300 million.
Whatever he does, he should feel confident knowing that he has a strong confidant and companion through it all in his wife, Joan Templeton.