If you were to ask a random passerby on the street what Richard Branson is most well-known for, they'd likely tell you it's the plethora of multi-million dollar businesses that he operates under the Virgin name. Perhaps lesser-known, he is also a fairly accomplished philanthropist and environmental activist, but does that activism extend to his own diet?
Richard Branson is not vegan but is aware of the issues facing the climate and the environment. He has expressed on multiple occasions how he wishes for a future in which we no longer have to kill animals.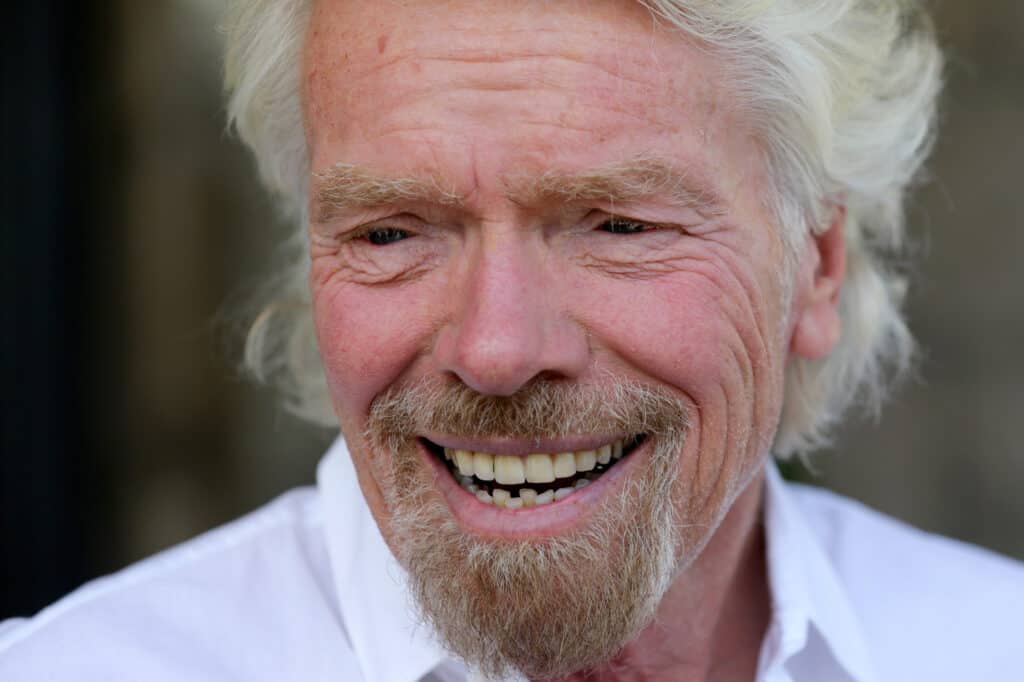 Branson does agree with veganism that no longer eating animals is ideal but doesn't actually practice it himself, meaning that some understandably point the finger at him as being slightly hypocritical. He does quite literally put his money where his mouth is, however, funding multiple organizations with a mind to eliminate the need for animal slaughter.
Branson's Thoughts on Veganism
Although his financial investments in meat-alternative businesses have made his position fairly clear on the issue, Branson has never actually made any direct references endorsing or decrying the vegan movement and lifestyle. The closest he has come to being more in line with his public statements about eating meat and animal slaughter is eliminating beef from his diet.
Even though he might be a fair way away from fully following the tenets of veganism, which require you to consume no meat whatsoever, Branson's thoughts and reasoning behind the refusal to eat beef is certainly in line with the same logic that a vegan would have about the situation.
Branson's expectations for the future will be sure to please you if you are a vegan, as he believes it's within the realms of possibility that in the near future we will have managed to move away from eating meat completely.
Instead of having to rely on potentially climate-damaging agricultural practices to source our meat, he believes that all meat will be either plant-based or 'cleaner' than the current options that we have available.
Cutting Out Beef
Firstly, there's the aforementioned environmental factor involved in his decision to cut out red meat. Branson has cited statistics in his statements about his dietary choices, talking about how out of the enormous impact of greenhouse gases, a huge percentage comes from livestock, specifically beef.
An equally important reason for Branson, albeit on a personal level, is the fact that cutting out red meat has made him feel healthier overall, and encouraged him to introduce a little more variety to his food planning.
It's not only himself that he's set those standards for, either, Branson also experimented with removing beef from the menu aboard Virgin flights. Doing their part to help reduce negative effects on the planet has been a prime concern for Branson and Virgin, and despite being a large contributor to the issue have strived to tackle the issue of ingredients with sustainability issues.
Investment Into The Future of Meat Alternatives
In accordance with his interests in transitioning from the current state of industrialized meat production into a greener eco-friendly system, Branson has made numerous investments alongside other billionaires into healthier alternatives.
One of those alternatives aimed at alleviating the ethical concerns around meat production, namely the inhumane conditions and treatment of the animals, are companies that produce that meat in a lab.
Still technically real meat, the lab-grown meat is dubbed 'clean meat', and has been one of the primary avenues of interest for Branson in creating a healthier, environmentally friendlier world.
Other billionaires have done the same as Branson, such as Bill Gates, who has also invested large sums of money into the new meat manufacturing processes. Much of the appeal to this type of meat for the billionaire investors is the fact that it counteracts the inefficiency of the meat industry.
One such business that Branson has invested in is Memphis Meats. Using an innovative process involving the harvesting of meat cells from animals, the meat can then be grown in the lab, resulting in a product that has far less ethical and environmental implications than the alternatives.
Although it might not be the ideal for a strict vegan, Branson's heart is definitely in the right place. Perhaps with a little more time, and with more easily available meat-like alternatives on the market, Branson will eventually convert!