Tom Ellis has been on people's minds since he starred as Lucifer Morningstar in the Netflix series Lucifer. He is a Welsh actor who has stolen the scenes in Hollywood and the hearts of many, leading to the question, "Is he married, or do we wait for him to notice us?"
Tom Ellis is not a single man as he is married to his best friend, Meghan Oppenheimer.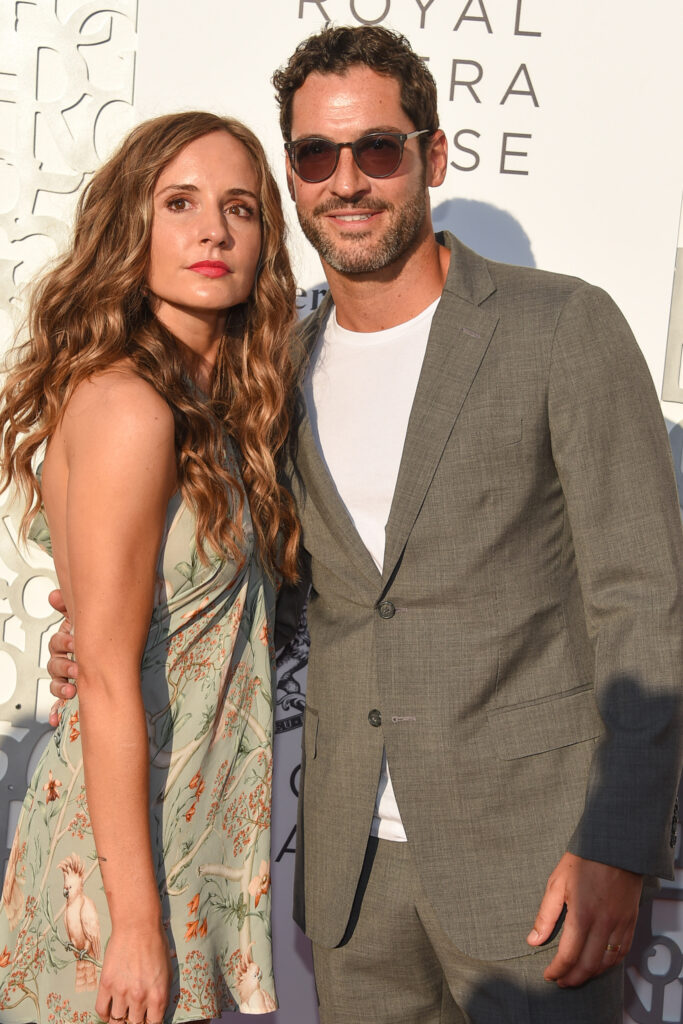 The actor doesn't seem to be like he was portrayed in Lucifer. But, it's all part of the job. Here's a timeline of his love life:
Is Tom Ellis Divorced?
In 2006, Tamzin Outhwaite and Tom Ellis met through a mutual friend, James McVoy. They got married in Somerset and had a fantastic relationship. Or did they?
In 2014, the couple announced they were getting divorced after eight years of marriage. At the time, they already had two children – Florence and Marnie. Marnie was just 13 months old when Tamzin and Tom got divorced.
But, what could have led to their marriage coming to an abrupt end when there were no obvious rumors?
Well, it turned out that Tom Ellis had a one-night stand with Emilie de Ravin, his co-star from Once Upon A Time. It was pretty unfortunate as Tamzin Outhwaite decided that the best move was to end the relationship. However, Tamzin hinted that it was more than a one-night stand that led to the divorce.
They didn't share further details with the public and went their separate ways.
Who Is Tom Ellis' Ex-Wife?
Tom Ellis's ex-wife, Tamzin Outhwaite, is an English actress. She was born on Nov. 5, 1970, in Ilford, United Kingdom.
The actress rose to prominence after playing the role of Mel Owen in the BBC series EastEnders. After the soap opera, she got other significant roles in movies like Red Cap and New Tricks.
Tamzin married Tom Ellis in 2006, but after finding out that he cheated, she filed for a divorce. Since the split, she hasn't re-married but has been in a couple of relationships.
Who Is Tom Ellis' Wife?
Tom Ellis married Meghan Oppenheimer in 2019. She was born on March 29, 1986, in Tulsa, Oklahoma, and is a screenwriter and actress.
Meghan Oppenheimer started as a child actress, starring in the pilot episode of Even Stevens, a Disney series released in 2000. She didn't spend much time on the screen because, by 2012, she channeled her energy into writing movies.
She wrote the Fear The Walking Dead episode, Not Fade Away. It was the fourth episode in the first season and received a lot of praise. In 2015, she wrote the screenplay for We Are Your Friends, starring Zac Efron.
Meghan is definitely at the top of her career.
How Did Tom Ellis and Meghan Oppenheimer Meet?
Tom Ellis and Meghan Oppenheimer kept their relationship so private that there are no stories of how they met. They started dating in 2015, but the public didn't find out until 2017 when Tom Ellis proposed. 
However, the actor admitted telling his wife, "I love you" on their second date even when he didn't mean it. However, it turned out that what he said manifested as they eventually got married.
Does Tom Ellis Have Children?
Tom Ellis doesn't have any children with his wife, Meghan Oppenheimer. However, he has three daughters from his past relationships.
His oldest daughter, Nora Ellis, was born after he graduated from the Royal Scottish Academy. Her mother is Estelle Morgan, Tom's ex-girlfriend. Nora Ellis seems to be following in her father's footsteps as an actor as she has been in cameo appearances on Lucifer.
Tom Ellis also had two children with Tamzin Outhwaite – Florence and Marnie. When his youngest daughter, Marnie, turned 13 months old, Tom and Tamzin got a divorce because he had a one-night stand with a colleague.
Does Tom Ellis Have Custody of His Children?
Getting a divorce is never easy when kids are involved because the discussions about custody come into play. For Tom Ellis, he has full custody of the three children from his previous relationships.
Alongside his wife, Meghan Oppenheimer, Tom Ellis' daughters live with them in their home in Los Angeles. Although Tamzin Outhwaite does her best to look out for her daughters, they have grown fond of Meghan.
Sometimes, Tom Ellis has to be out of town for long and doesn't get to see his children. But when he does have the time, he dedicates it to his family.